What We're Up To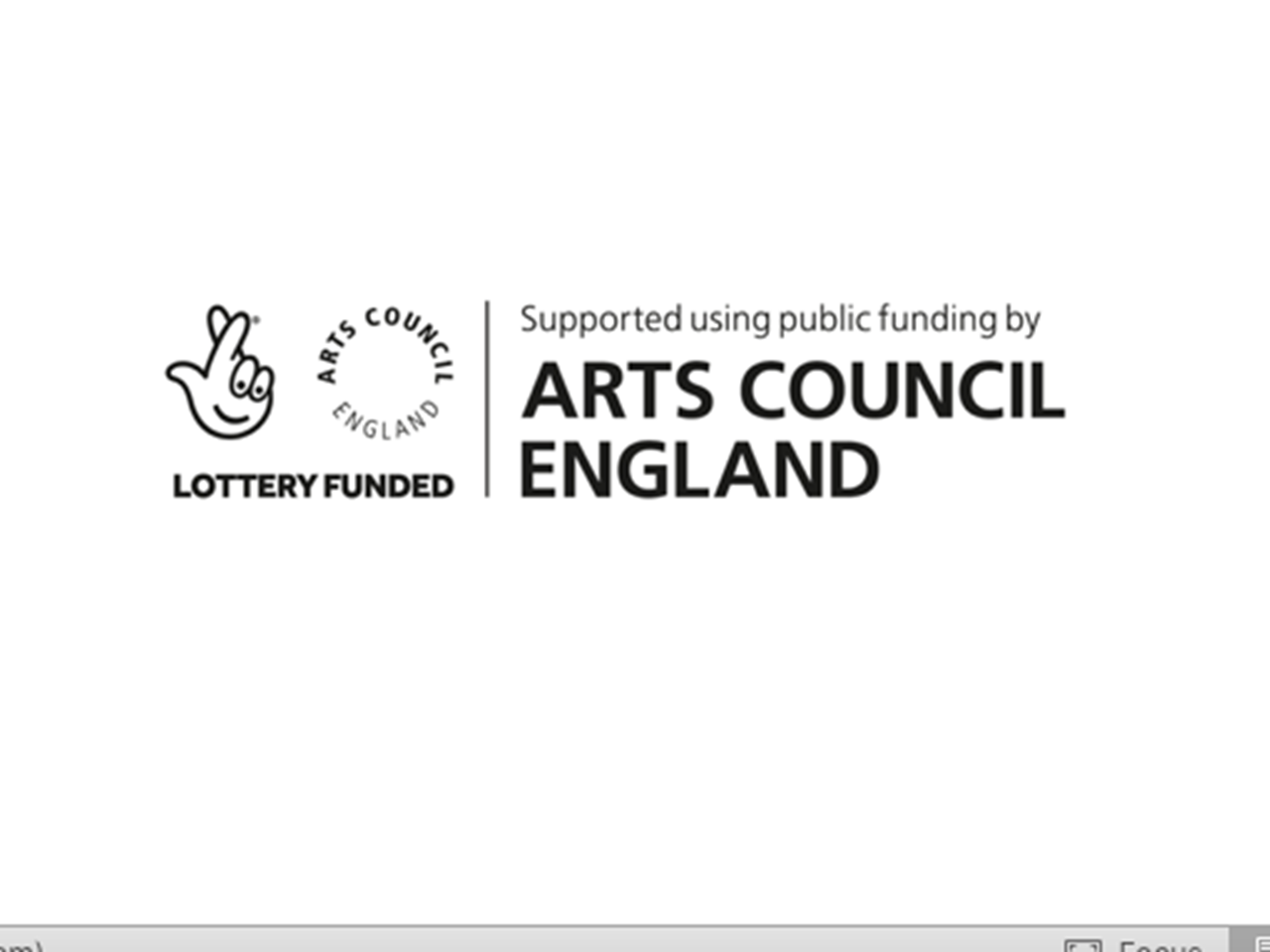 We are supported using public funding by The National Lottery through Arts Council England.
We're thrilled to announce that we have been awarded a fourth grant from Arts Council England for our work. The first was to create our film 'Inclusive Practice is Good Practice', the second was to deliver an exciting programme in universities across England, the third was to develop our team and deliver our new Brighton based weekly classes for a whole year and the forth is to run our networks and mentoring programme and spend time developing our company strategies for the coming year.
Posted Sept 2022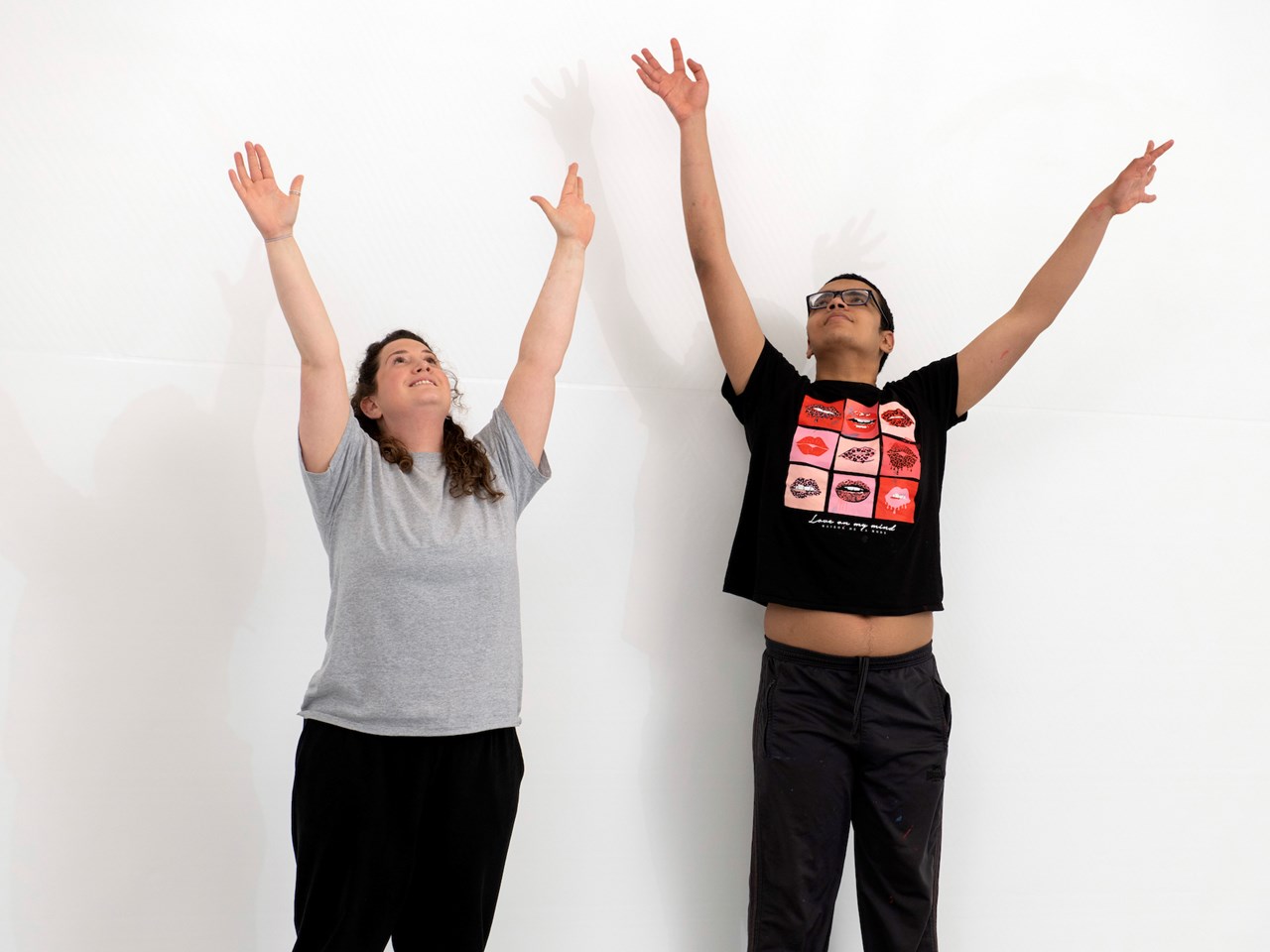 Partnership with NYB
We have partnered with National Youth Ballet (NYB) and South East Dance to train NYB ballet teachers and choreographers as well as other teachers in Sussex. In December 2022 we delivered a three day course, advising teachers on methods to adapt and deliver their work inclusively. This pilot teacher training programme was the first of its kind and one which we hope to develop and deliver many times over the next few years, so that more and more ballet teachers can see the wonderful possibilities presented by ballet for students with disabilities.
In addition we have plans to deliver a day of dance at Easter and a 4 day summer project, where the NYB choreographers will create a ballet on a mixed group of Parable youth and NYB dancers, to be performed in The Jamie Watton Theatre space at The Dance Space.
Watch out for updates about the project and more joint ventures. 
Posted January 2023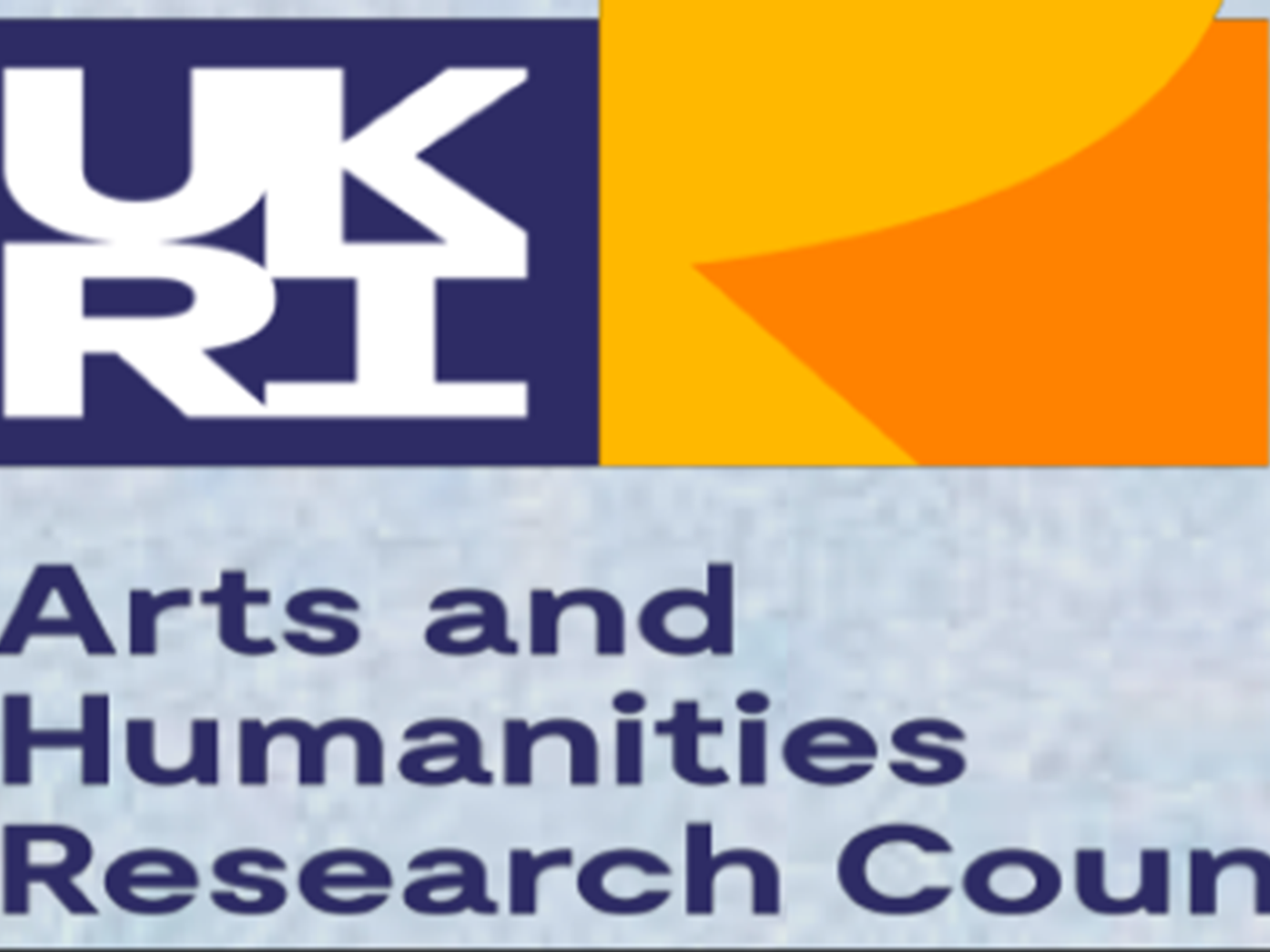 Critical Dance Pedagogy Network
Natasha is delighted to be joining the steering group for the Critical Dance Pedagogy Network, funded by The Arts and Humanities Research Council and led by Professor Angela Pickard of Canterbury Christ Church University.
The work of the network aligns with our aims at Parable Dance - to raise awareness of socially embedded assumptions that produce unjust educational outcomes. We are looking forward to leading sessions and having some important conversations at the symposium events over the next 18 months.
Why not join us at a symposium event?! Get in touch to find out more.
Posted Nov 2023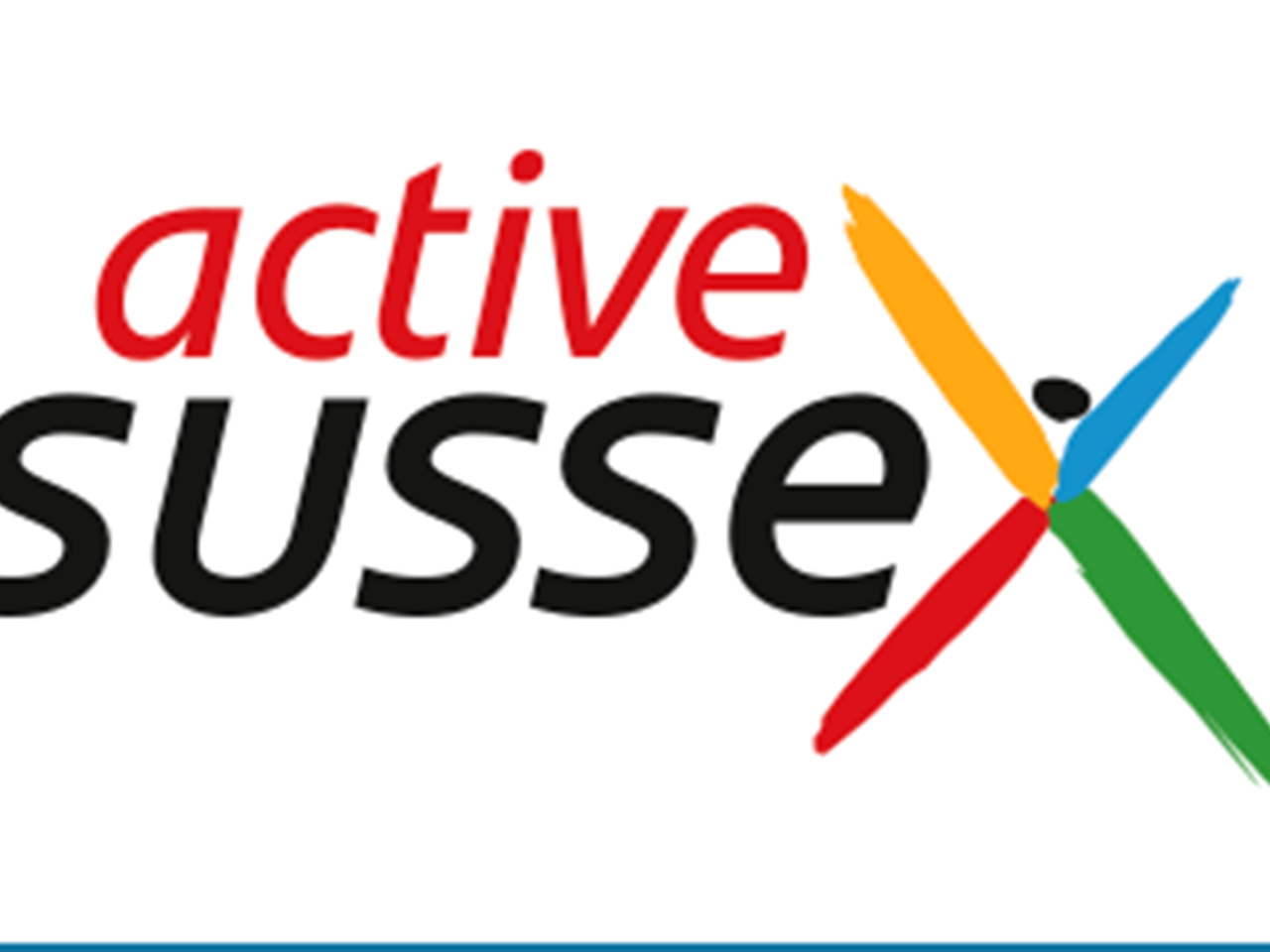 Award shortlist!
We are thrilled to have been shortlisted for the Rix & Kay Solicitors LLP Inclusion & Diversity Award at the Sussex Sport and physical activity awards 2023. The awards are one of the most prestigious events in the Sussex sporting calendar, celebrating the hard work, dedication and successes of individuals and community groups both on and off of the field.
Natasha will attend an awards event at Sussex Cricket Ground on 30th November ... watch this space!
Posted Nov 2023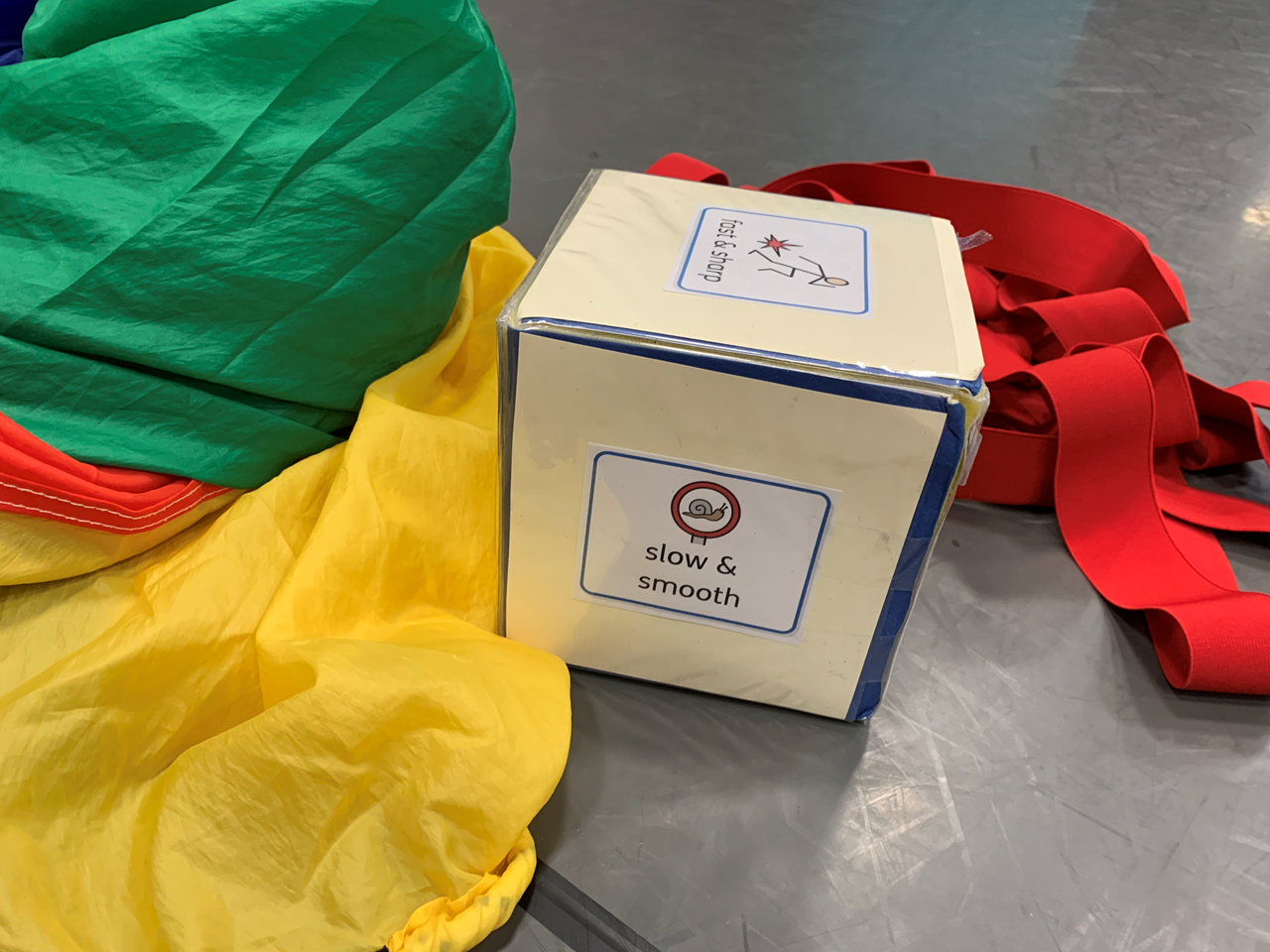 Autumn Outreach
Our team have loved getting out into the community again this term to deliver workshops and training:
Richard Cloudesley School, Islington - All day workshops every Friday (Georgia has now been teaching there weekly for 1.5 years!)
Amaze - Compass card family fun day
Mid Sussex Mencap - sessions with East Grinstead and Haywards Heath groups
ExtraTime - family Fun Day
Zetetick Housing - Dance party
Brighton & Hove Council - HAF/SEND Family day
We are now busy planning workshops into the new year!
Posted Nov 2023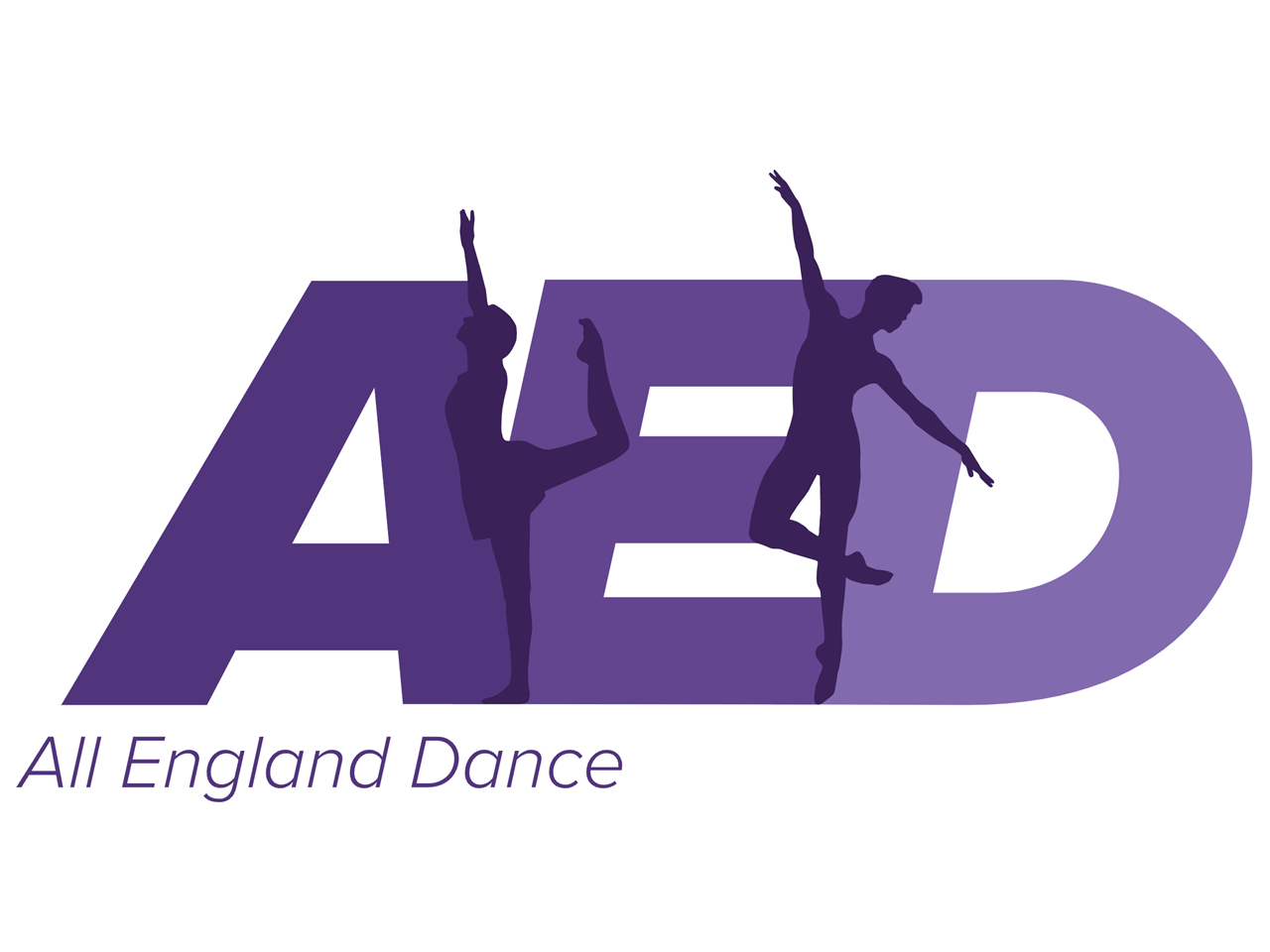 All England Dance
We are looking forward to working with AED again later this month. We'll be working with experienced and newly recruited adjudicators to discuss inclusive language, especially in relation to feeding back to young dancers taking part in their regional and national festivals. AED are dedicated to increasing accessibility in their festivals and conversations like this play a crucial role in this important shift. 
Posted Nov 2023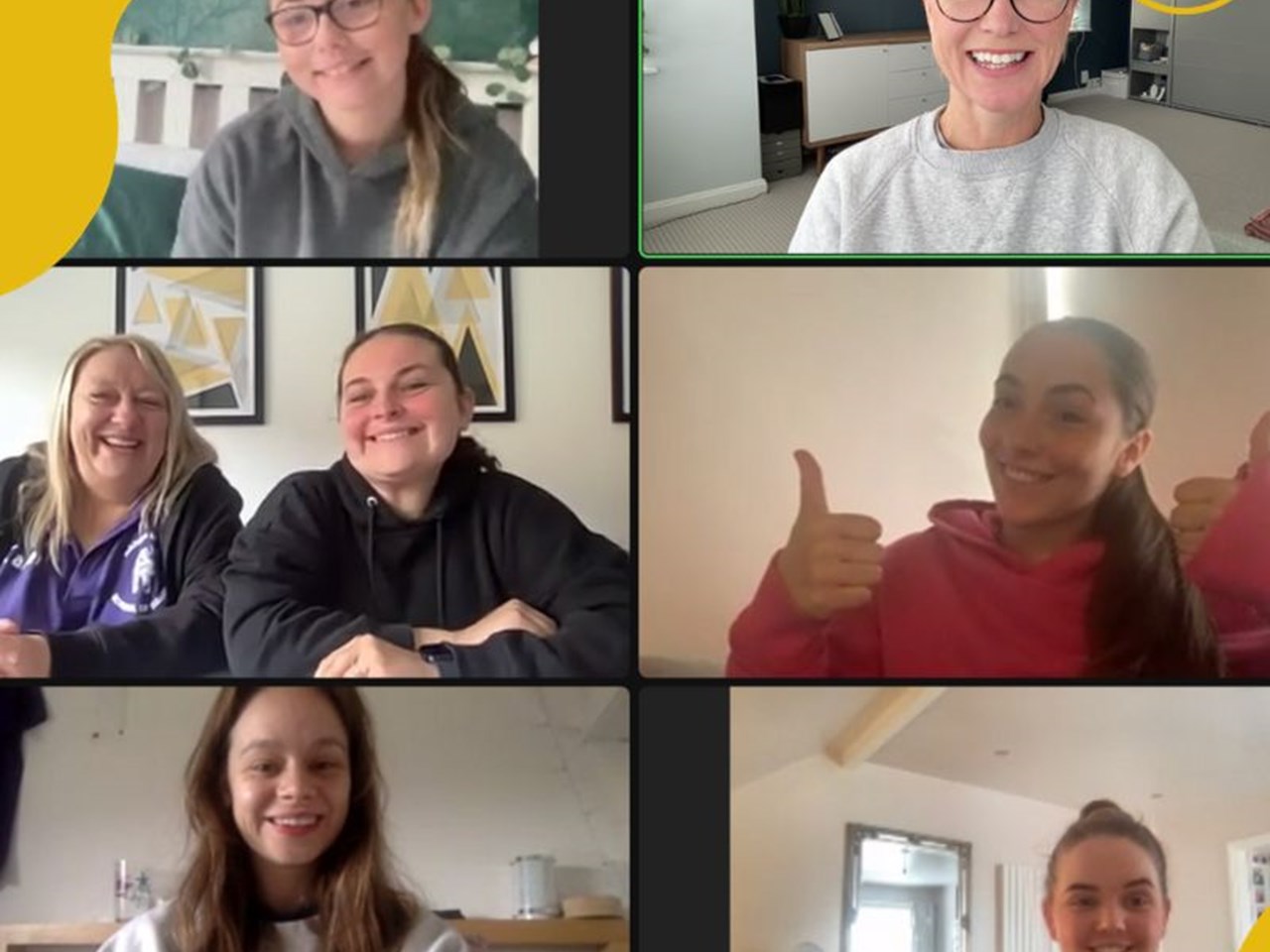 CPD for dance schools
It's great to see community dance schools keen to champion inclusion. In October Natasha delivered an online session for The Karen Liddle School of Dance in Hartlepool and in January she will be spending a day with teachers at Prima Stage School in Maidstone. Both were keen for their teams to gain a deeper understanding of inclusion in order to be able to offer inclusive classes in their communities. 
Posted Nov 2023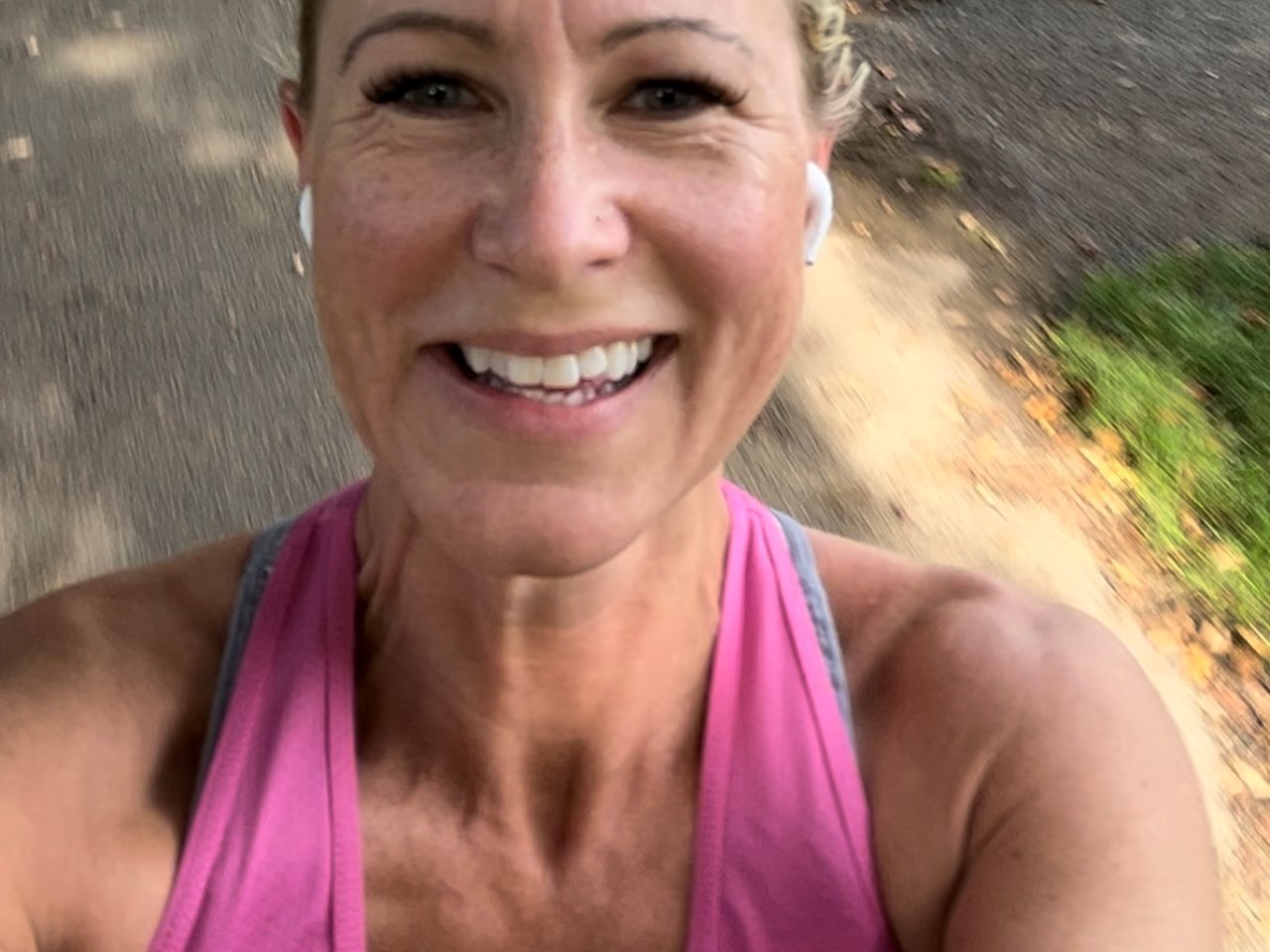 Brighton half marathon
Watch this space for introductions to the running team! 
Natasha and a team of Parable friends are busy training for the Brighton half marathon which takes place on Sunday 25th February 2024. The team will be collectively raising funds for our weekly youth and adult classes, setting the aim of raising £5000. We'll be sharing our fundraising page later in the year.
Posted October 2023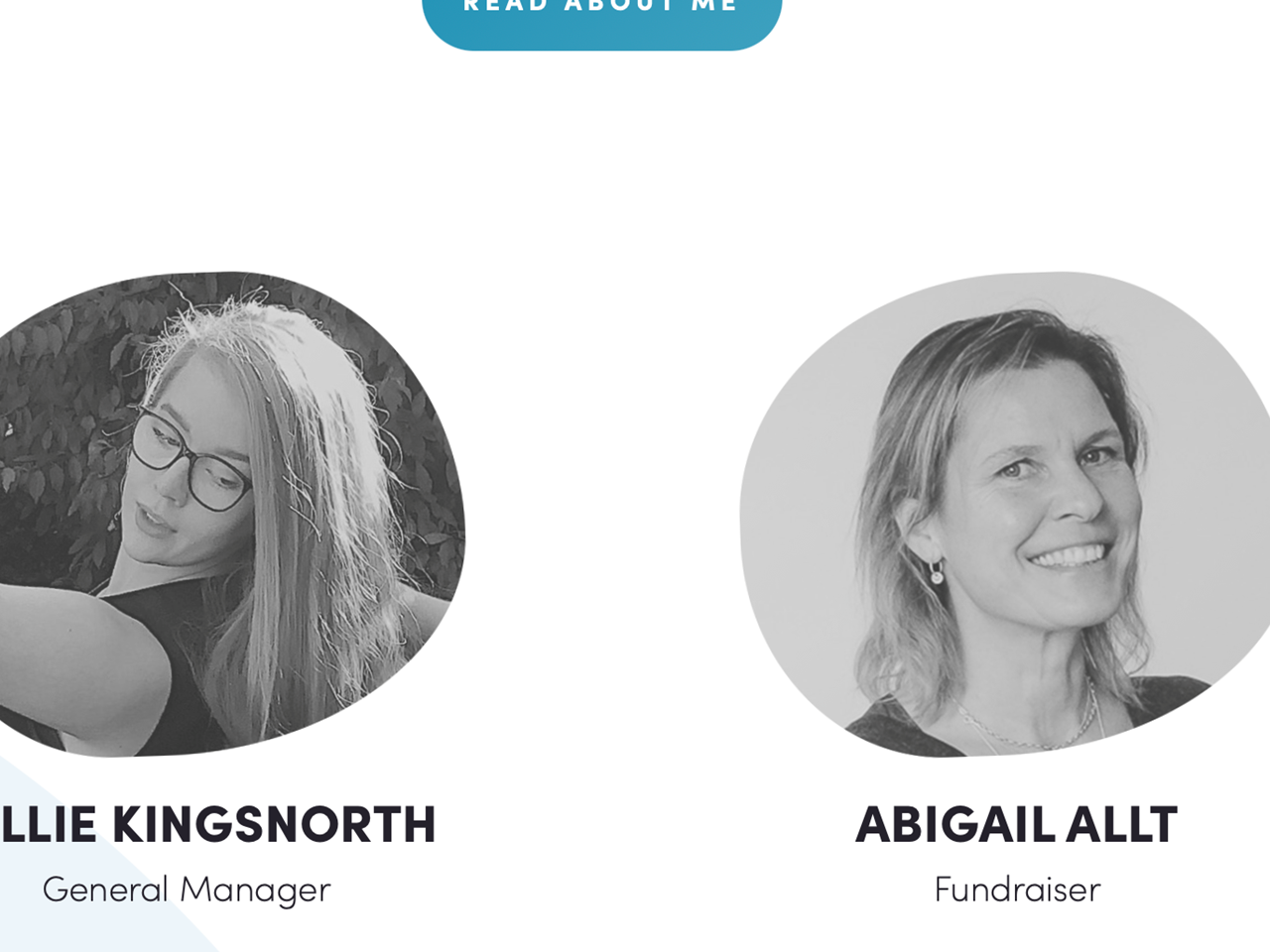 Our team is expanding!
We have been incredibly fortunate that Millie Kingsnorth has been on board team Parable since pretty much the beginning. Starting as a volunteer and progressing to Arts Administrator. Millie has proven herself to be an integral part of Parable and we'd be lost without her. Her role and responsibilities have grown and we are pleased to announce that she is now stepping up as General Manager.
With our growth in projects we have also found the need to seek fundraising support which comes in the form of the wonderful Abigail Allt. Abigail has a rich history in fundraising for the arts, including for our partners at South East Dance. Abigail has come on board for an initial short term contract to help us to secure much needed funds to keep our projects driving forward.
Posted October 2023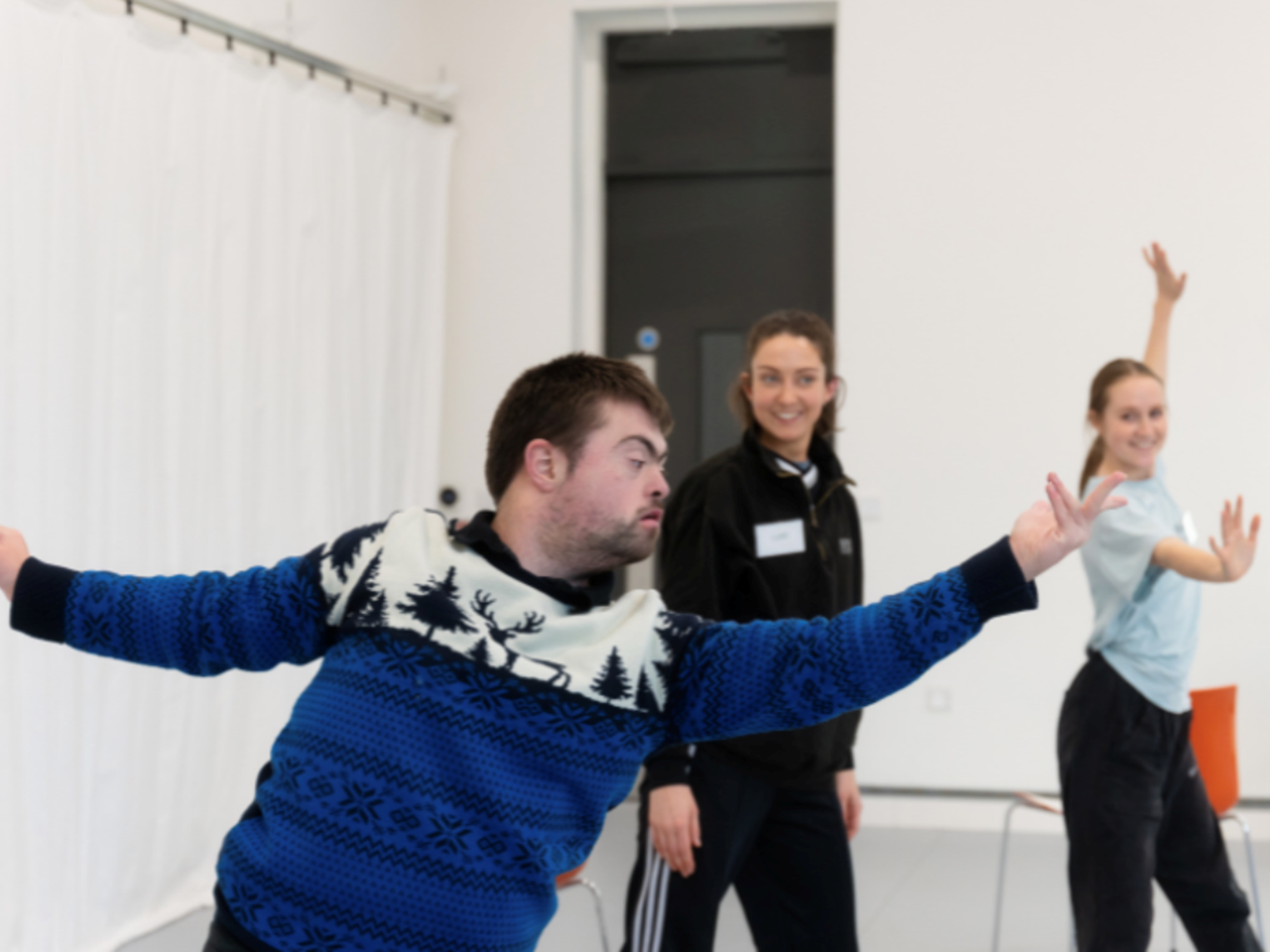 Partnering with NYB, ISTD & Joe Powell-Main
As part of our partnership with National Youth Ballet for our All In! project, we are excited to be partnering with the ISTD and Joe Powell-Main to lead an inclusive ballet CPD session later this month. We're thrilled that there has been such a big uptake for our professional development, enabling us to pass our learning on to teachers around England.
Posted October 2023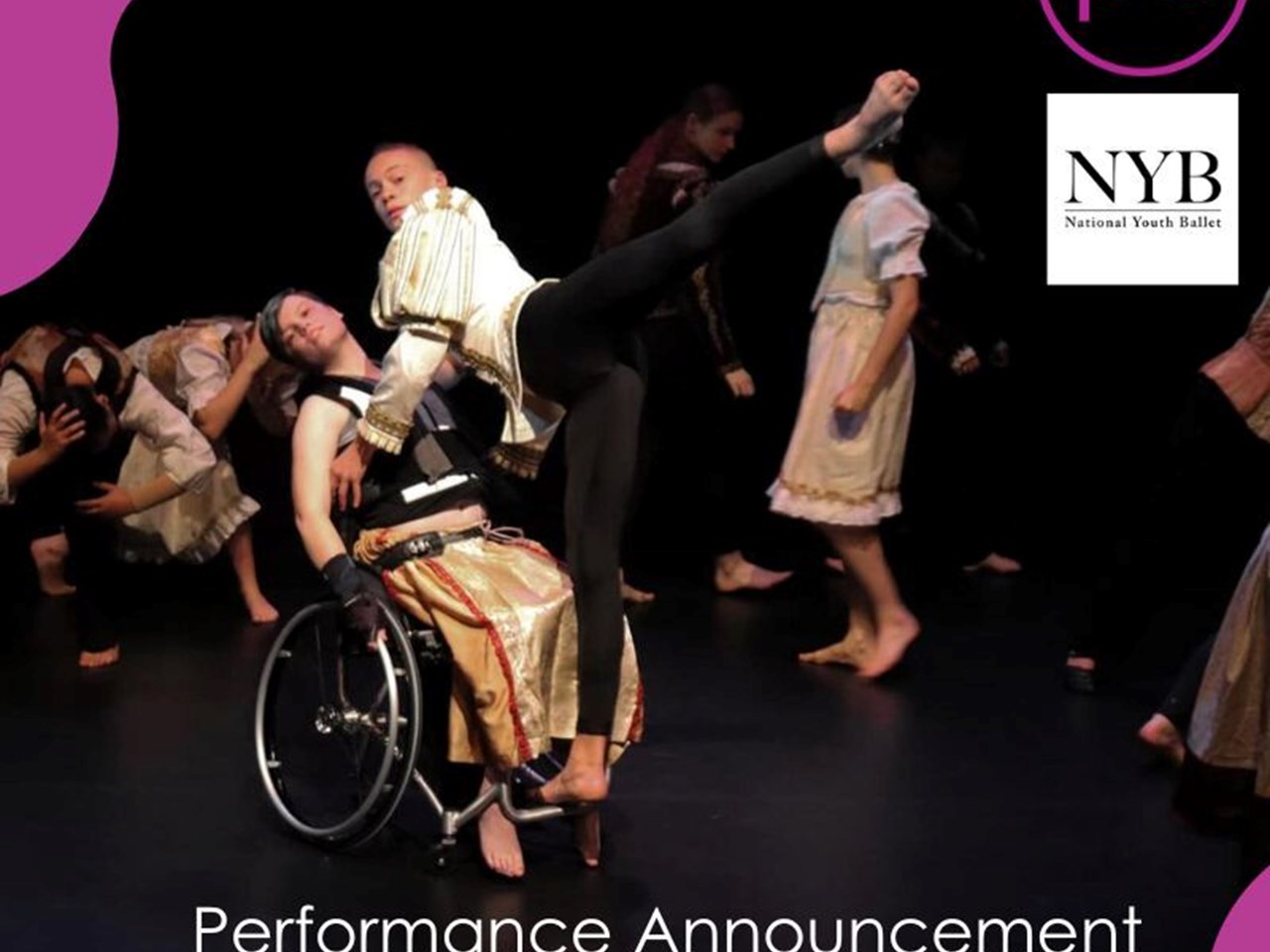 Performing at Sadler's Wells!
Parable Dance and NYB are delighted to be presenting excerpts from the All In! performance at the Empower In Motion Fundraising Gala at Sadler's Wells on the 7th February 2024. The evening will also feature NYB Ambassador Joe Powell-Main, dancers from English National Ballet and The Royal Ballet. 
Throughout the show, the audience will be introduced to the numerous organisations that work tirelessly to support inclusive dance across Britain. Representatives from these organisations will share their stories and initiatives, shedding light on the transformative impact of their work.
All proceeds raised on the night will be donated to Children Today Charitable Trust as part of their 30th anniversary celebrations. 
Posted September 2023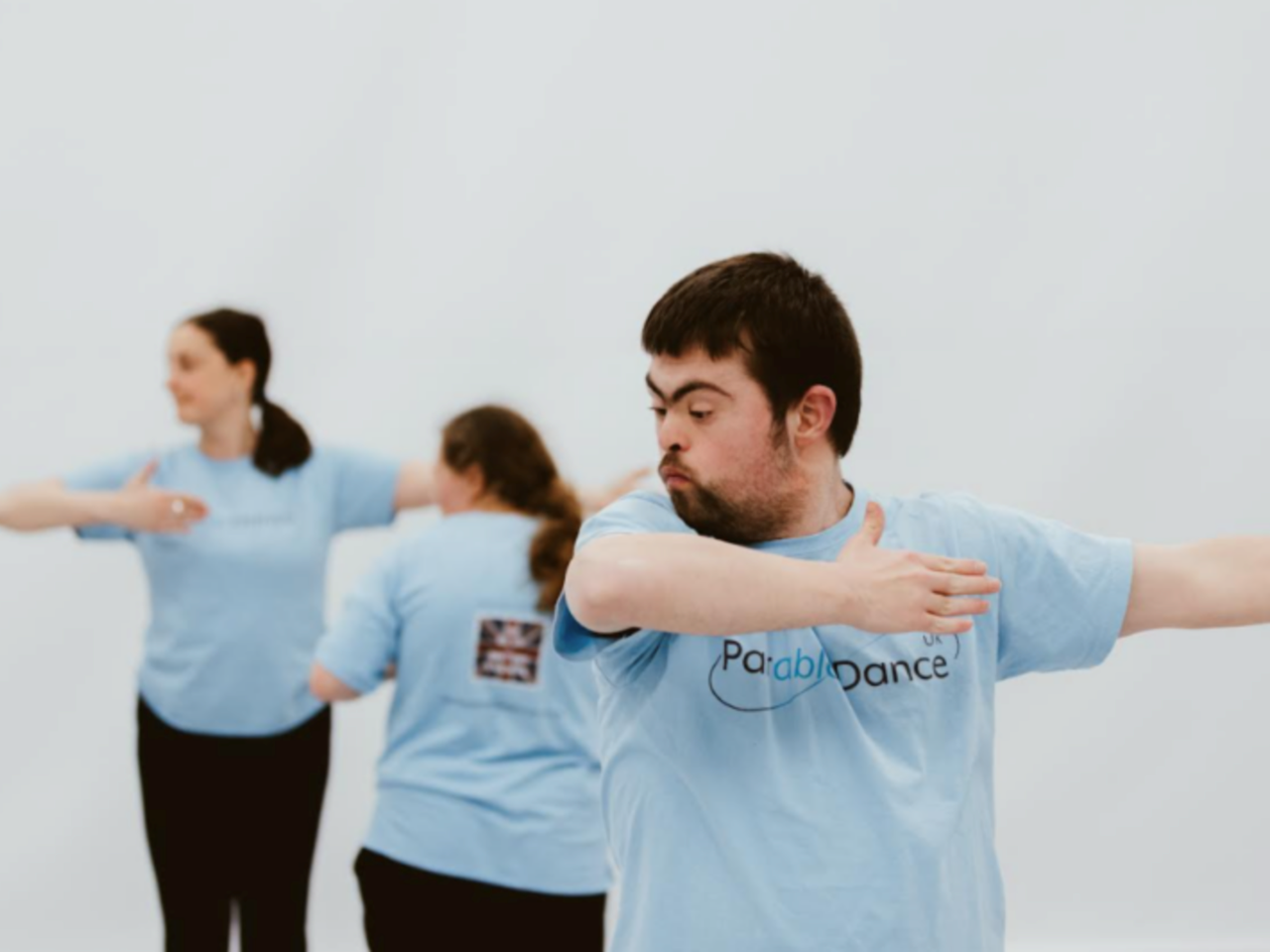 Parable & NYB summer intensive
We spent the last week of August in the beautiful Jamie Watton Creative Space at South East Dance where dancers from NYB and Parable Dance joined forces to create an inclusive ballet company. They performed their own adaptation of Romeo and Juliet,
choreographed by NYB Beyond Ballet® choreographers Ross Black and Hannah George. Ross and Hannah were mentored throughout the process by Natasha (Parable), Jo Meredith (NYB) and dancer Joe Powell-Main. 
We can't wait to share the film of the performance and also a wonderful short documentary of the project... watch this space! 
Posted September 2023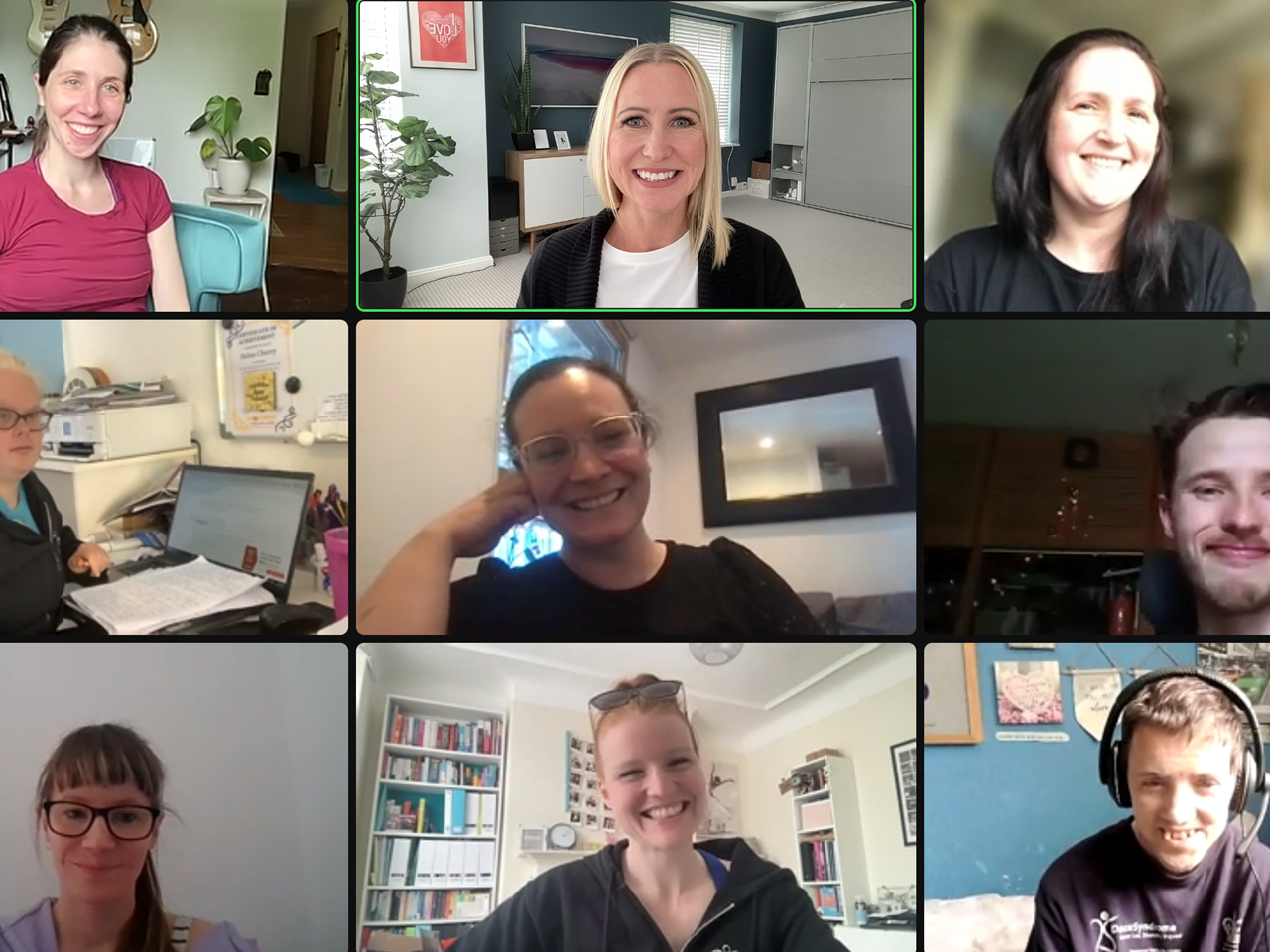 Steering Committee
We were excited to meet with our new steering committee this month to talk about our website and social media messaging and to focus on ideas for the future. The steering committee was formed in order to ensure we are hearing and representing the voices of dance artists who identify as having a disability or long term health condition. 
We had great discussions which generated so many ideas for us to work through! 
Special thanks to; Peter, Helen, Katie, Kelsie, Emma, Paul and Becki for their fantastic ideas and feedback.
Posted July 2023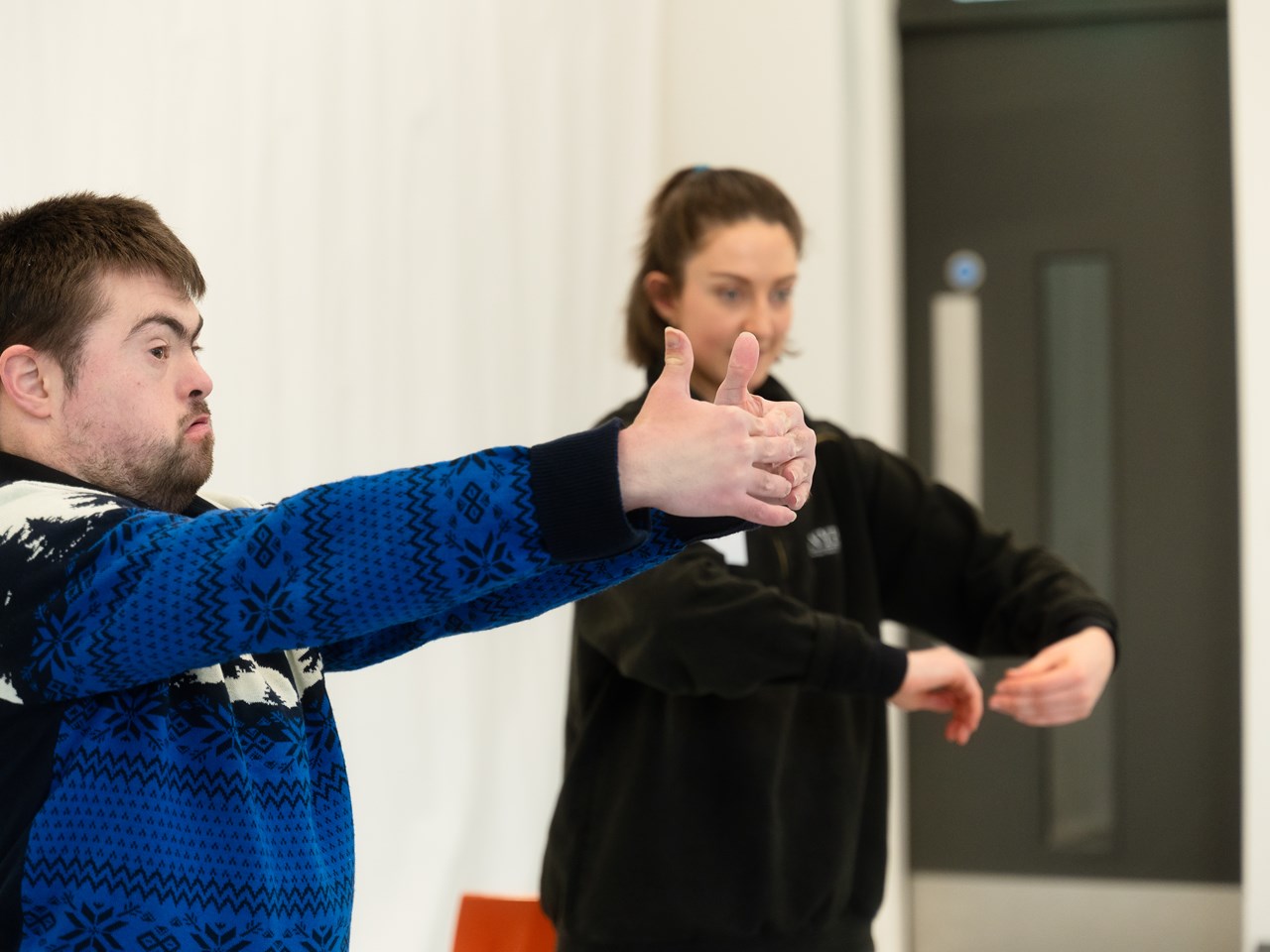 National Youth Ballet & Parable CPD
Parable have teamed up with National Youth Ballet (NYB) to create and deliver inclusive ballet professional development (CPD) for teachers. The two sessions, which take place in August will be held at Elmhurst Ballet School and South East Dance. We will be rolling this CPD out in more locations in the Autumn.
Posted July 2023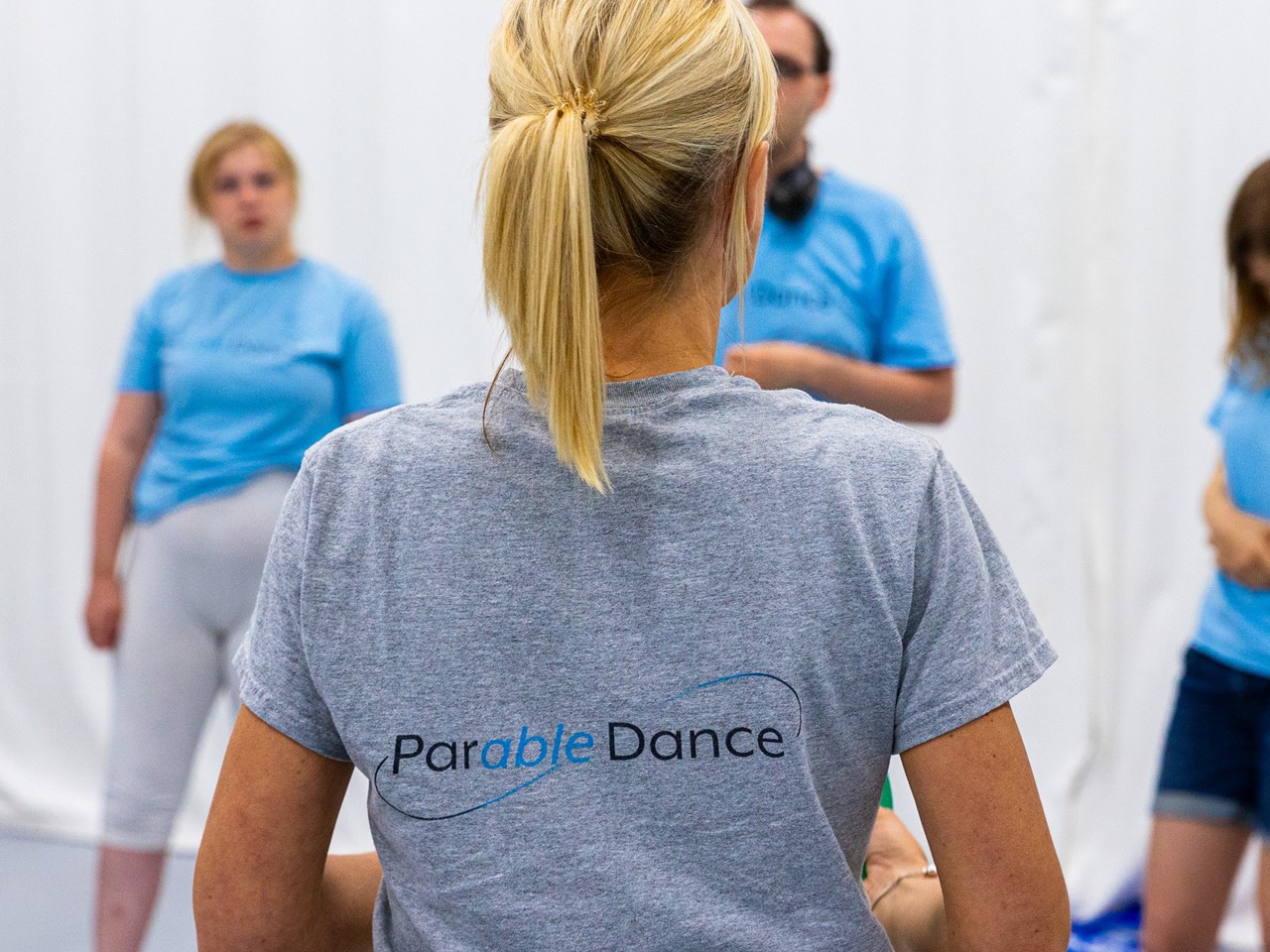 Summer term outreach workshops
Our team have loved getting out into the community again this term to deliver workshops and training:
Richard Cloudesley School, Islington - All day workshops every Friday
Brunswick Primary School, Brighton - weekly one hour class 
South East Dance - Our City Dances workshop
Amaze - Compass card family fun day & Face 2 Face family fun day
Carousel - Summer arts explorer workshops
We're delighted to have been asked to return to Richard Cloudesley School every Friday for another whole year and have lots of great workshops lined up for next term including with a new housing association and with Mencap. We will also be delivering CPD for The ISTD in partnership with NYB. Busy busy busy!
Posted July 2023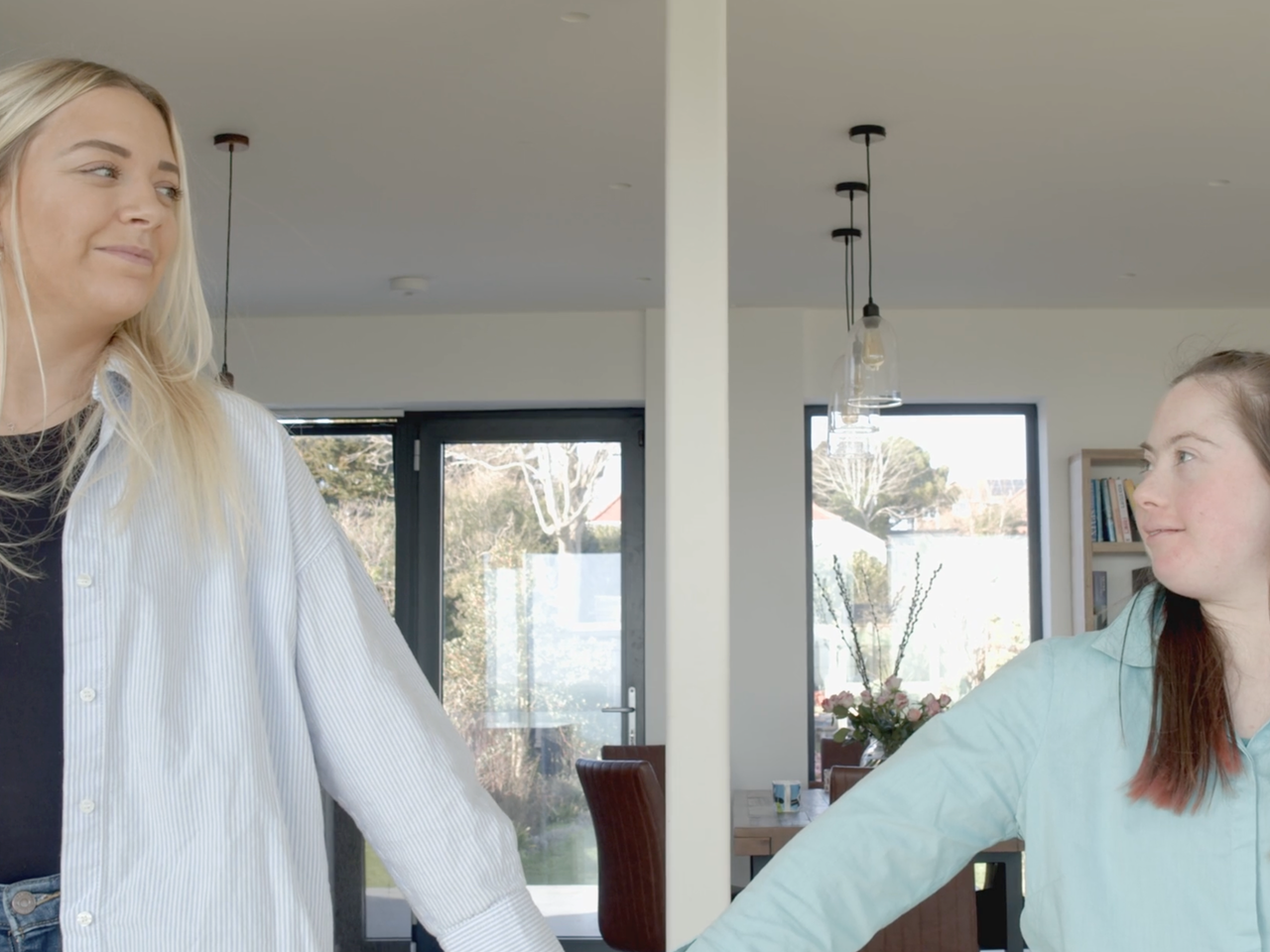 Film Premiere
We are excited to be premiering our new dance film 'Sister' on The Parable Dance YouTube channel: 4pm on Friday 12th May (and available thereafter).
'Sister' is a Parable Dance UK film Choreographed & performed by Georgia Poole and Lauren Payne and made possible thanks to Royal & Derngate Generate Artist support & public funding by The National Lottery through Arts Council England.
'Sister' looks at the supportive and loving relationship between 2 sisters… "now we dance as two".
Posted May 2023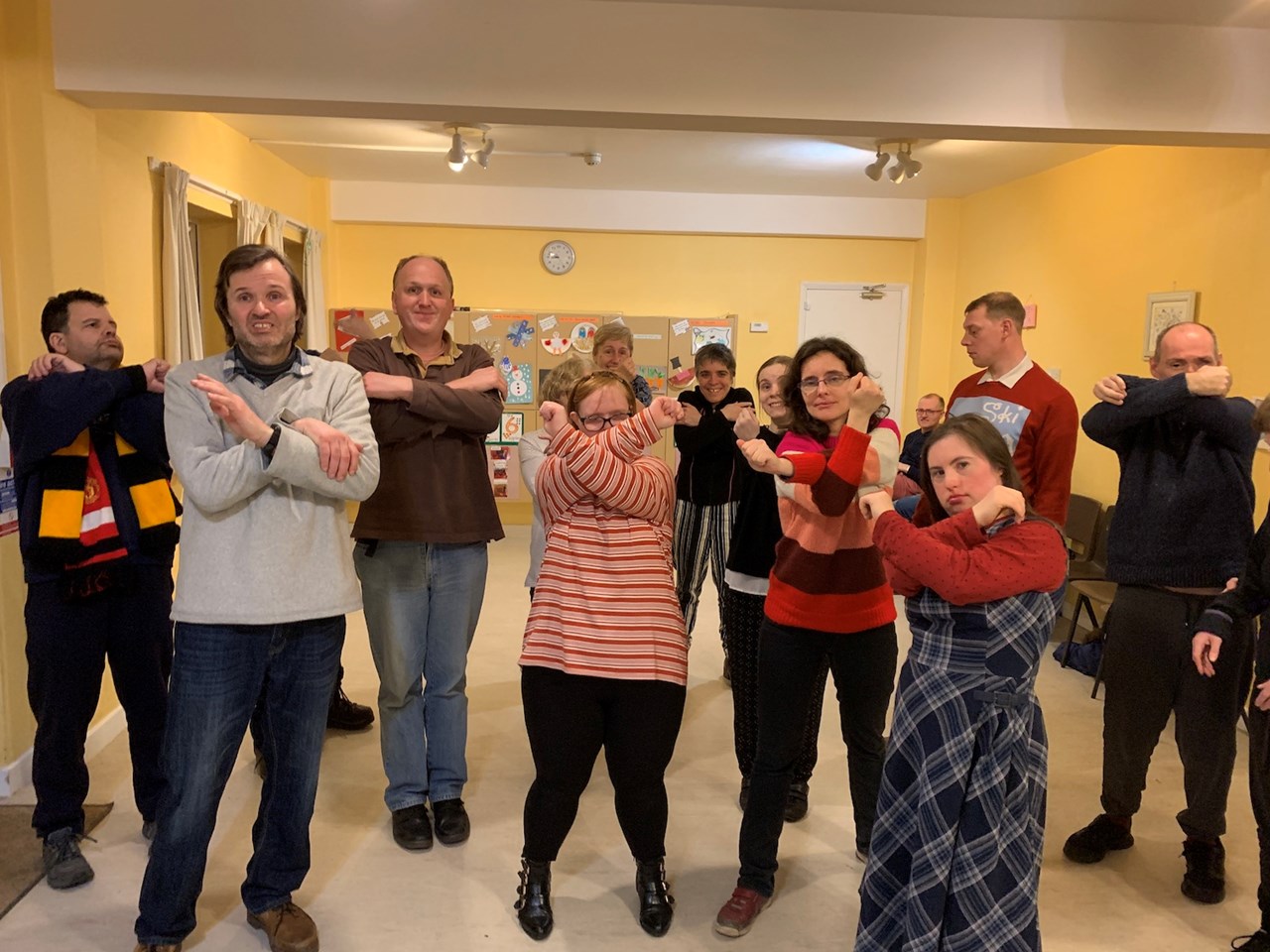 Spring term outreach workshops
We've been busy delivering workshops and training across the South East this term and our team is loving getting into the community to meet so many wonderful dancers. This term we have taught for:
Extratime, Brighton - family fun days
Richard Cloudesley School, Islington - All day workshops every Friday
Woodlane School, London - Day of workshops and a performance of our duet 'Sisters'
St Johns School, Brighton - two afternoon workshops
Mid Sussex Mencap, Burgess Hill & East Grinstead - evening dance sessions
Brunswick Primary School, Brighton - weekly one hour class for the term
Canterbury Christ Church University - professional development days for year 2 dance education students
Posted April 2023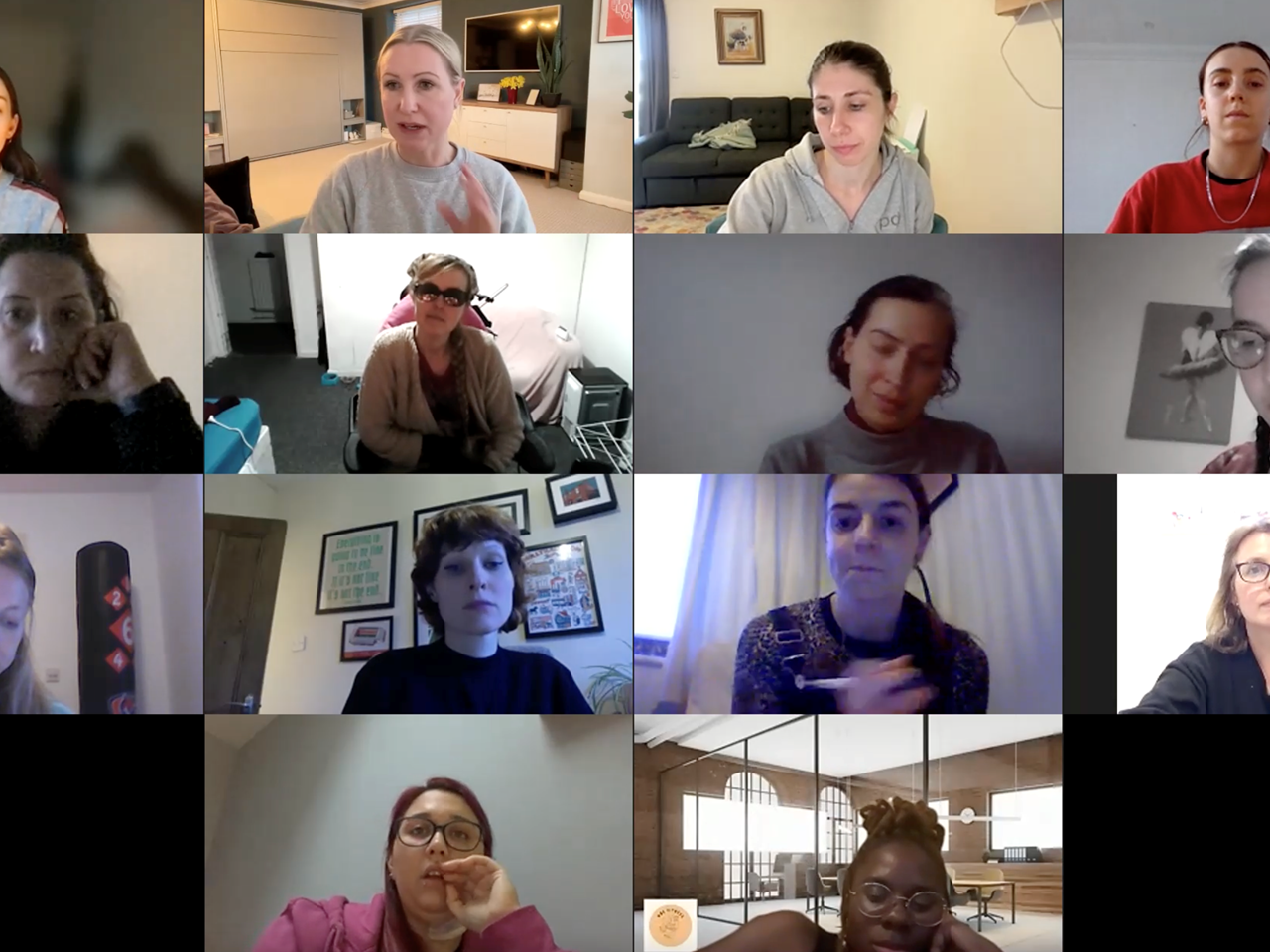 Mentoring Programme 2023
We started the mentoring programme with our wonderful new cohort of dancers/teachers in February. We'll be getting together on Zoom on Monday evenings until June and covering a range of topics including Makaton signing, dance for Parkinson's, dancers mental health, business skills, inclusive dance teaching skills and much more. 
Each person taking park will also receive one to one mentoring from the Parable team and will be encouraged to set themselves challenges and targets for their career.
We're only one session in and we can already tell that this is going to be a great new mini inclusive dance community! 
Posted March 2023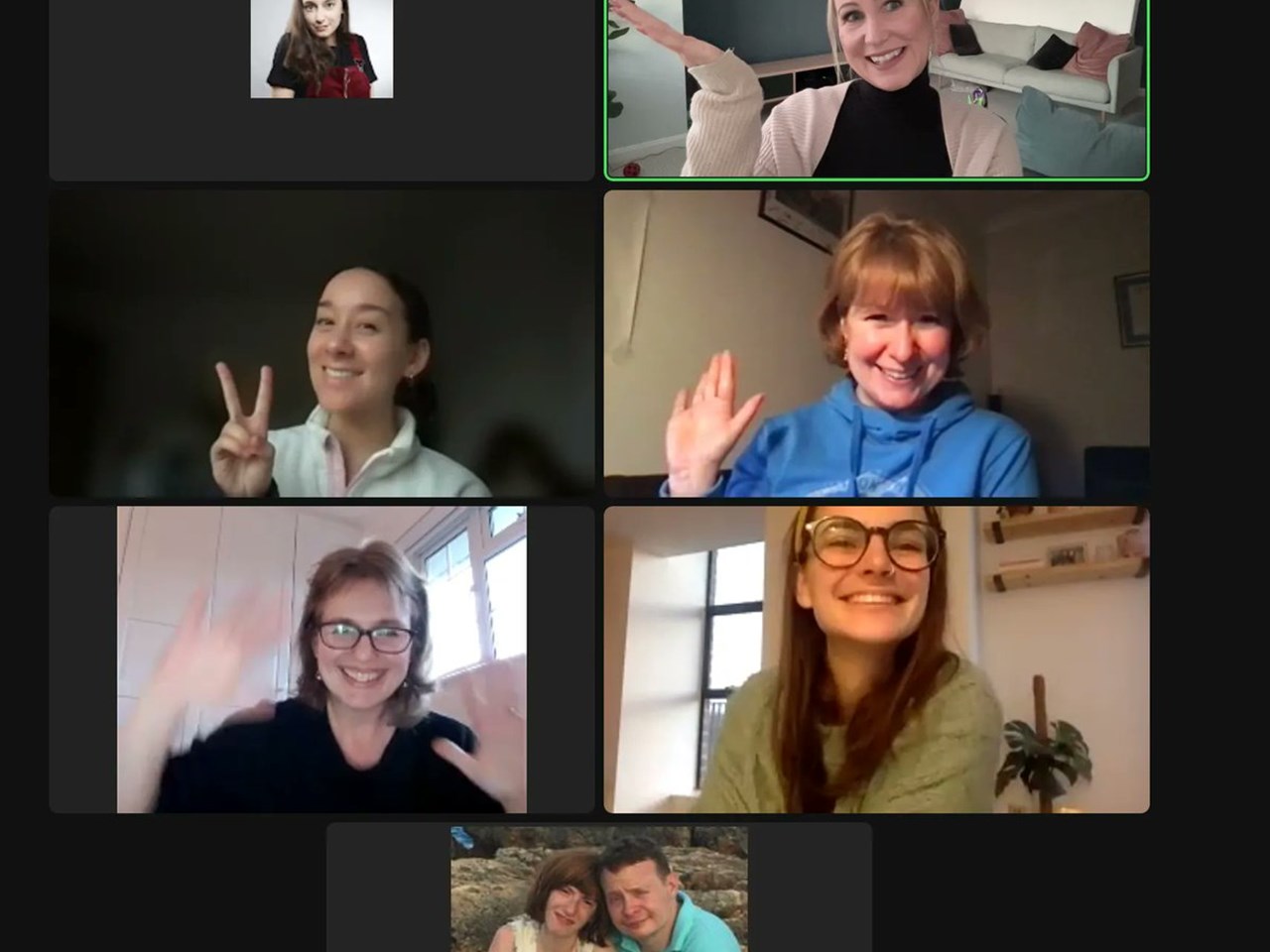 Guest artists in NEID meetings
We kicked off the first NEID meeting of 2023 with the wonderful Jo Meredith, Creative Director of National Youth Ballet, who spoke to the group about the NYB and Parable Dance inclusive ballet project 'Applied Ballet, All In'.
In the March meeting we will be welcoming disabled dancer, model and activist; Kate Stanforth, in May and July the Parable team will be leading inclusive dance discussions and in September we welcome Co Artistic Director of Stopgap; Laura Jones.
Visit the 'what we offer' page for more information.
Posted February 2023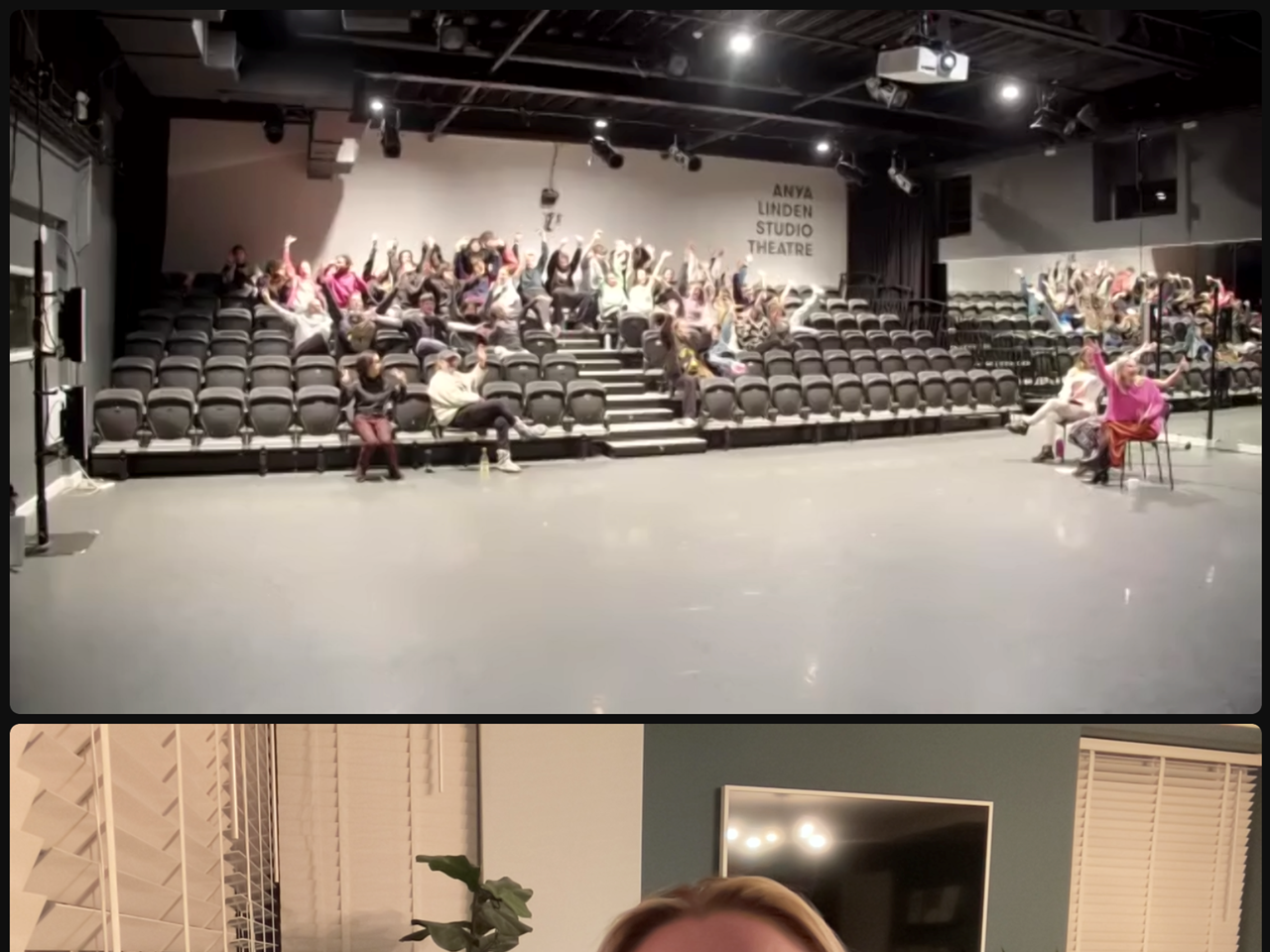 Working with Rambert School
Natasha loved meeting students at Rambert School last week when she appeared virtually as part of a guest panel about neurodiversity and inclusive practice in dance. It was so great to be featured in this event alongside the wonderful Charlotte Edmonds and Jessica Lowe.
Natasha is also loving being a mentor for a second year to Rambert MA student Becki who is undertaking hugely important research around inclusive leadership. Thank you Rambert for prioritising inclusion!
Posted Feb 2023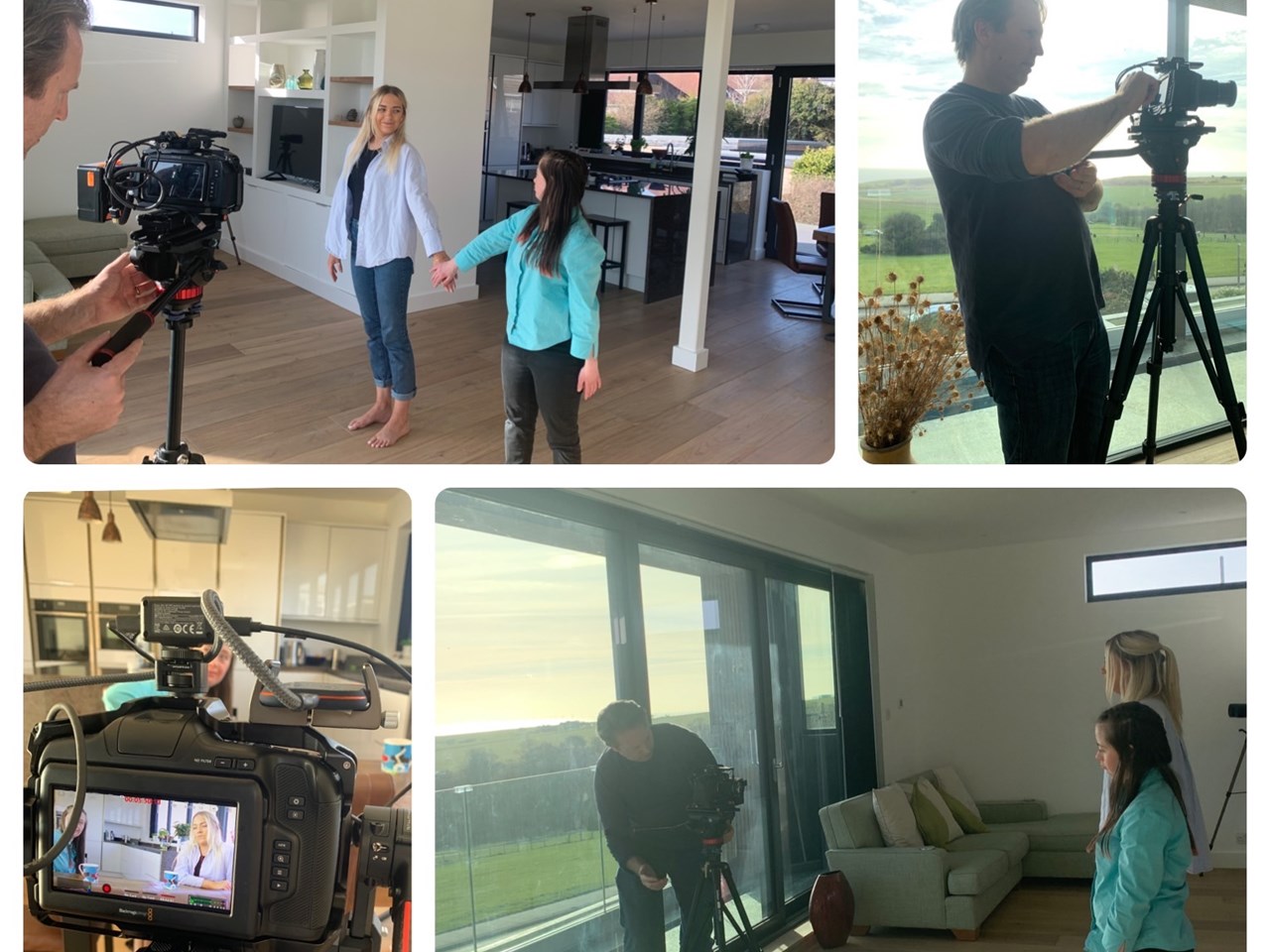 Filming 'Sister'
We were awarded an artist support grant by Royal and Derngate Generate to create a performance duet. Georgia and Lauren have been working hard on this for months and the finished piece called 'sister' is now ready for booking at events.
In order for their wonderful choreography to reach a wider audience, we decided to make it into a film to share with festivals as well as online. We are beyond grateful to Charles Mansfield-Osborne at Megapixel Movie who is supporting our work by providing his services in kind. He spend a weekend filming the duet and will edit it into a short film ... we can't wait to share it with you soon!
Posted February 2023
Training teachers at The Place
This month we were delighted to be asked to deliver an inclusive dance professional development session for dance teachers working on the CAT scheme and youth classes at the Place. 
Some of the 33 teachers who took part have got in touch to join our other networks and programmes which is great - we love that our work connects people and starts important conversations about inclusion.
Posted Jan 2023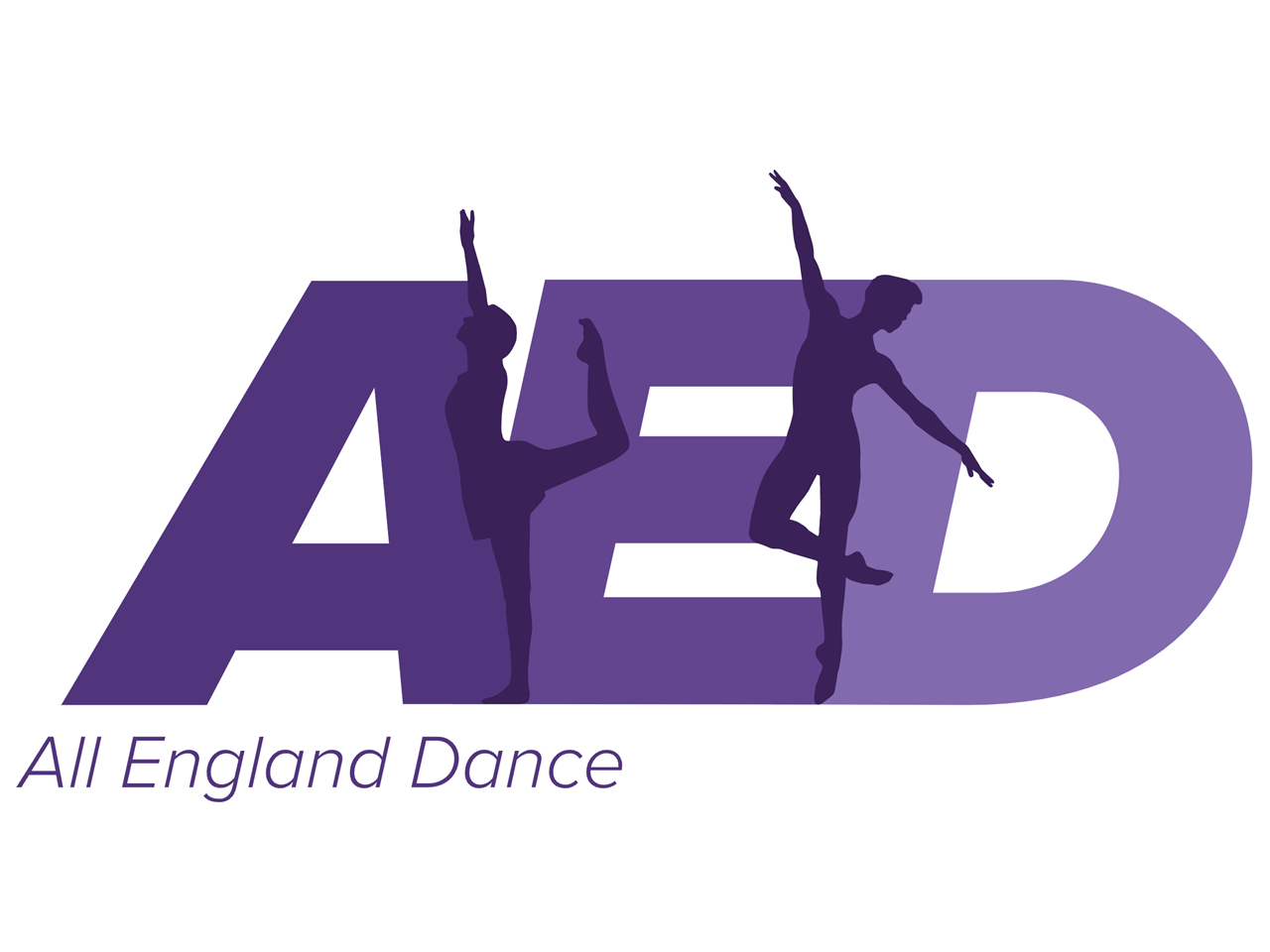 All England Dance
We're delivering a professional development session this month for the All England Dance adjudicators. They're looking to expand their regional and national festivals to address access and ensure opportunities are open to all young people. It's great to see leading dance organisations like AED (who are about to celebrate 100 years) addressing inclusion. We will be continuing the conversation with them beyond the training so watch this space.
Posted November 2022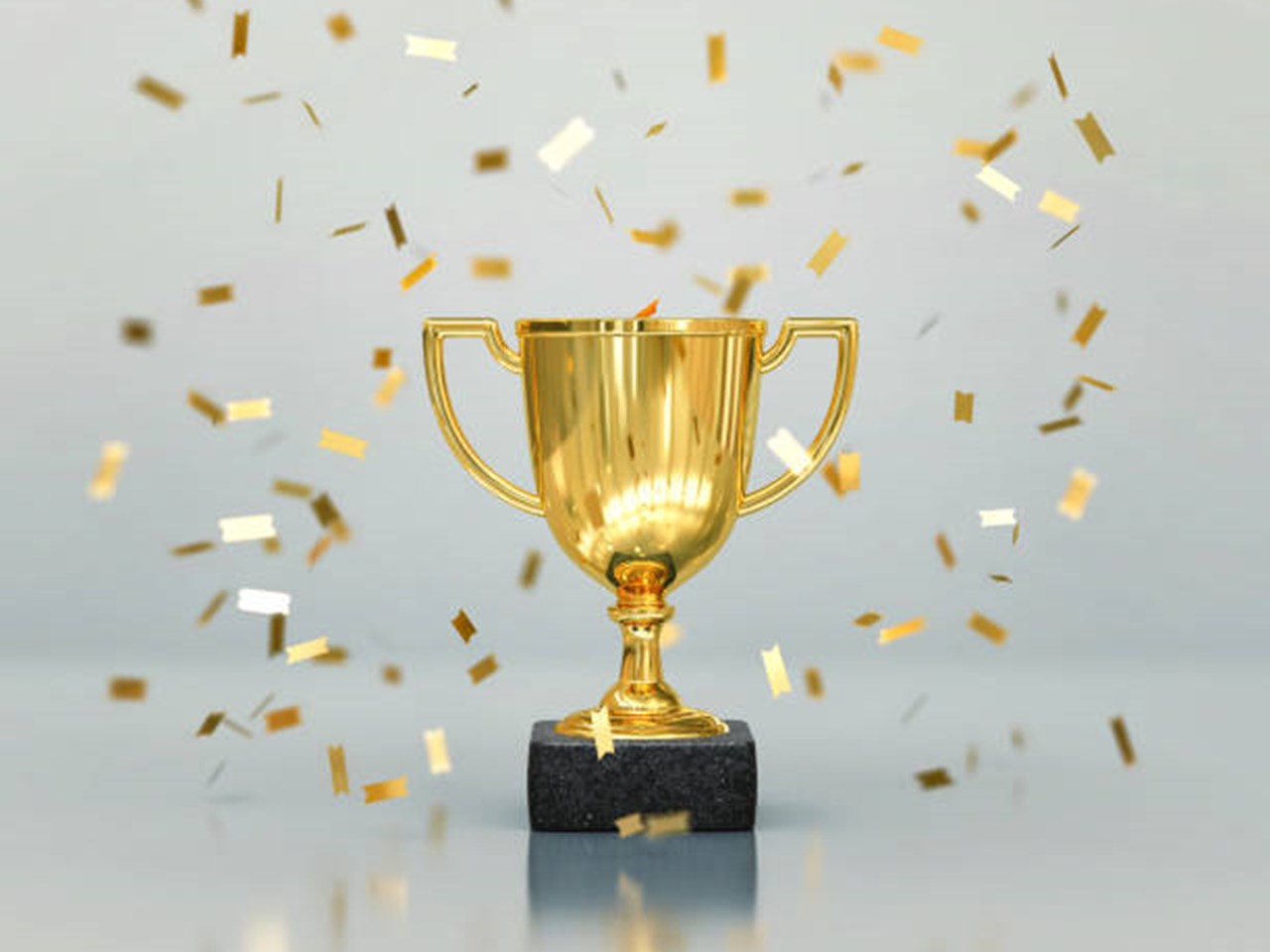 Awards!
We are thrilled to announce that Natasha won the National Lifetime Achievement Award at the She Inspires Awards! 
In addition, Lauren was shortlisted at the same awards event for the National Cultural Champion Award. Natasha, Lauren and their families attended the awards evening virtually on 24th November.
We were also honoured to be shortlisted at The Sussex Business Award for the Community hero award. Natasha attended the awards evening at The Grand Hotel in Brighton on 1st December. We were extra delighted to be shortlisted alongside Best of British Events who sponsored our t-shirts and give us business mentoring and we're thrilled for them that they won the category.
It has been wonderful being part of both awards events and celebrating the great work happening around the UK.
Posted December 2022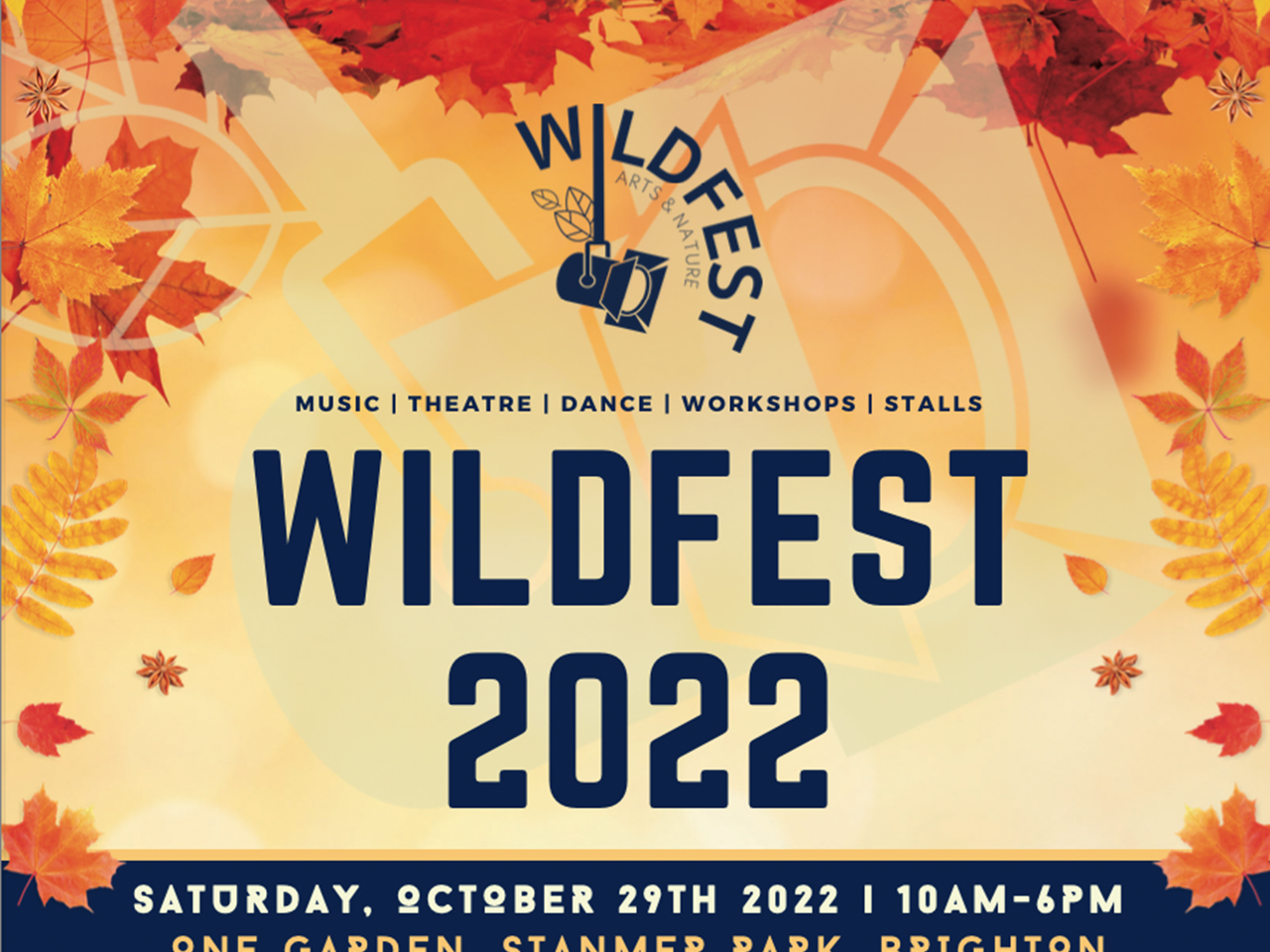 Duet to premiere at Wildfest
We were thrilled to be recipients of a Generate Artist Support Award from Royal & Derngate Theatre, Northampton. The funds have enabled us to create a performance duet, choreographed and performed by two of our team members; one with a learning disability and one who is non disabled. We are excited that the duet, which will be about female empowerment, will be premiered at Wild Fest in Stanmer Park, Brighton this month. We're hugely grateful to Shakespeare in Italy for the opportunity to be part of the programme - Find out more through the link and catch us on stage at 11am!
The duet is available to book for events, please get in touch if you're interested in discussing a booking. 
Posted Oct 2022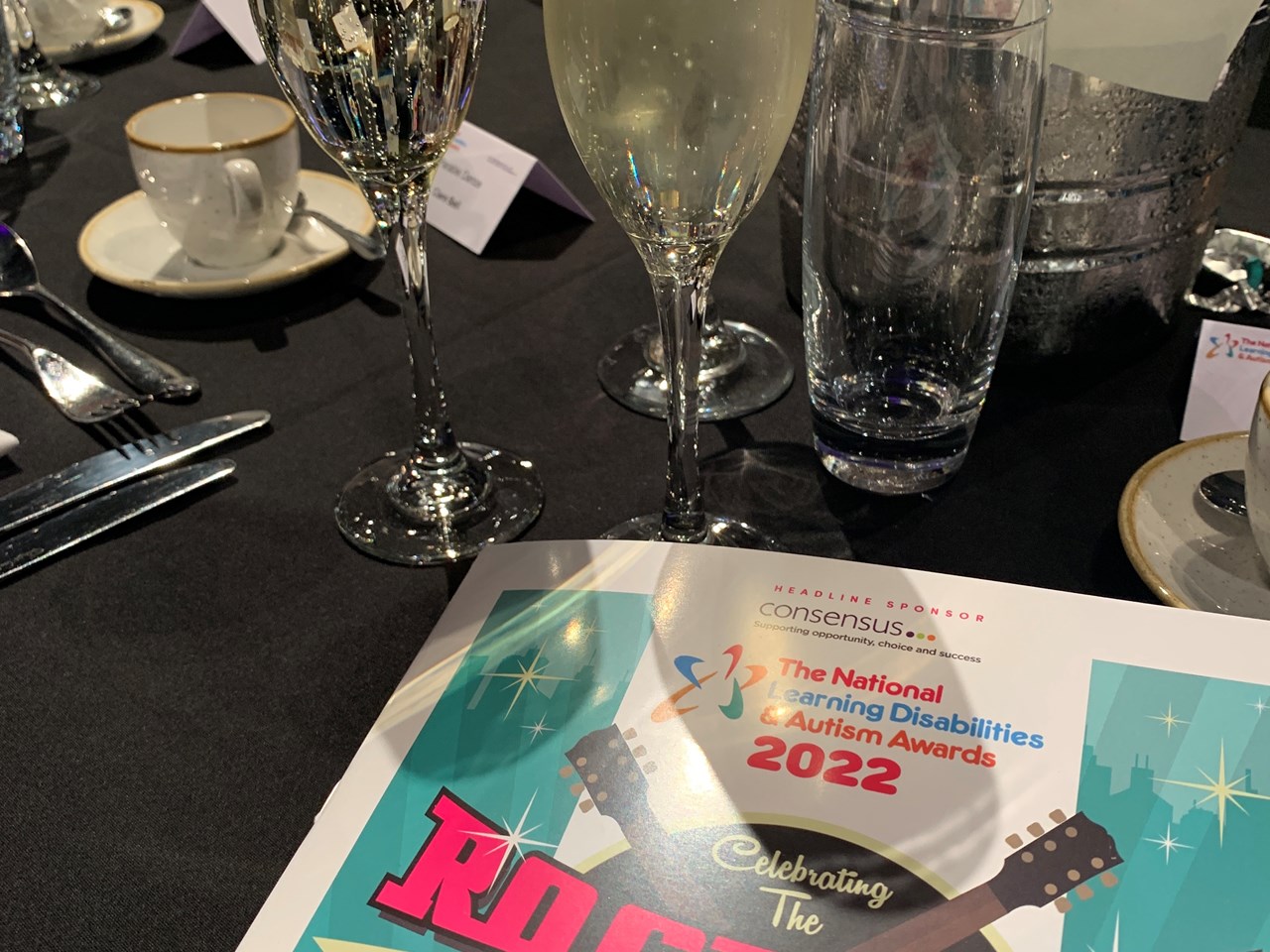 Parable shortlisted for awards
We were thrilled to be invited to attend two prestigious awards ceremonies in June and July 2022, as we were shortlisted for three awards.
The Autism Hero Awards: Natasha for 'Lifetime Achievement'.
The Learning Disability & Autism Awards: Natasha for 'Outstanding contribution' and Parable for 'Sporting Chance'.
We didn't win but we felt like winners being included alongside some incredible people and organisations.
Posted July 2022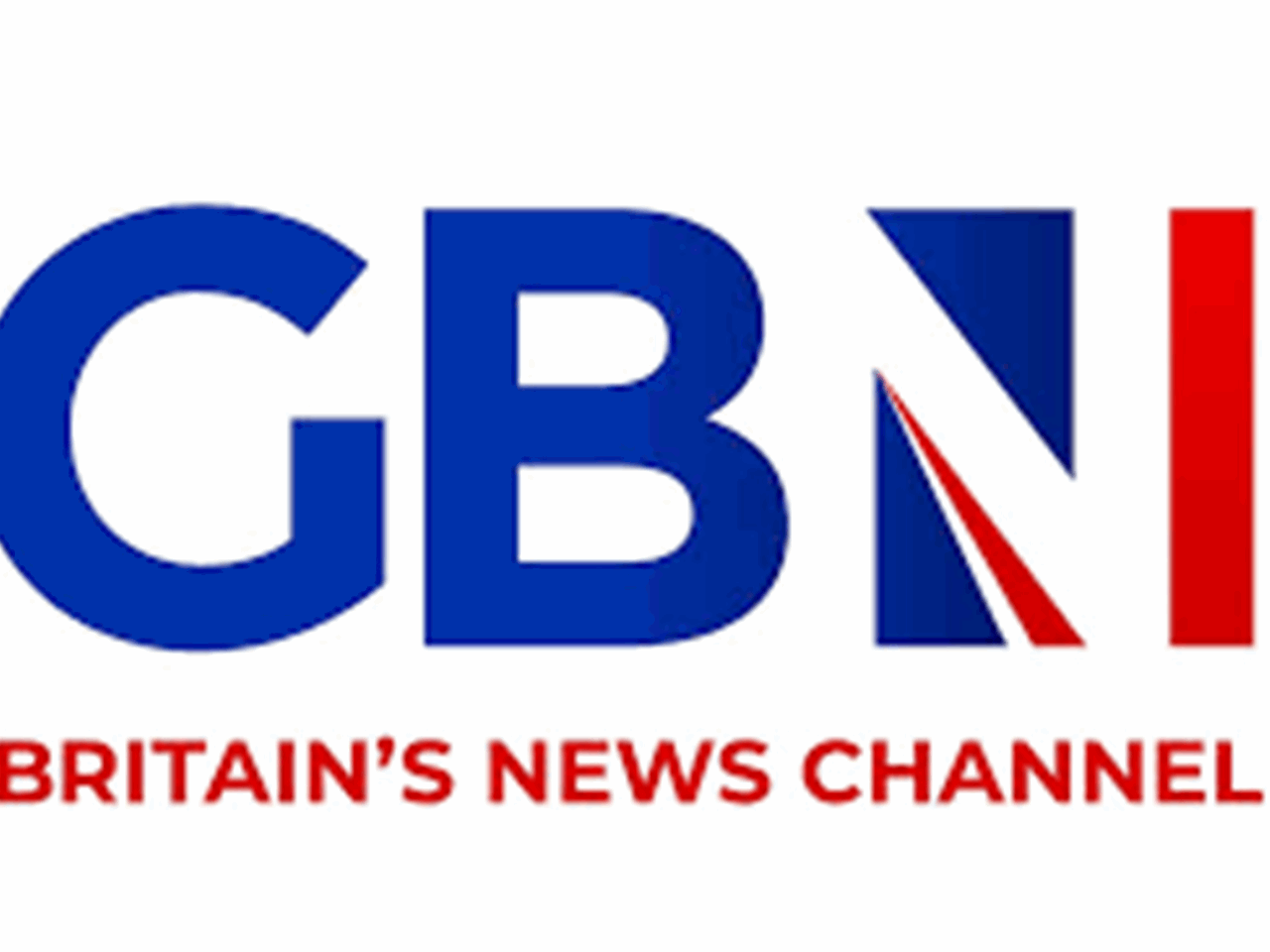 Great Briton of the week!
Natasha Britton as Great Briton of the week!
Natasha was asked to visit the news room at national news channel GB News this month, where she was featured as Briton of the week and asked about her career and the work of Parable Dance. The interview features footage from our weekly adult group and Carousel Dance Party warm ups.
Posted May 2022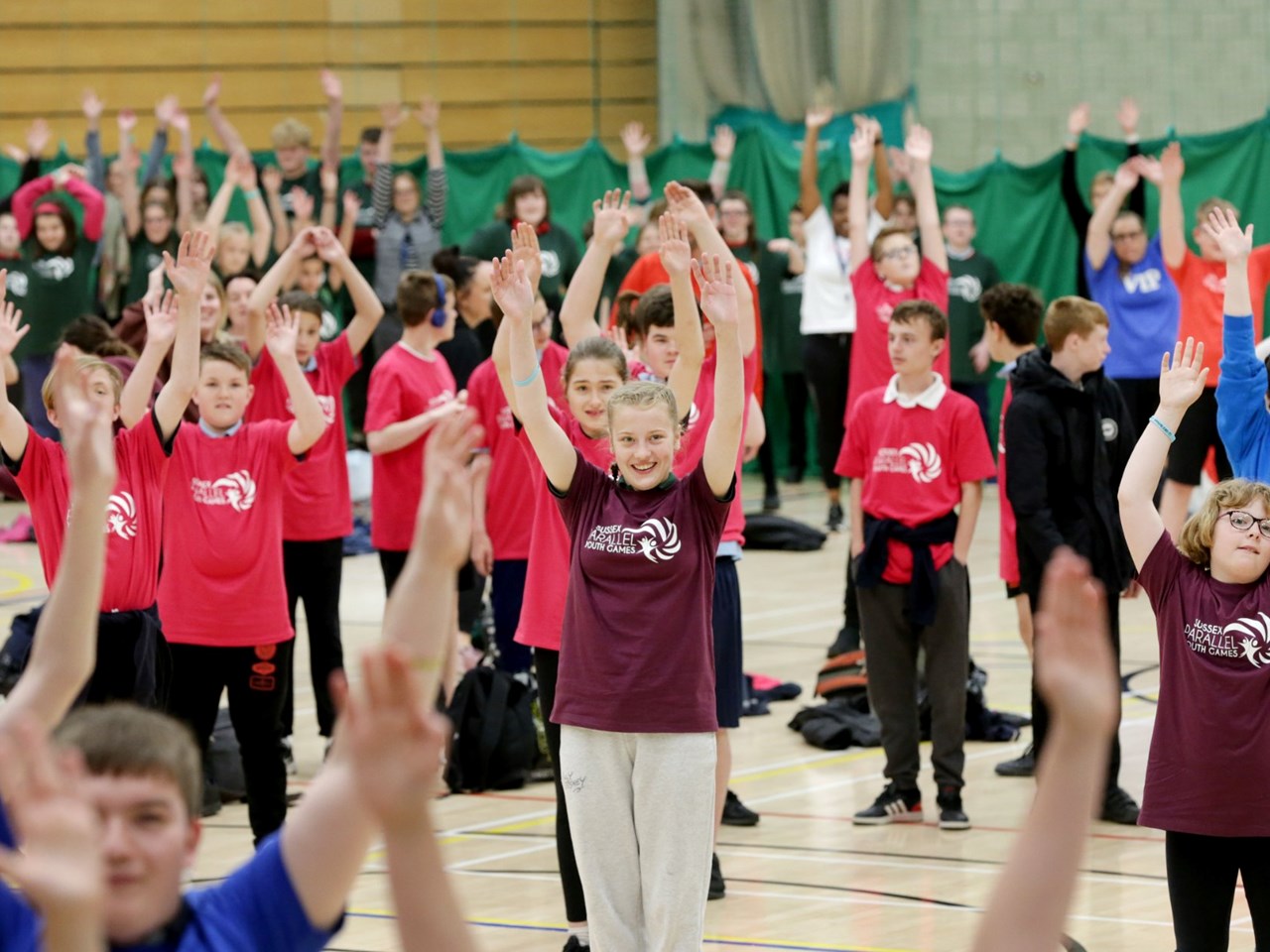 Parallel Youth Games
Natasha had an amazing time working with 10 SEN schools from around Sussex to create a closing ceremony dance for the Sussex Parallel Youth Games. She led a warm up for all 300 children then worked with groups from 6 of the schools to make a dance for the closing ceremony. Huge thanks to Active Sussex for bringing us on board to be part of such a special day.
Posted May 2022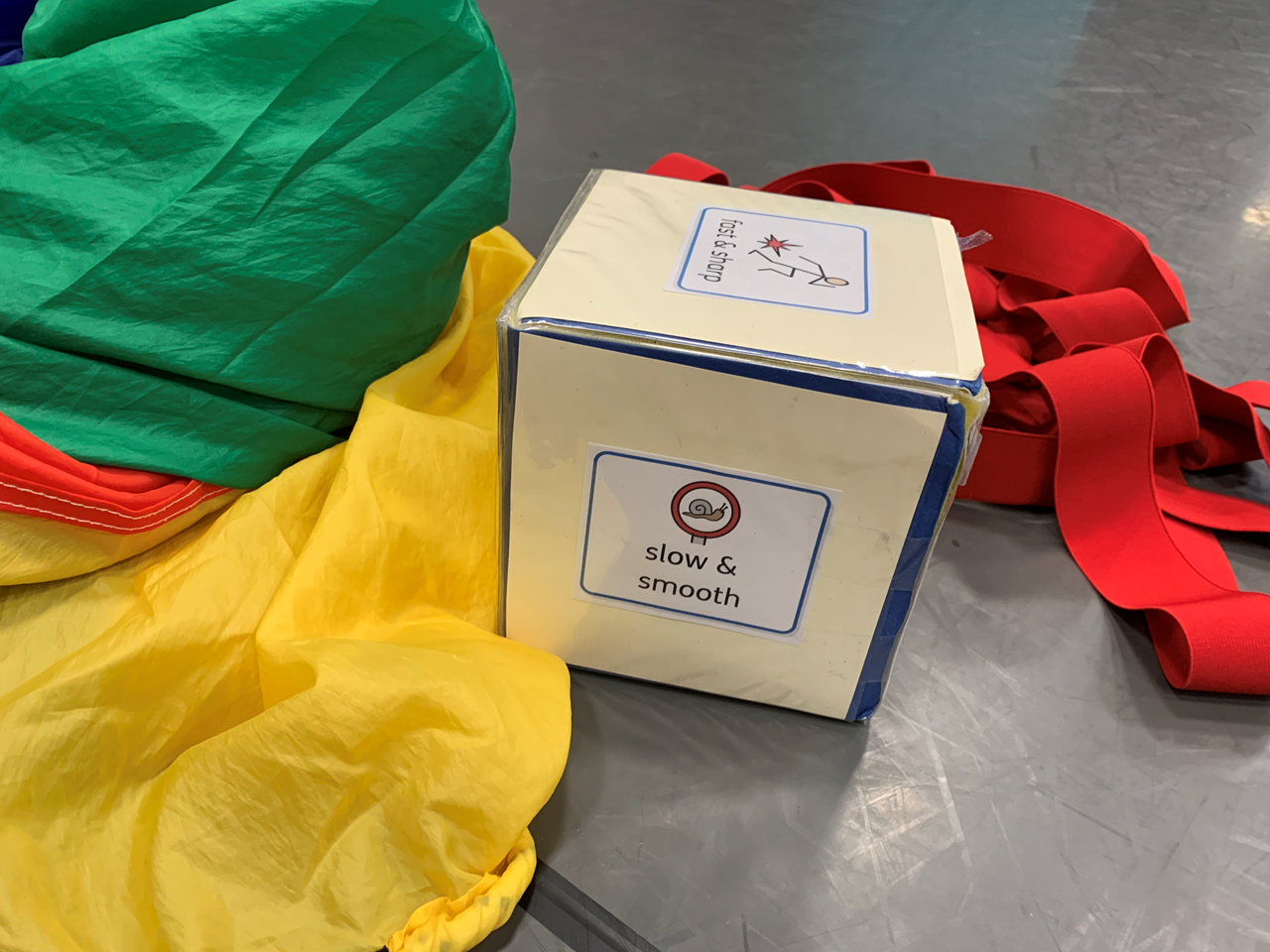 Long term partners
We are delighted to be working long term with both ExtraTime and the Richard Cloudesley School. 
We delivered a number of holiday workshops for Extratime over Easter and are looking forward to returning to dance with children in May half term and the Summer break. We are also going to be leading dance workshops as part of their new family fun days on Saturdays throughout the year. 
Georgia has been loving her Tuesdays at Richard Cloudesley School and so have the children there. So much so that they have asked us to continue to deliver a day a week until July 2023! 
We are so happy to be working with organisations whose values closely align with our own and who place high importance on the value of dance!
Posted May 2022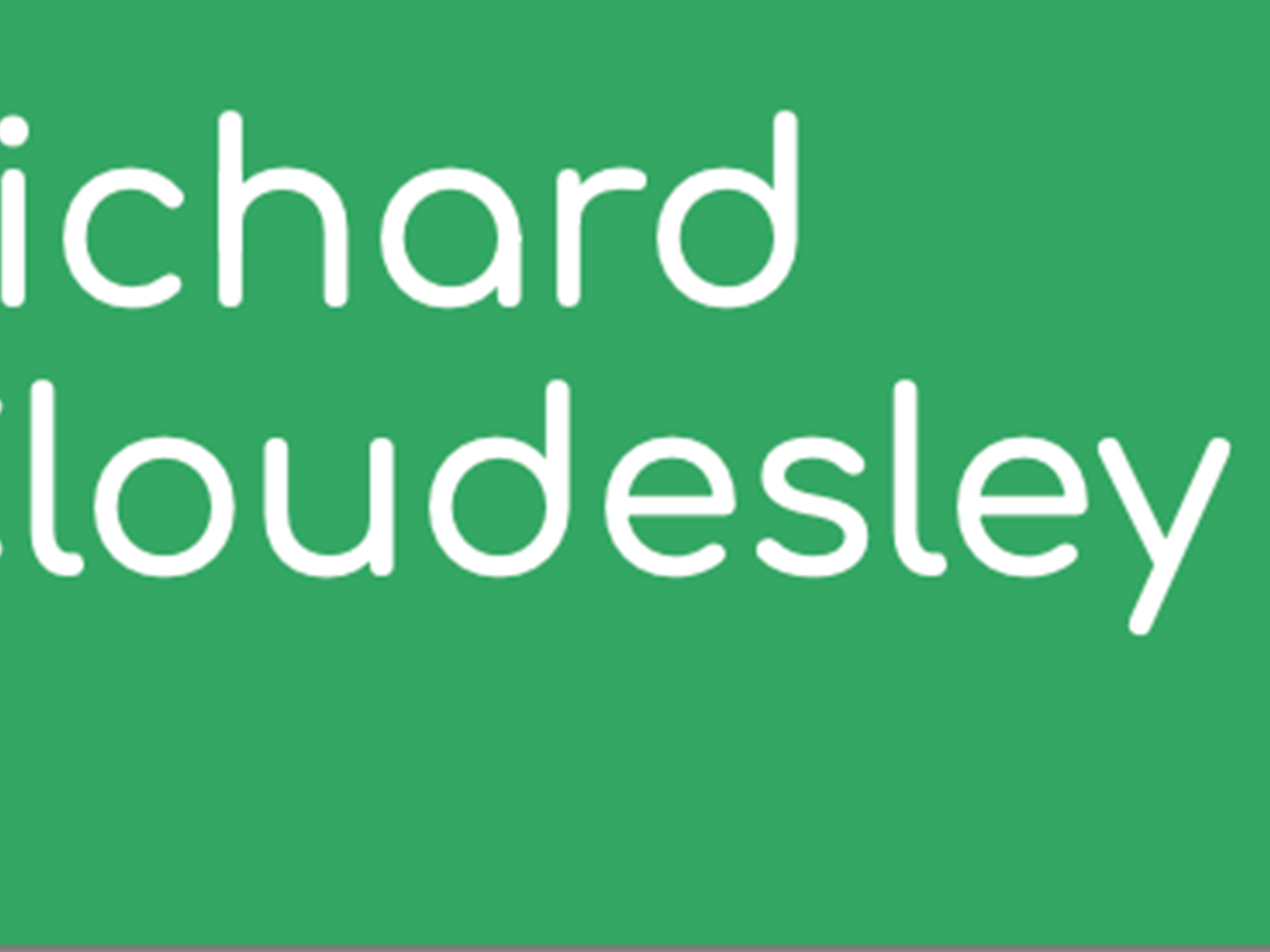 Dancing in Islington
Georgia is having a great time working with pupils at Richard Cloudesley School in Islington. She is there dancing with them every Tuesday and has been full of praise for how creative and open the children and staff have been so far, only 2 weeks into the project. We look forward to seeing the amazing moves they create over the coming weeks!
Posted May 2022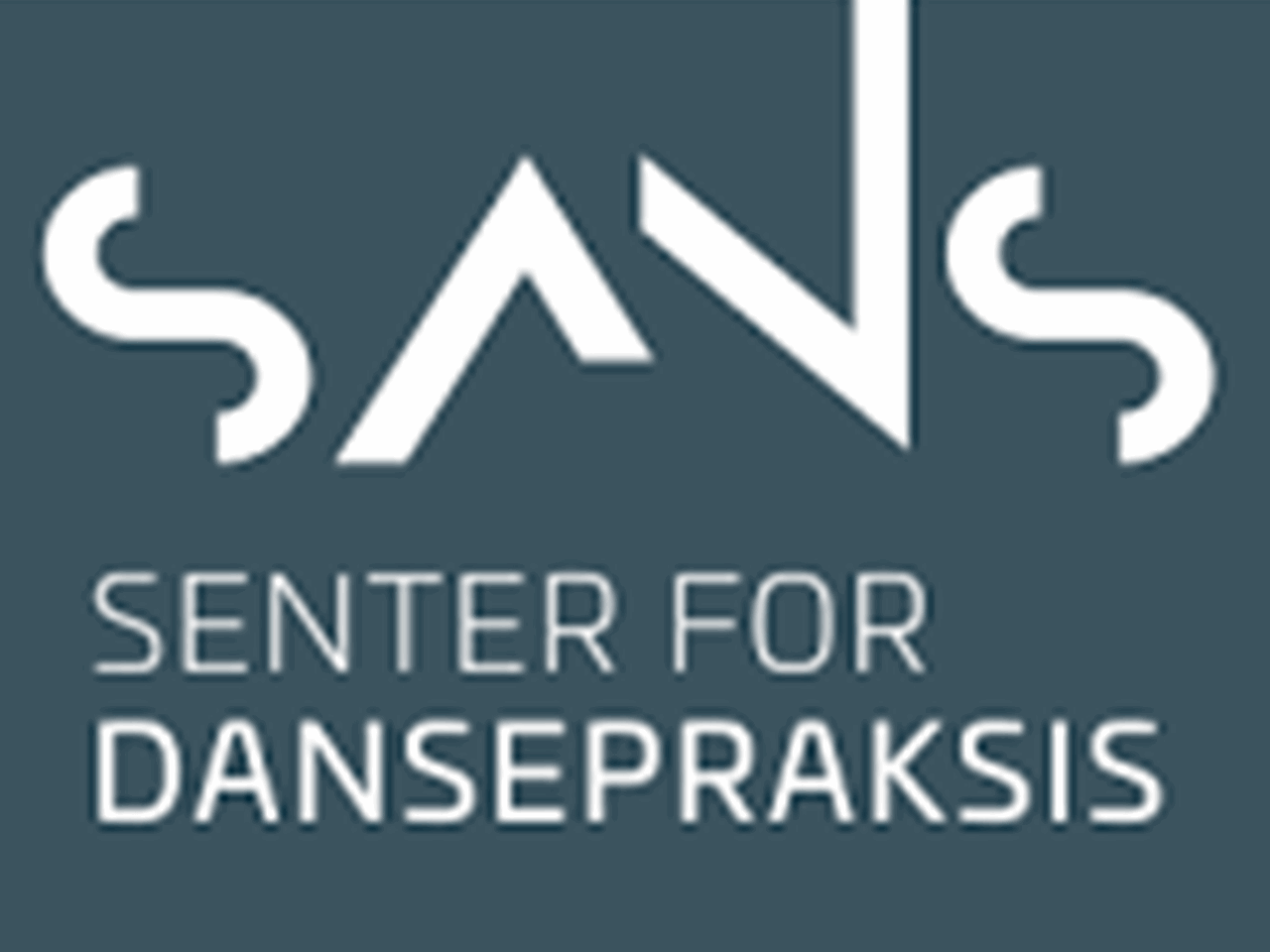 Parable Dance in Norway
On 6th May Natasha is looking forward to teaching in Oslo, Norway for the Senter for Dansepraksis - the national governing organisation for dance. Natasha will work with dancers and teachers. There will be a screening of 'Inclusive Practice is Good Practice', a panel discussion and a professional development workshop covering inclusive dance techniques. 
Posted May 2022

SED Partner company
Parable Dance UK are delighted to be one of three partner companies working with South East Dance. The three companies, which all celebrate diversity, will deliver workshops and classes in the new dance space. Classes will begin prior to the official opening of the space, in the test period beginning in April. We are delighted to be working with and supported by such a prestigious organisation.
(Posted March 2022)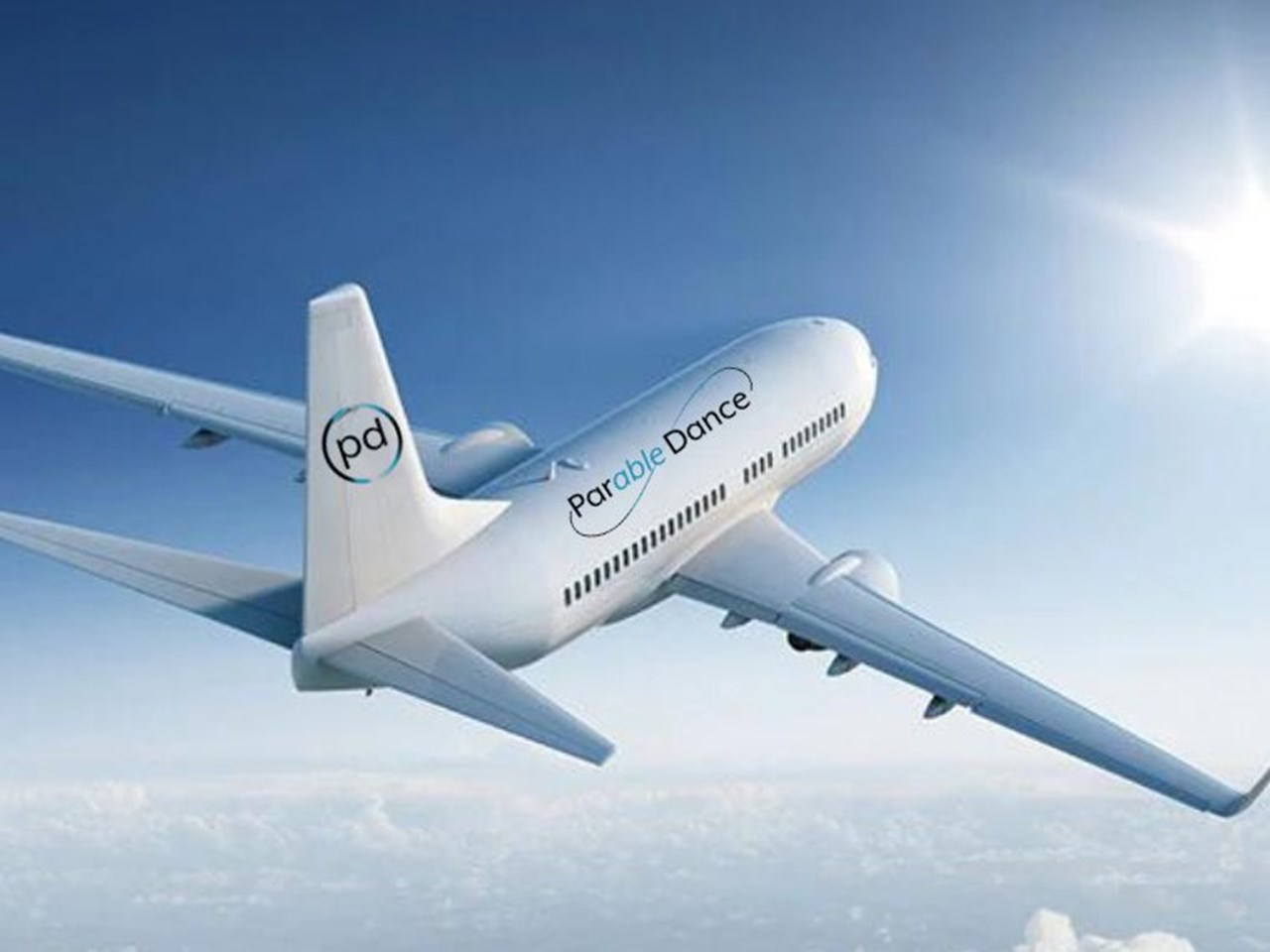 Parable Dance New York launched
We are delighted to be launching Parable Dance New York! 
Parable Dance provide inclusive dance workshops and weekly classes for people with disabilities in the South East of England and training worldwide. Parable Dance, based in Brighton, will now be known as Parable Dance UK, with the newly launched company named Parable Dance NY.
Going forward Natasha will lead on UK activity and Erica on US projects. Natasha and Erica have a combined 34 years-experience creating and delivering inclusive dance projects and designing training for those wishing to work in this field. In the two and a half years since Parable first launched, they have delivered training and connected people all over the UK through their bespoke projects such as; a mentoring programme, tour of universities and their inclusive dance networking groups. Expanding across the pond was their aim from the very start. They are delighted to take their methodologies to dance students with disabilities in New York and to students and teachers all over the US. Check out our NY website by switching .co.uk for .com
(Posted March 2022)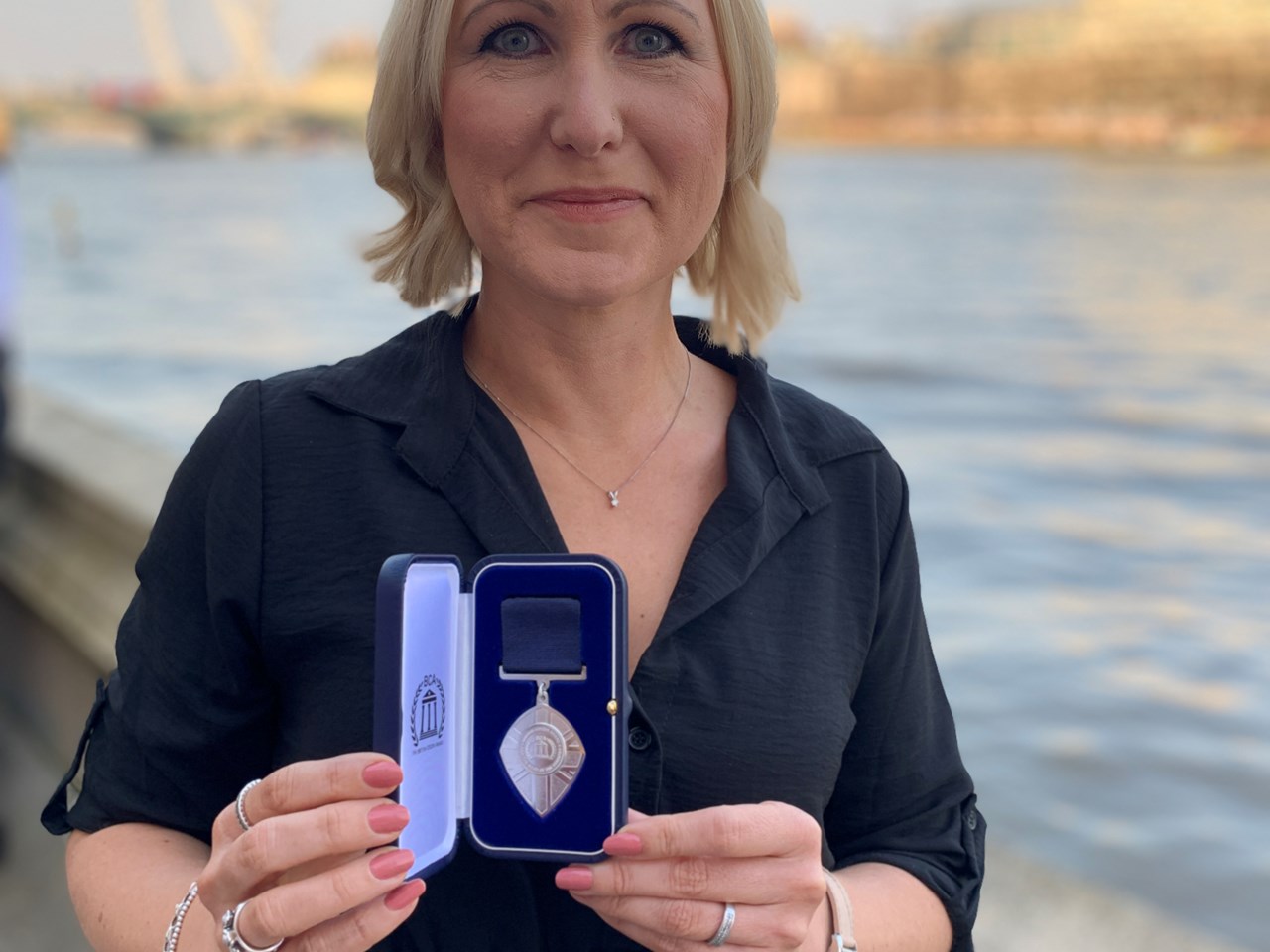 Natasha Britton BCA
On 24th March Natasha attended an awards presentation at The Palace of Westminster and a second presentation at Church House to receive her British Citizens Award for services to the arts. Natasha is now invited to use the post nominals BCAa. This prestigious award recognises the work that Natasha has undertaken over the 22 years she has been working in inclusive dance. Her nominees put together a collection of letters and video messages from past and present students and colleagues to form her nomination.
(Posted March 2022)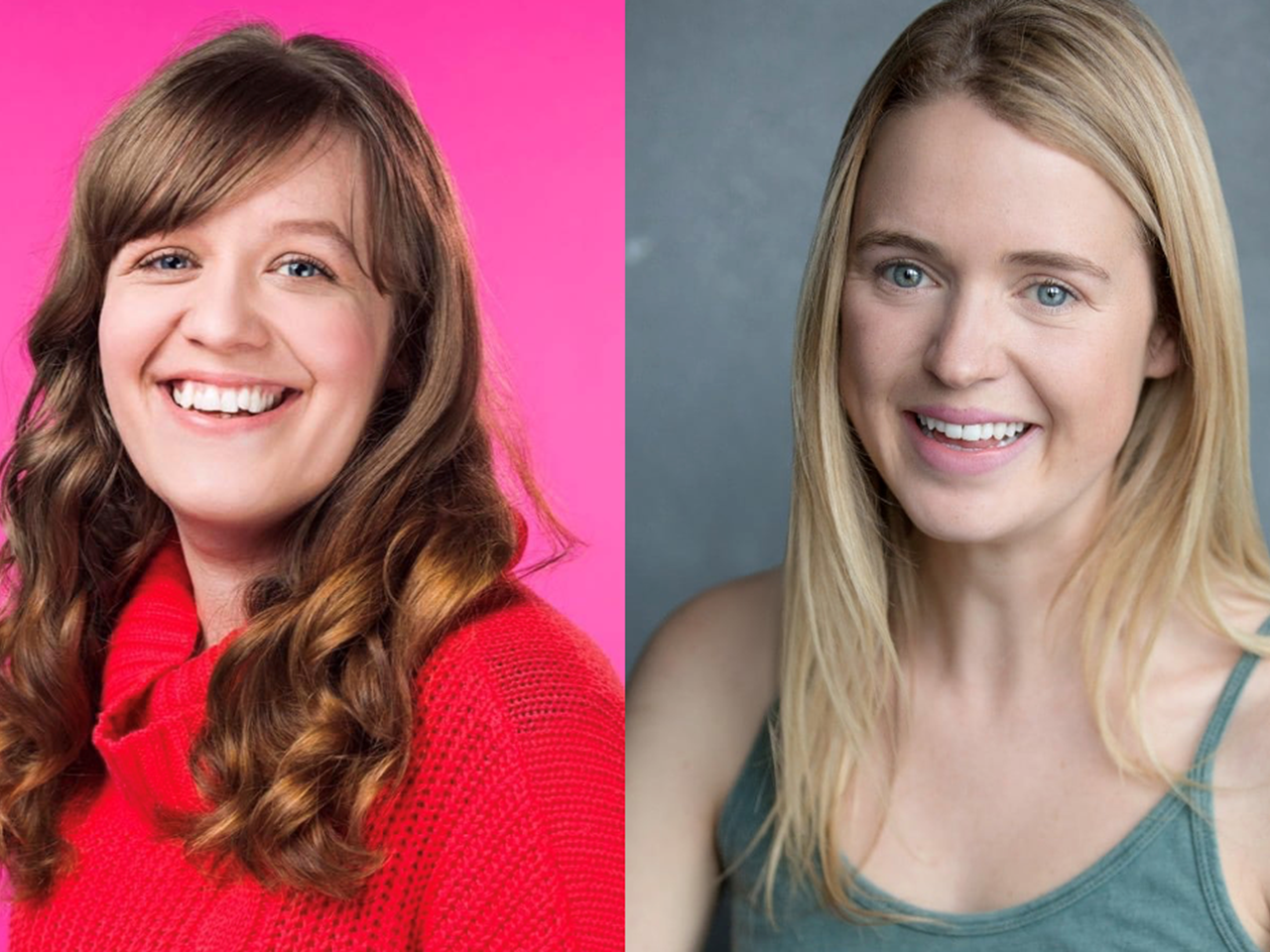 Parable Patrons!
We are thrilled to welcome our two new patrons: Kay Ashton MBE and Sofia Oxenham. As patrons Kay and Sofia will champion our work and inclusion in the arts. 
Kay Ashton MBE, is a podcast, vlog creator talking about all things disability and also works day to day for a large media organisations consulting on disability.
Sofia Oxenham is an actor who graduated from RADA in 2017 and has since acted in a variety of roles for film and TV, including Poldark and Cursed.

We're so grateful for their support and are excited to be working with them.
(Posted February 2022)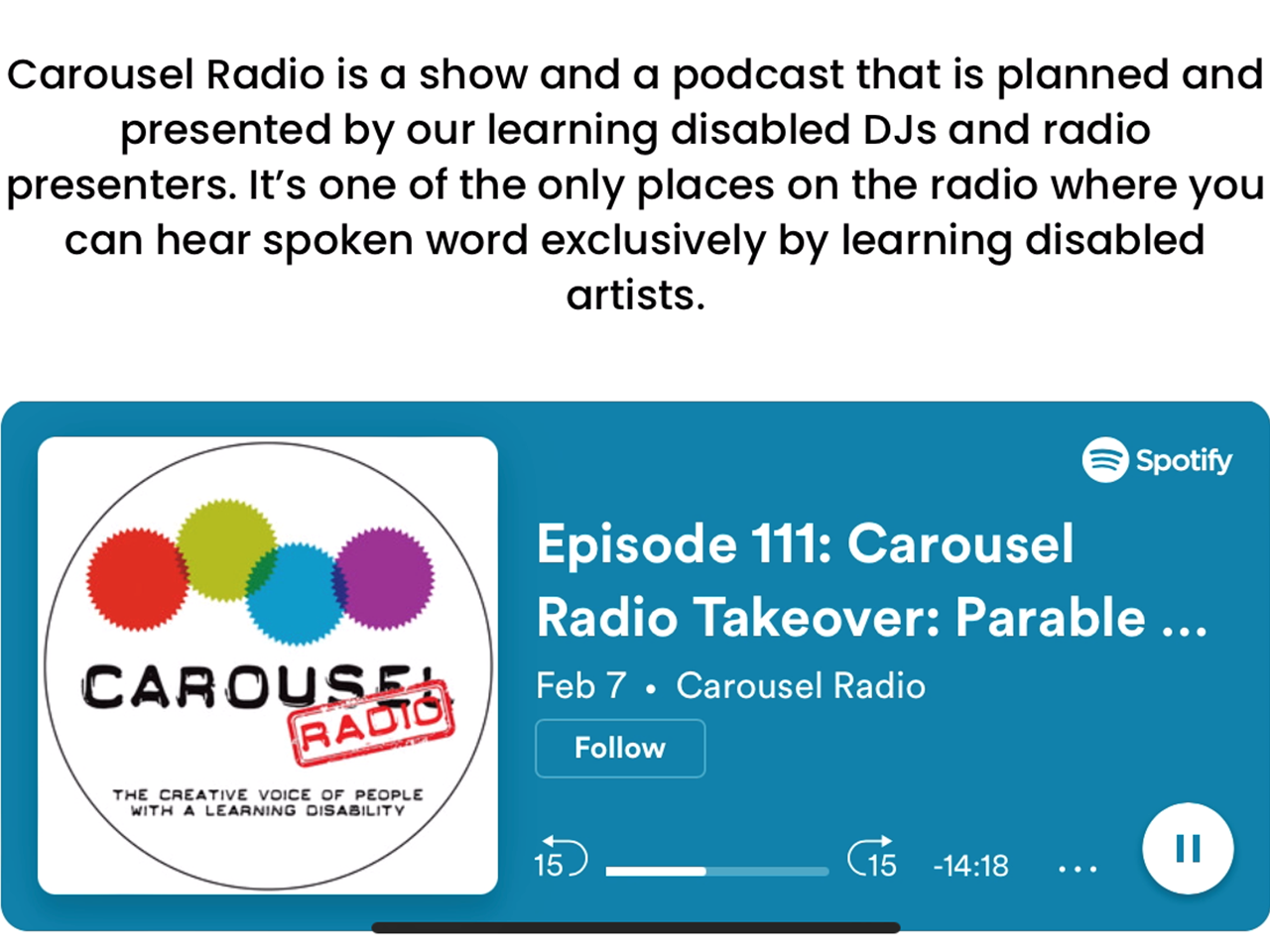 Carousel Radio takeover
We were invited by Carousel to take over their radio show for an episode. Parable Dance Artists Joe, Lauren, Hannah and Megan had a great time being the radio hosts; introducing music, chatting about health and wellbeing and of course covering all things inclusive dance!
(Posted February 2022)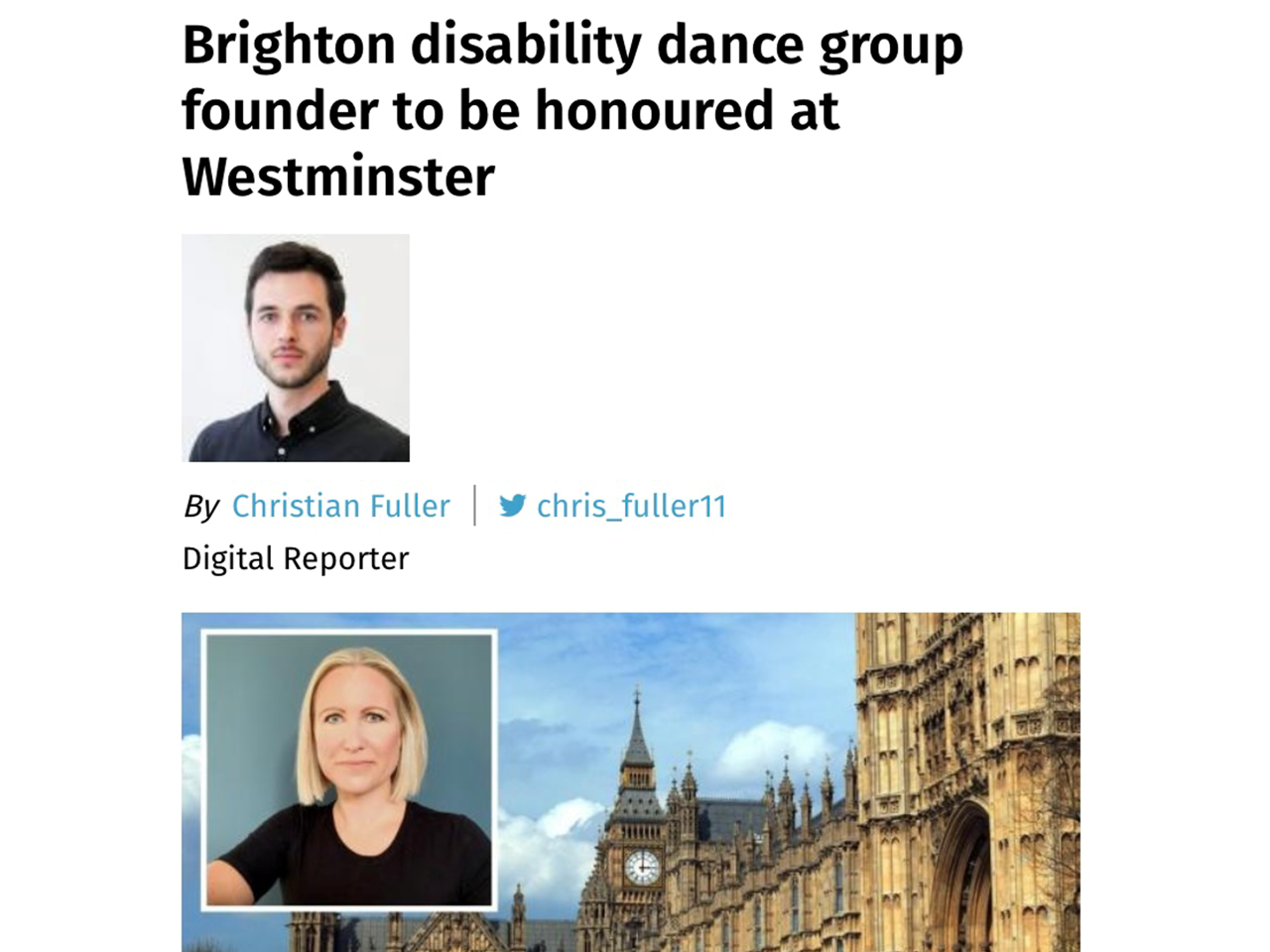 Natasha to receive British Citizens Award
Parable Dance Artistic Director Natasha is being honoured with a British Citizens Award at The Palace of Westminster in March in recognition of her services to the arts. Natasha will receive a medal of honour and be invited to use the post nominals BCAa as a legacy of her achievement. 28 people will be awarded a BCA at the event in March, often referred to as 'the peoples honours'. We look forward to sharing pictures with you after the event!
(Posted January 2022)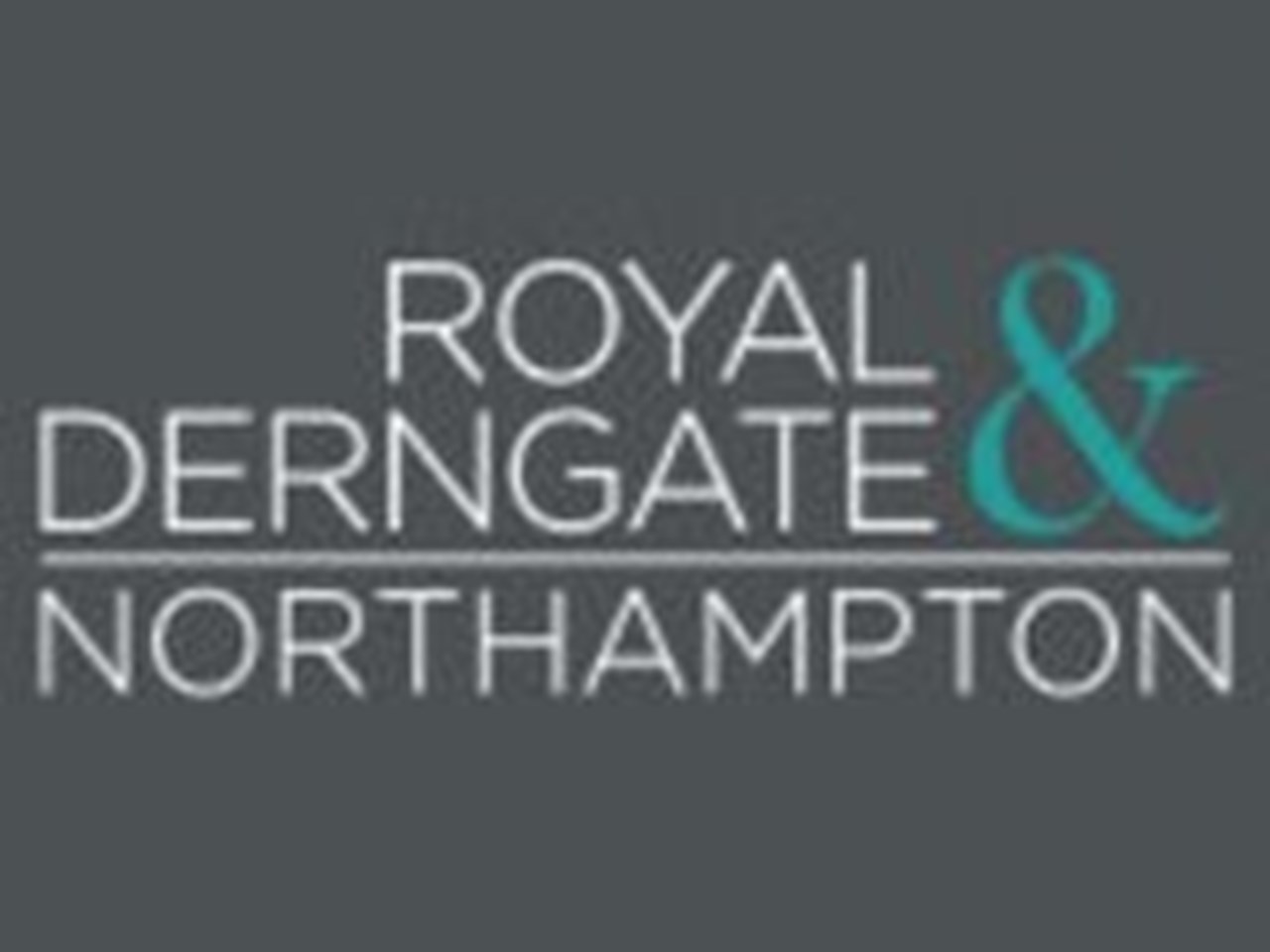 Generate Associate Artists
Our work is being supported by The Royal and Derngate, Northampton. Parable Dance has been selected as one of 10 Generate Associate Artists who R&D will support for the next 18 months. Natasha and Erica will attend monthly meetings to network with the other artists and will receive bespoke support from the amazing R&D team to develop Parable's work.
(Posted December 2021)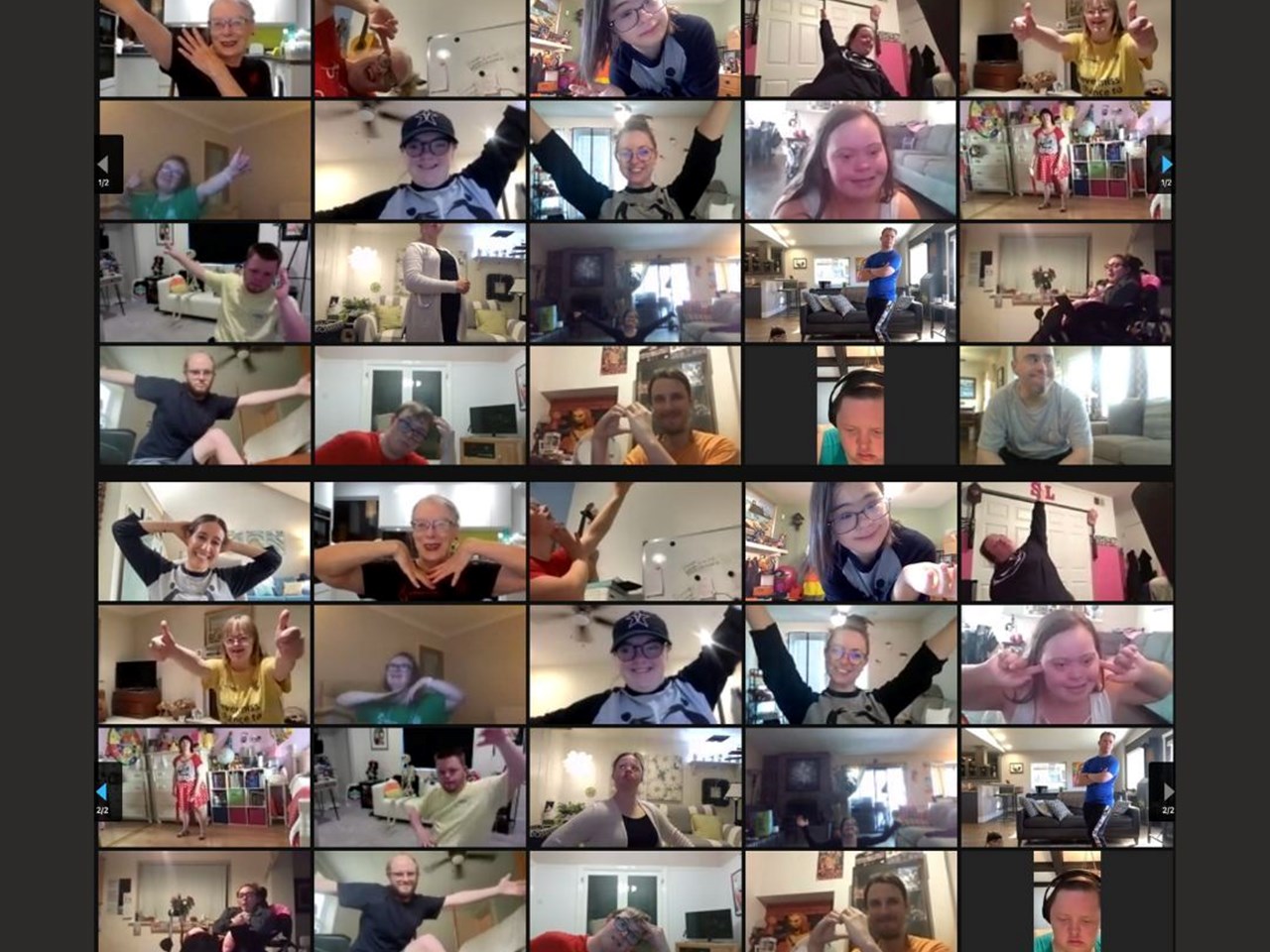 Working with DanceSyndrome
We have been working on an Arts Council funded project with DanceSyndrome called Connect. Dancers from DanceSyndrome have had workshops with Erica over Zoom to explore their choreographic methods and connection through dance. They will be performing their work in February. Alongside this work, Natasha has been project evaluator, delving into DanceSyndrome's creative ethos and successful ideas for connection in dance to take forward into the future. The findings of the project will also be shared publicly in February. 
We'd like to thank the amazing dancers and team at DanceSyndrome for asking us to be part of such a great project and for being so welcoming!
(Posted January 2022)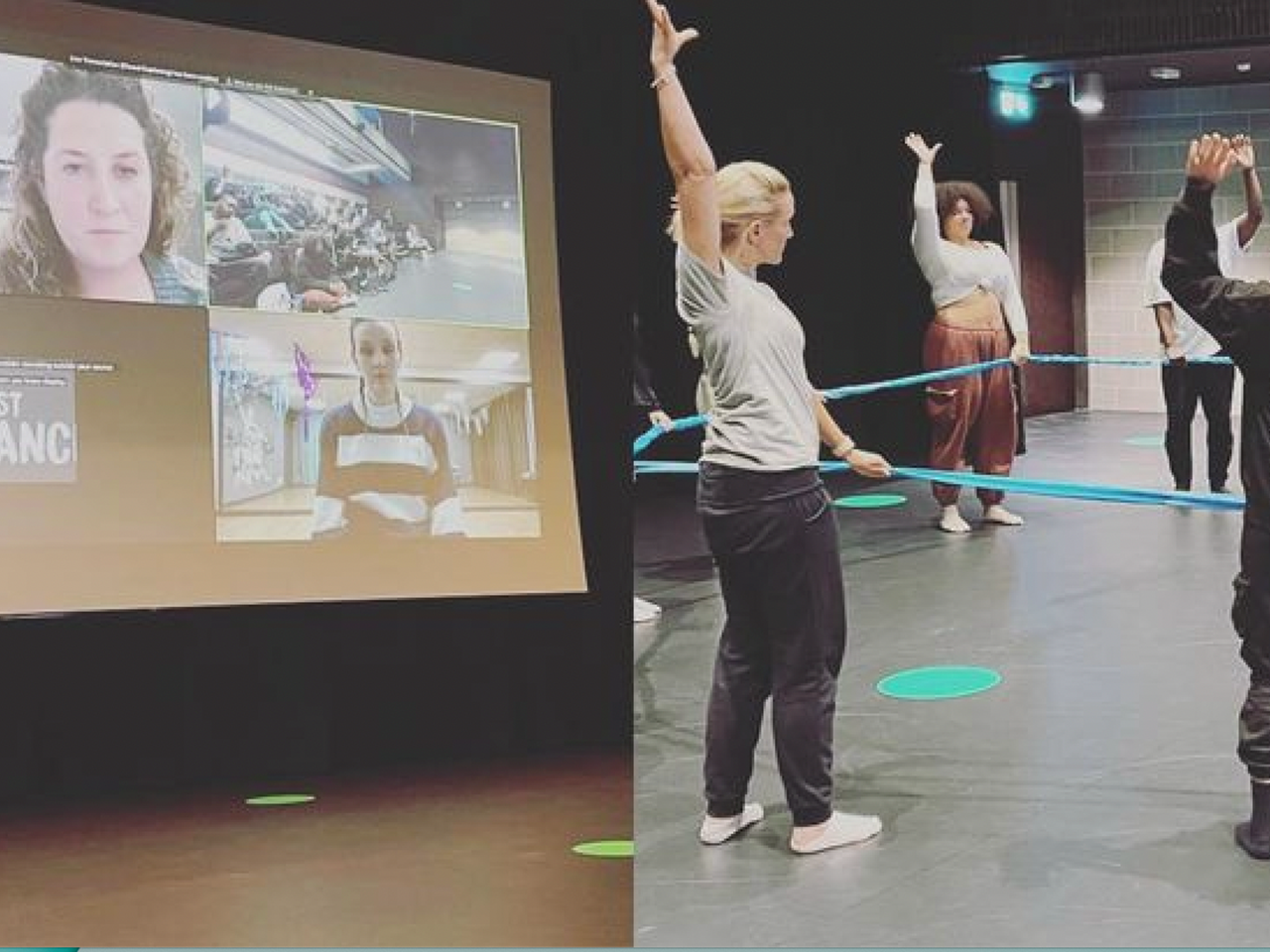 Tour of universities
We have had a great time delivering panel events and professional development sessions online and in person for universities and organisations including: Canterbury Christ Church, Winchester University, The ISTD, University of East London, Edge Hill University, University of Central Lancashire, The RAD, Kingston University, University of Lincoln, University of Suffolk. 
This project was supported using public funding by the National Lottery through Arts Council England. It has enabled us to meet lots of emerging dance artists and introduce them to a network of other inclusive dance practitioners and companies. A huge thank you to the panel members that we have worked with so far: Rachael Lines, Kate Stanforth, Corali, Helen Mason, Patrick McGeough, Adam Benjamin, DanceSyndrome, Kimberley Harvey, Annie Waller, Paul Davidson Natt, Caroline Lofthouse and Ella Fleetwood.
(Posted Jan 2022)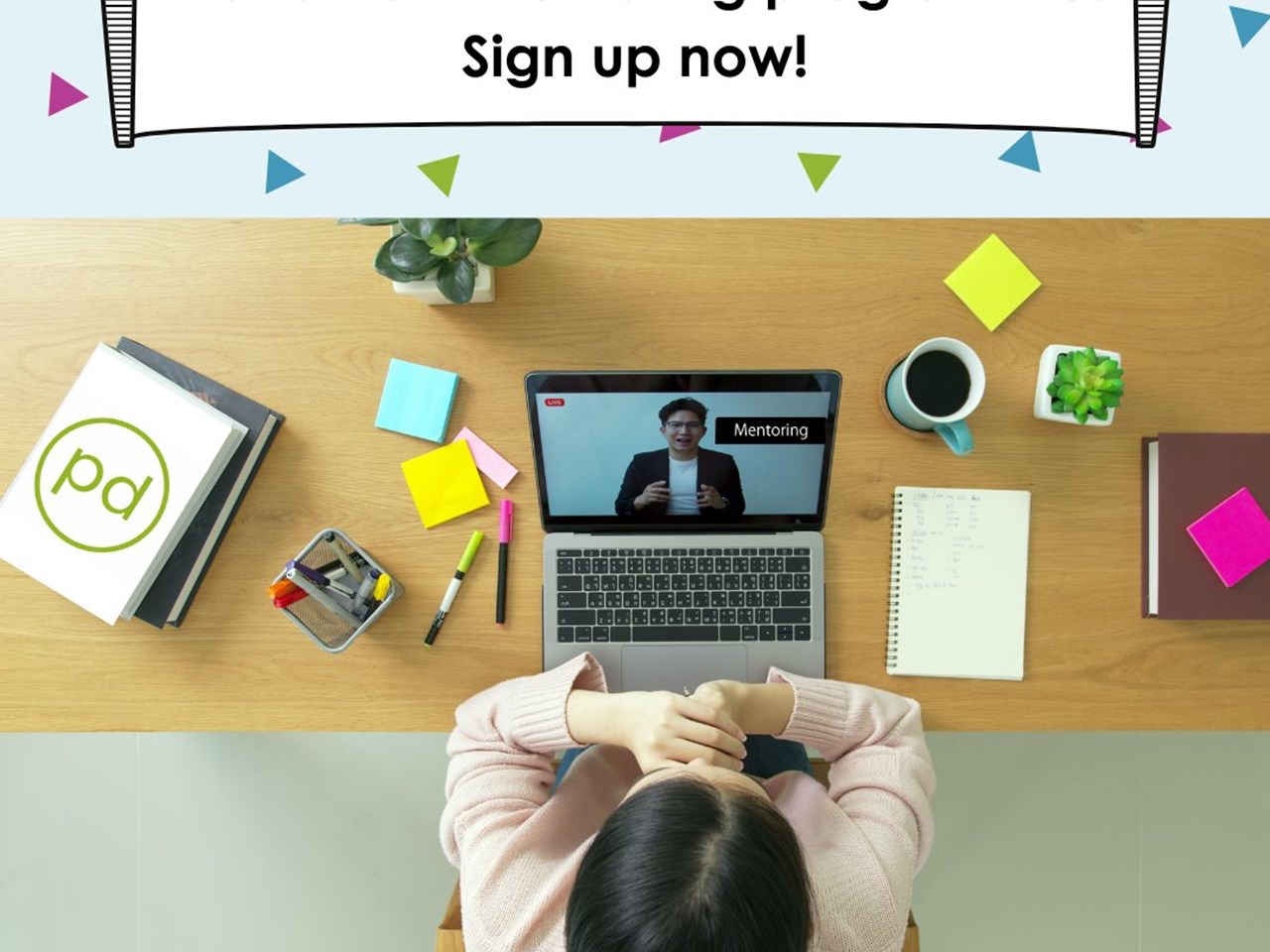 Inclusive Dance mentoring launches
We are excited to announce that we will be running a 5 month mentoring programme for dancers/dance teachers with and without disabilities. We are offering 12 FREE places to train with us in fortnightly online sessions which will cover a range of inclusive dance topics. This is a brand new bespoke programme which will be developed to suit the needs of the cohort. Applications are open and we'd love to hear from you if you're interested. 
(Posted Jan 2022)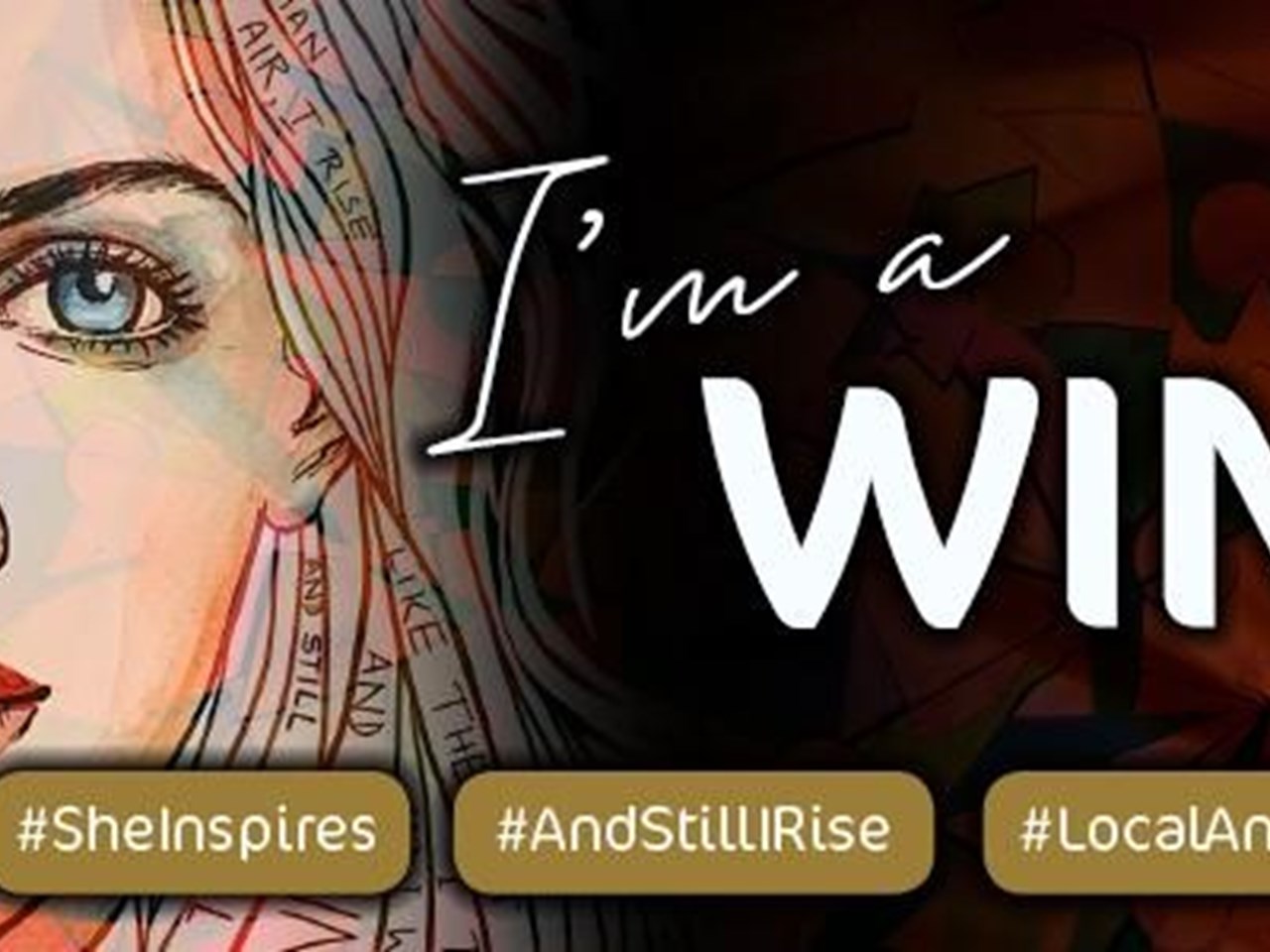 She Inspires Awards 2021
Parable Dance is thrilled to announce that we are the winners of She Inspires Awards 2021 National Culture Champion Award. We are so grateful for the support of our artists, dancers, and community!
(Posted December 2021)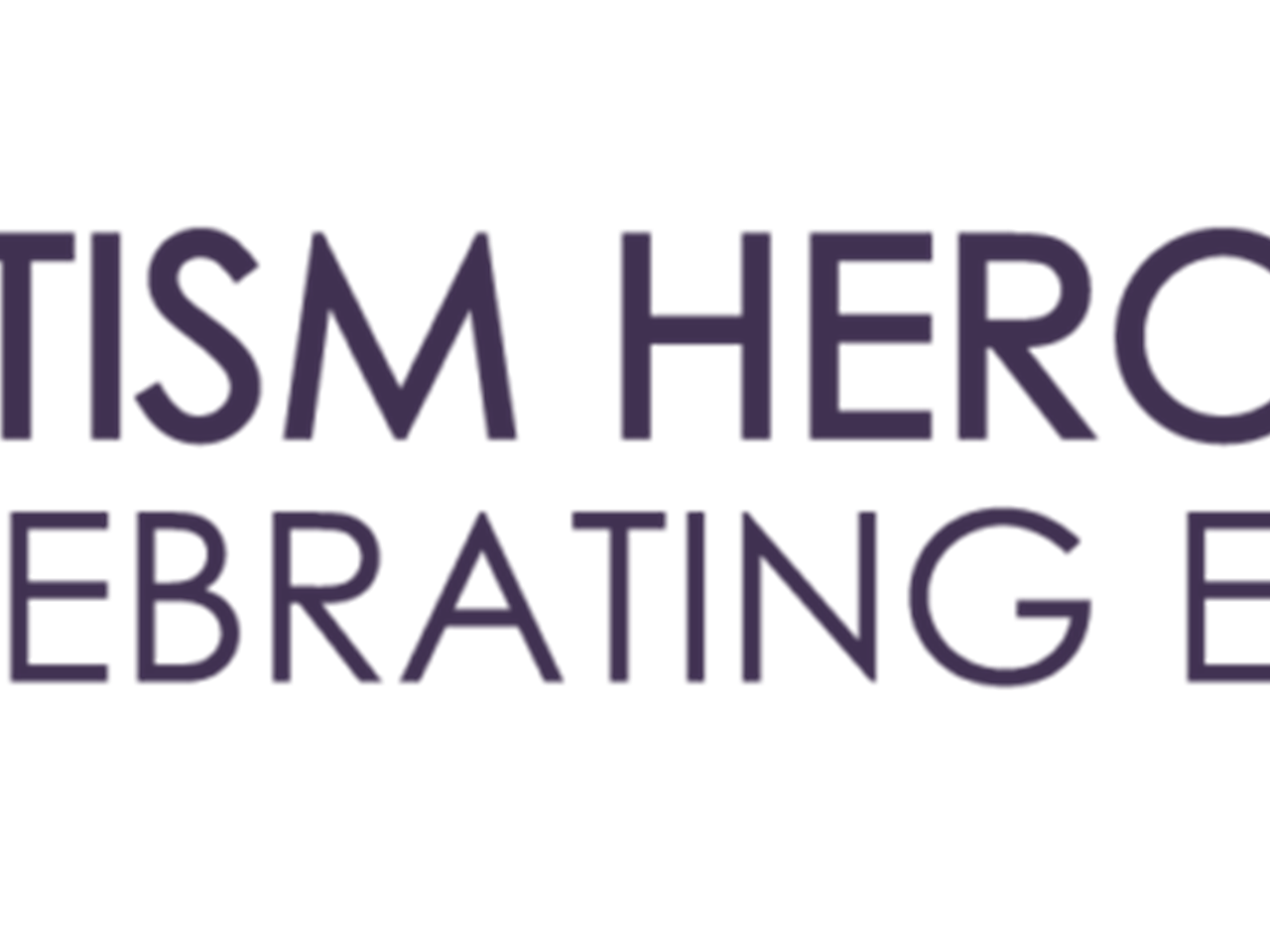 Autism Hero Awards Shortlist
Natasha has been shortlisted for the Lifetime Achievement Award at the Autism Hero Awards. The awards ceremony will be held in a hotel in Chelsea in March 2022 (delayed from Nov 2021) where the winners of the 12 awards categories will be announced. We're looking forward to meeting all the other finalists and hearing their stories.
(Posted November 2021)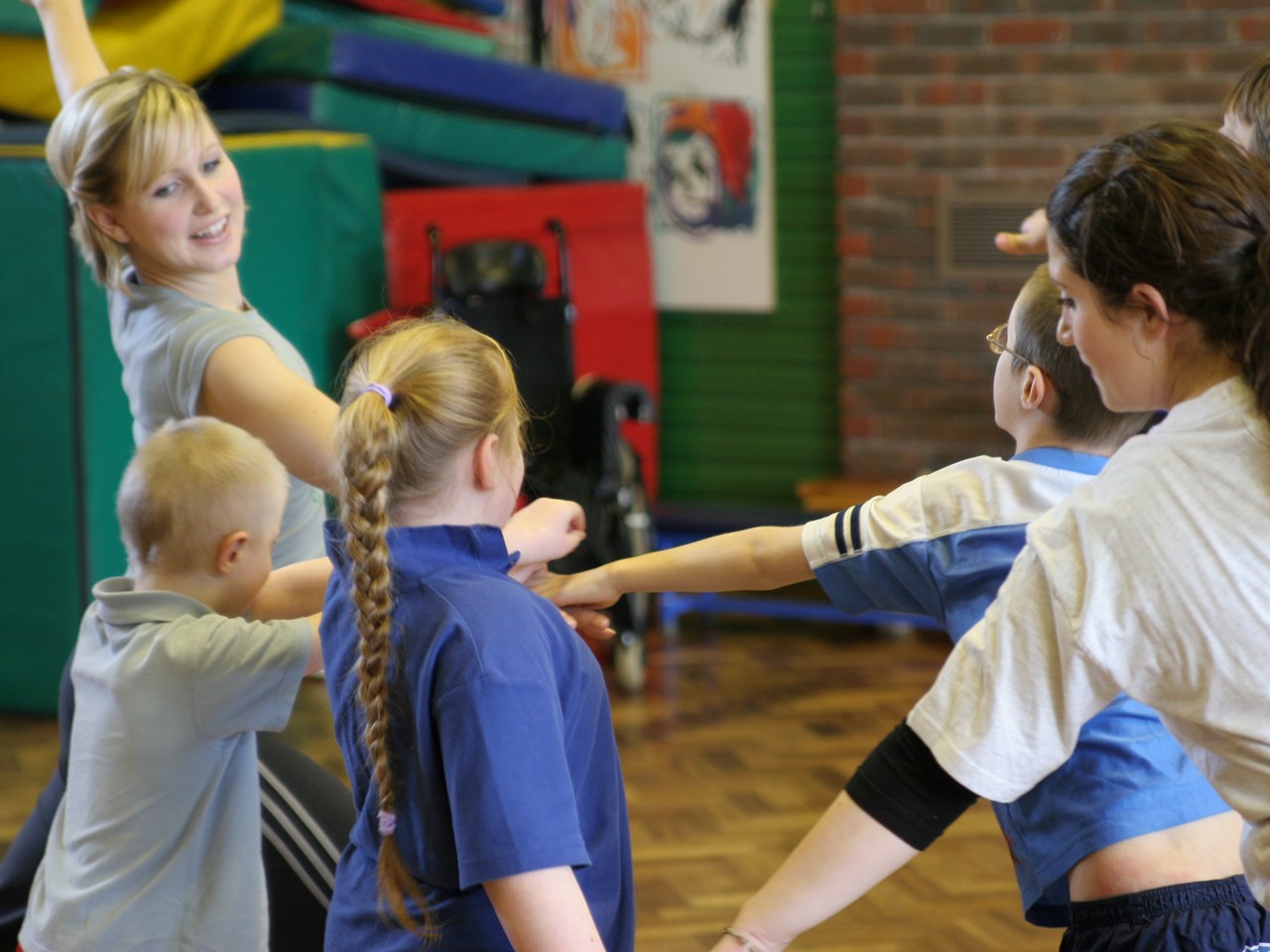 Outreach sessions and weekly classes
Annie and our team of dance artists will be delivering fun dance workshops to 12 schools and organisations around Sussex in the lead up to Christmas, to spread the word about our new weekly classes.
The Brighton based classes (youth 10-18 yrs and adults 19 yrs +) will launch in January in partnership with South East Dance and Carousel. For more information and to book your place click on 'what we offer' and scroll down to 'weekly classes'. We'd love to see you there!
Thanks to Active Sussex and Sports England for supporting us to get these started!
(Posted Sept 2021)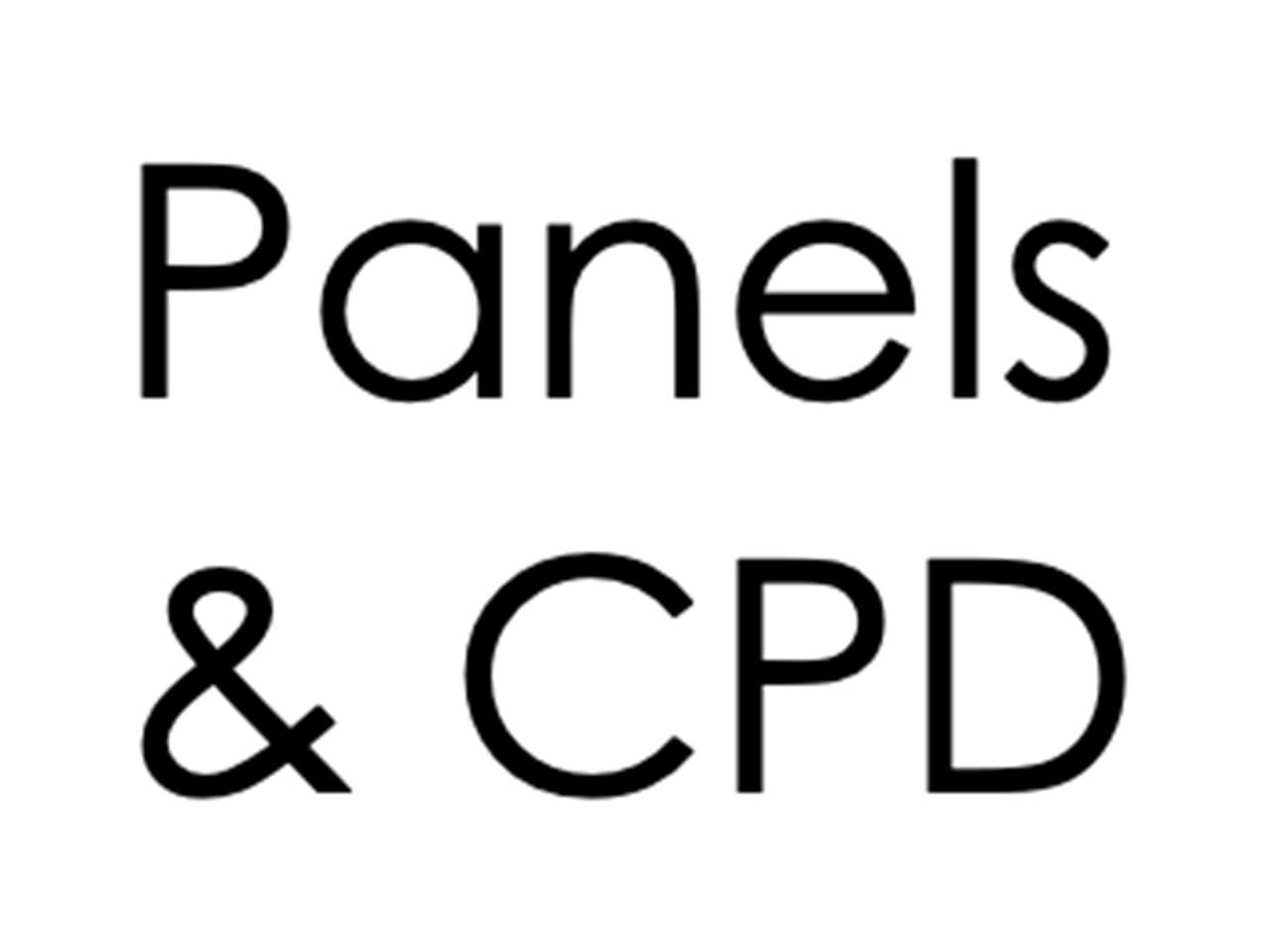 Tour of UK universities
We're excited to be kicking off our virtual visits to 12 universities and organisations around the UK, delivering professional development, streaming our film and panel discussions. The panels will feature the Parable Dance Artistic Directors alongside two guest inclusive dance artists. We're looking forward to the first few events on our schedule at The University of East London, The ISTD and Kingston University and our guests at these include Sarah and DJ from Corali and Adam Benjamin. As always we're thrilled to be working alongside such incredible artists.
(Posted Sept 2021)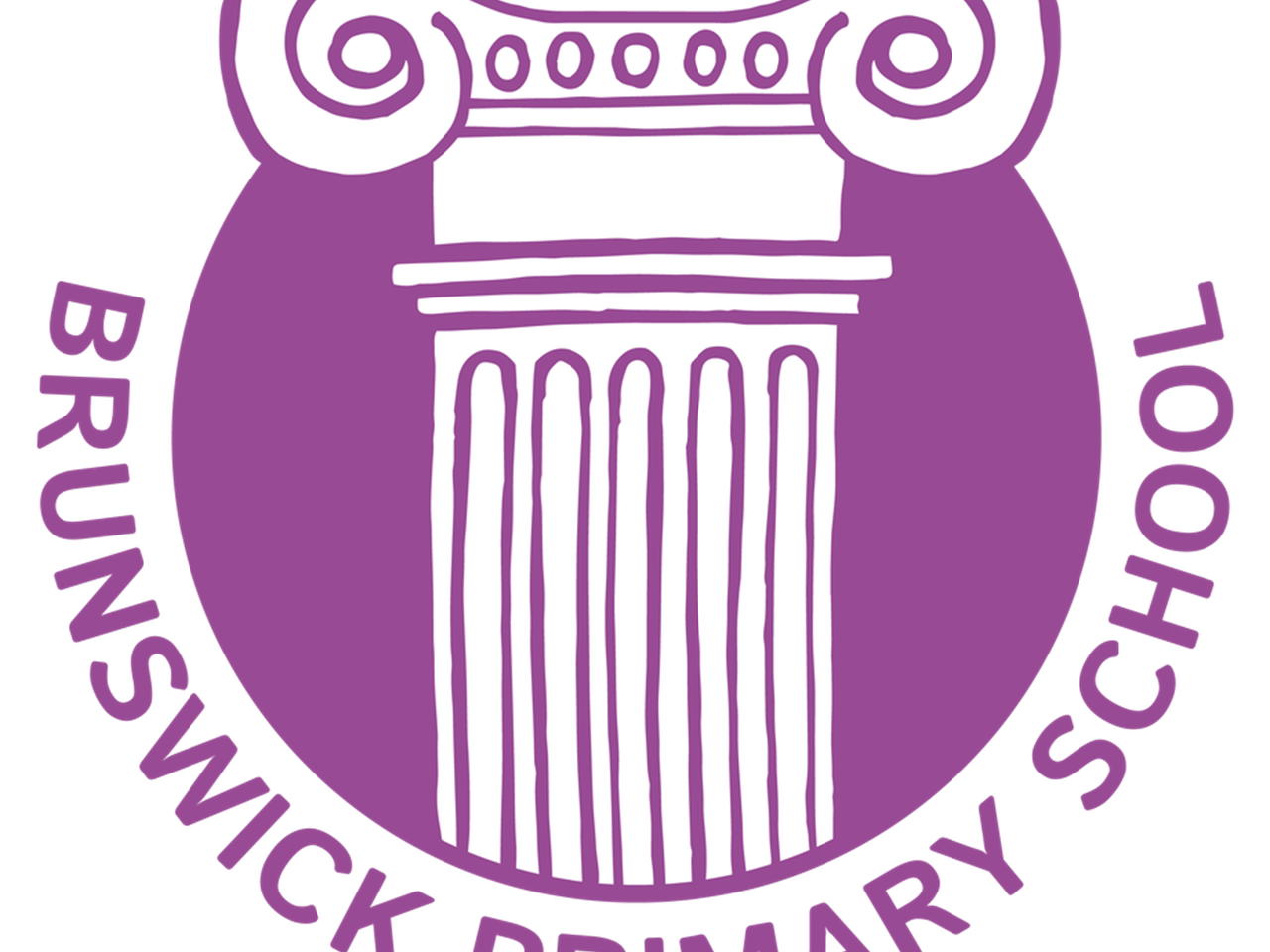 Brunswick Primary School Dance Project
This week we started working with pupils at Brunswick Primary School in Hove. Natasha will be visiting to deliver weekly dance classes across all year groups for the whole academic year, leading to dance films and mini sharings of work as each group celebrates their achievements.
(Posted Sept 2021)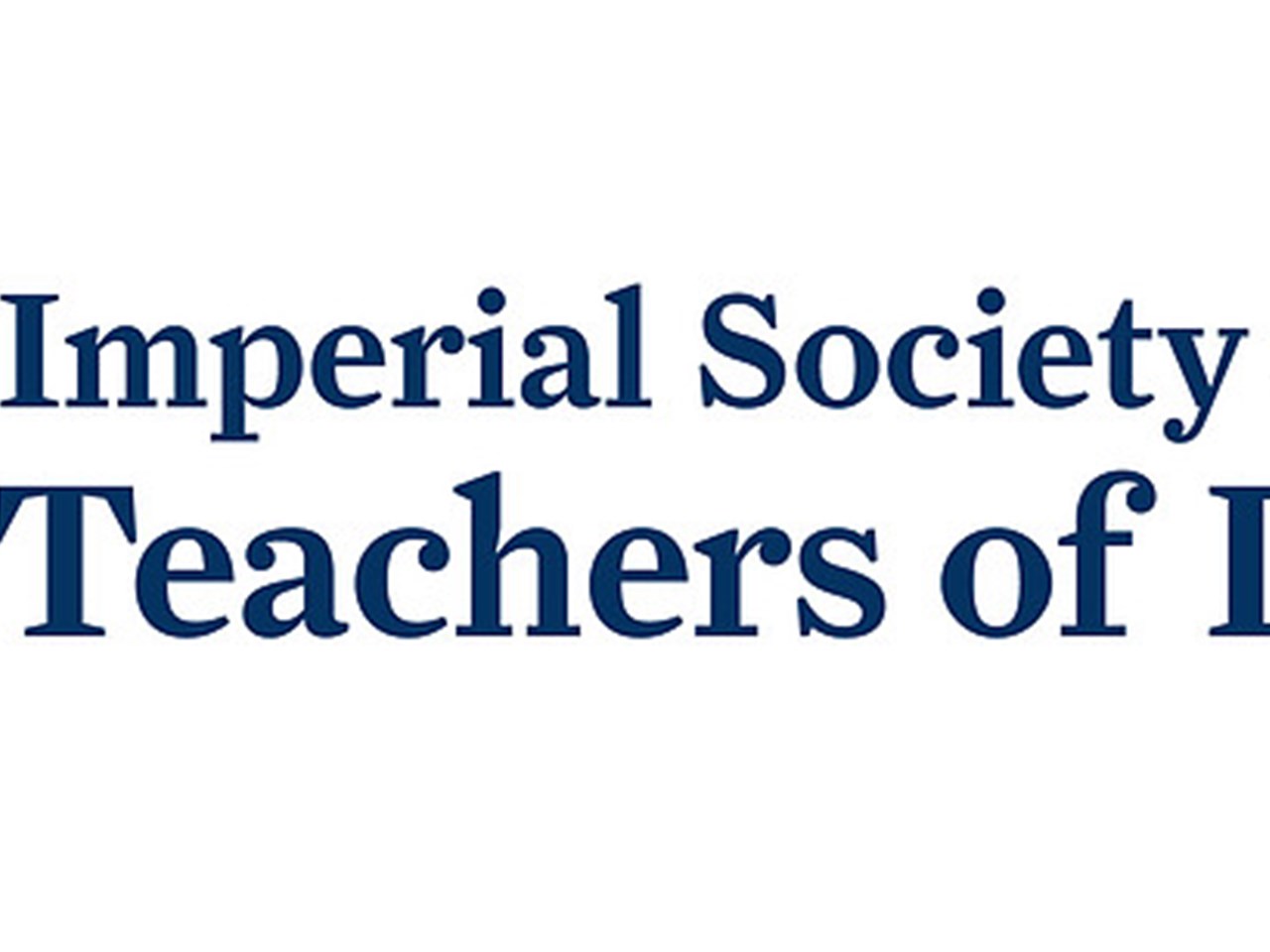 Working with the ISTD
We've been working with the Imperial Society of Teachers of Dancing (ISTD), a global organisation who provide quality dance training across a diverse range of genres. Parable Dance will be delivering a second professional development session for ISTD teachers in October, looking at practical tips for translations/adaptations of technique. In addition, Natasha and Erica are excited to be supporting the team at the ISTD to address access and inclusion in a bespoke piece of work with their lead lecturers later in the year.
(Posted Sept 2021)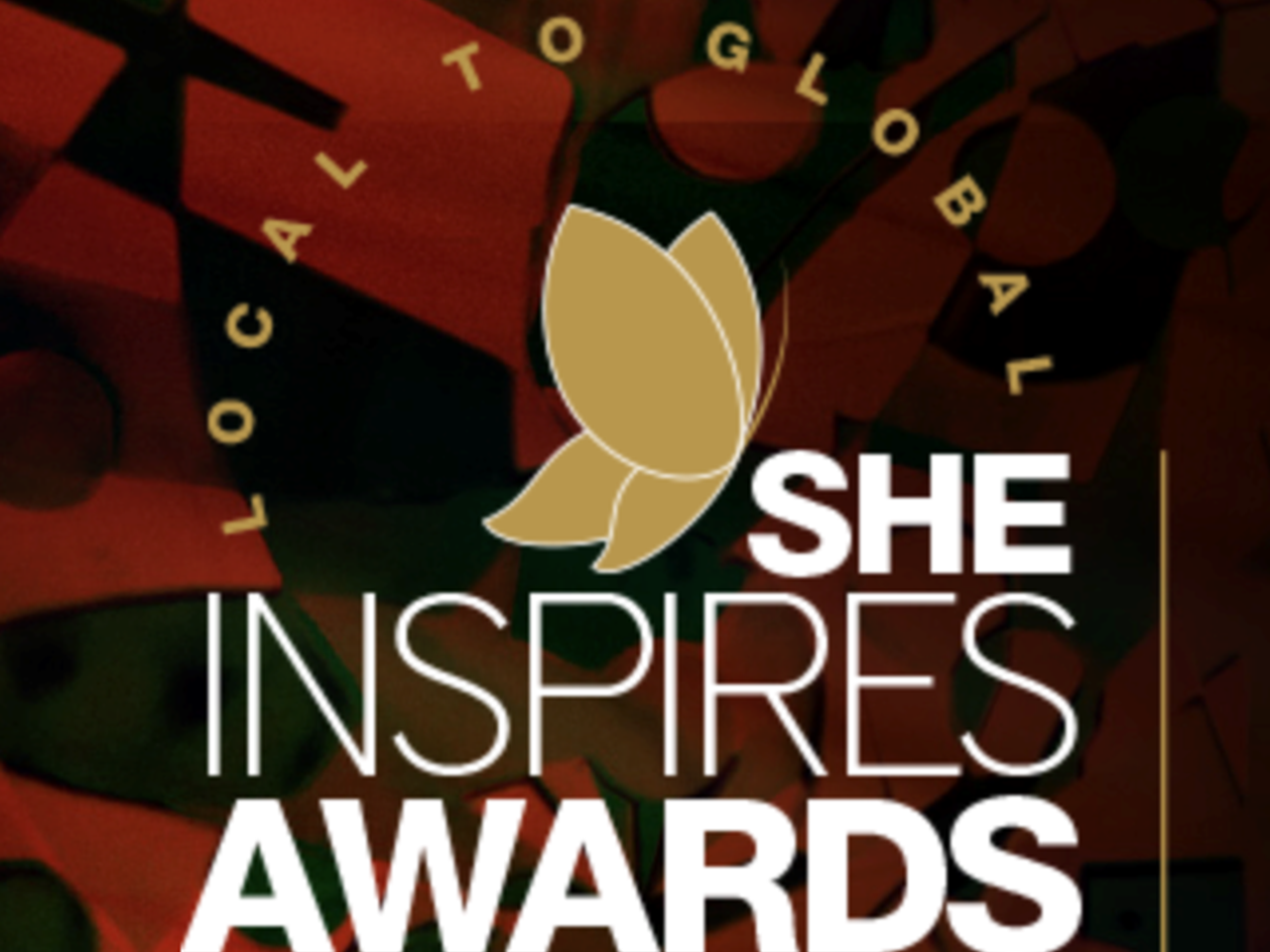 She Inspires Awards 2021
We are finalists for two She Inspires Awards; Culture Champion and Women in social enterprise. We feel honoured to have been shortlisted for such prestigious awards and will be attending the glamorous awards ceremony in November when the winners will be announced … watch this space!
(Posted Sept 2021)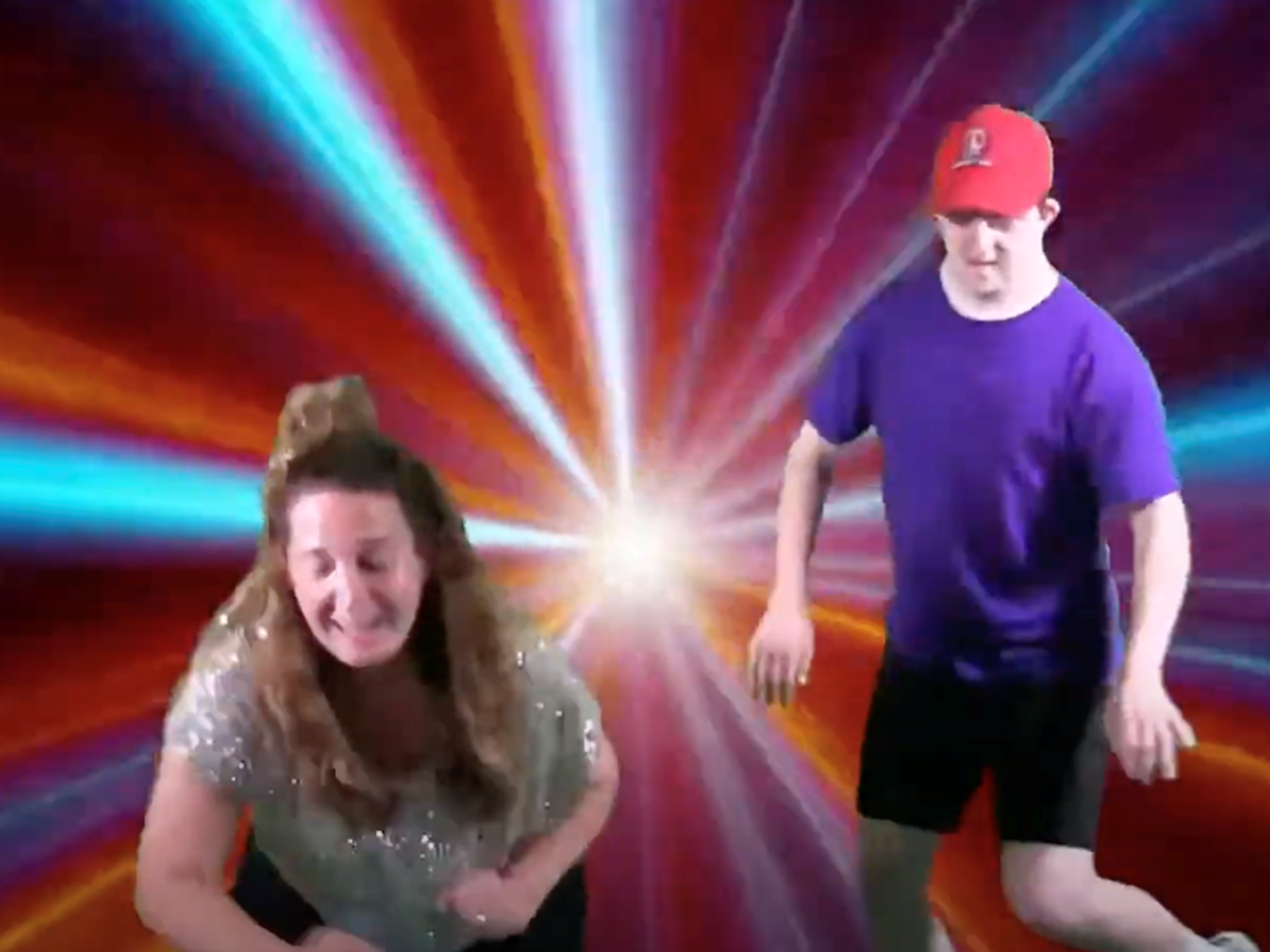 Our City's Dance Party
We were selected by South East Dance to deliver a joint project with Carousel as part of 'Our City Dances 2021 Festival'. Our project was a live inclusive dance party for people of all ages, where Annie and Joe led routines to cheesy pop tracks, written and recorded by learning disabled bands. You can still join in the fun by watching again on our YouTube channel.
(Posted Sept 2021)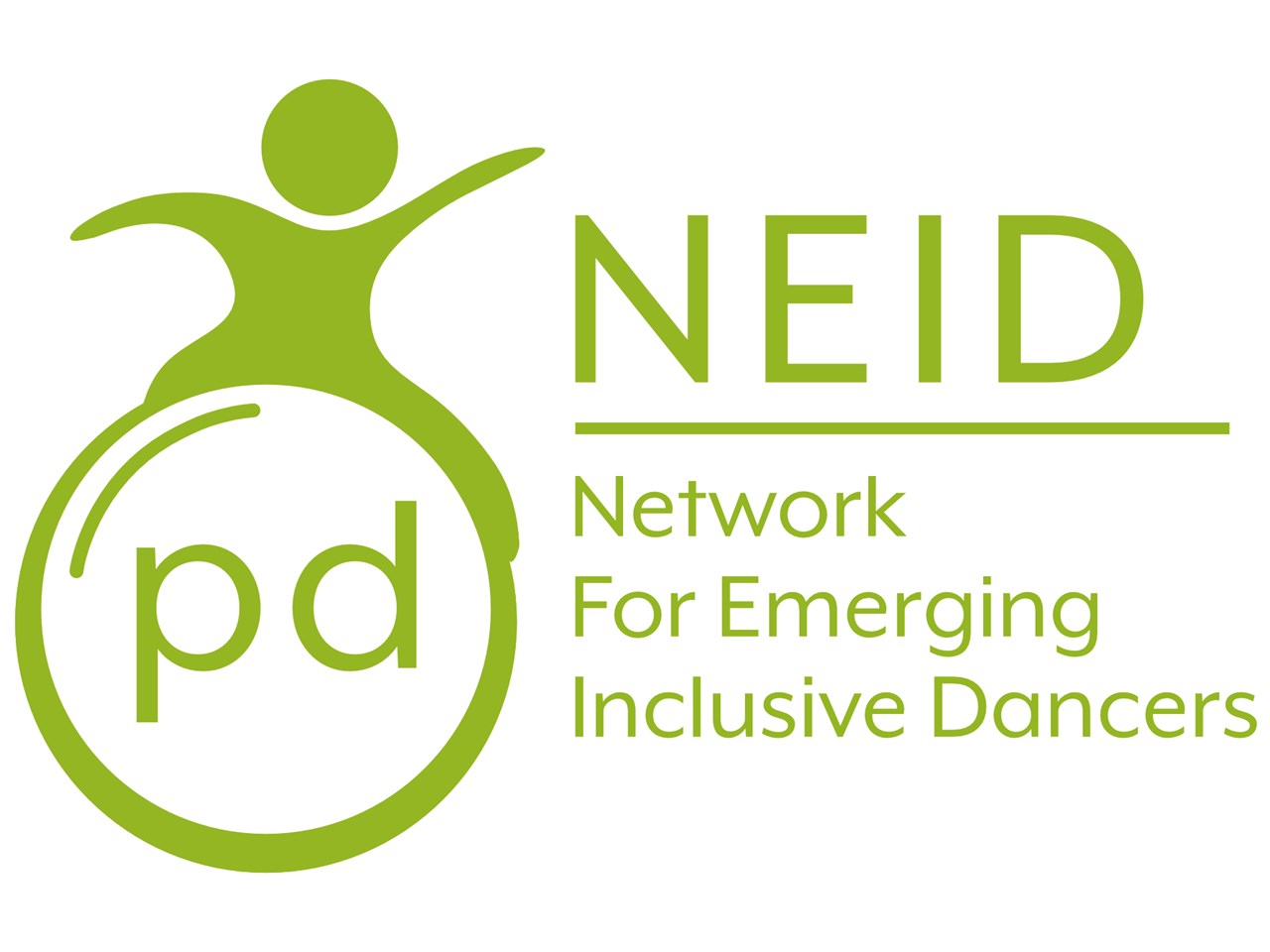 Network for Emerging Inclusive Dancers
Are you interested in inclusive dance but not sure where to start? Do you need support and signposting to opportunities? Do you want to connect with others interested in this area of work? Join the Network for Emerging Inclusive Dancers (NEID). It is FREE to join, and includes presentations from established inclusive dance artists from around the UK. NEID is best suited for dancers in England, but we welcome those from throughout the UK. NEID was made possible using public funding by Arts Council England.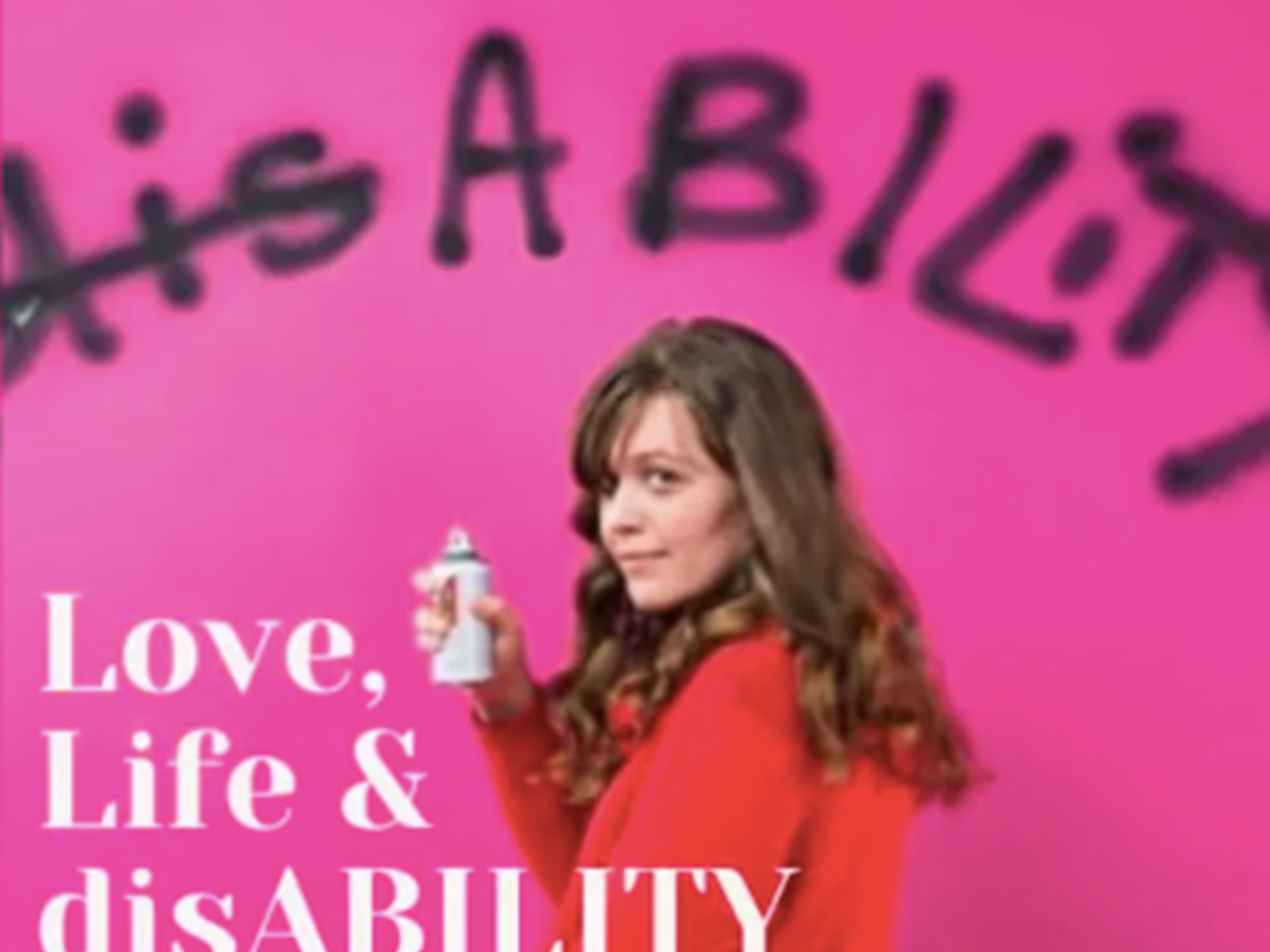 Love, Life & Disability podcast
Catch Natasha and Erica on the podcast Love, Life & disABILITY with Kay Ashton MBE. The episode is available on YouTube (Link below), Spotify, Apple, and Audible.
(Posted June 2021)

Maria Bjornson memorial fund
We are thrilled to have secured £10,000 from The Maria Bjornson Memorial Fund which (alongside the £10,000 we secured from The Backstage Trust) will be for an exciting new education project supporting the next generation of inclusive dance artists... more soon!
If you're an emerging dance artist/ new graduate we'd love to hear from you so that we can add you to our list of contacts to tell about this work.
(Posted May 2021)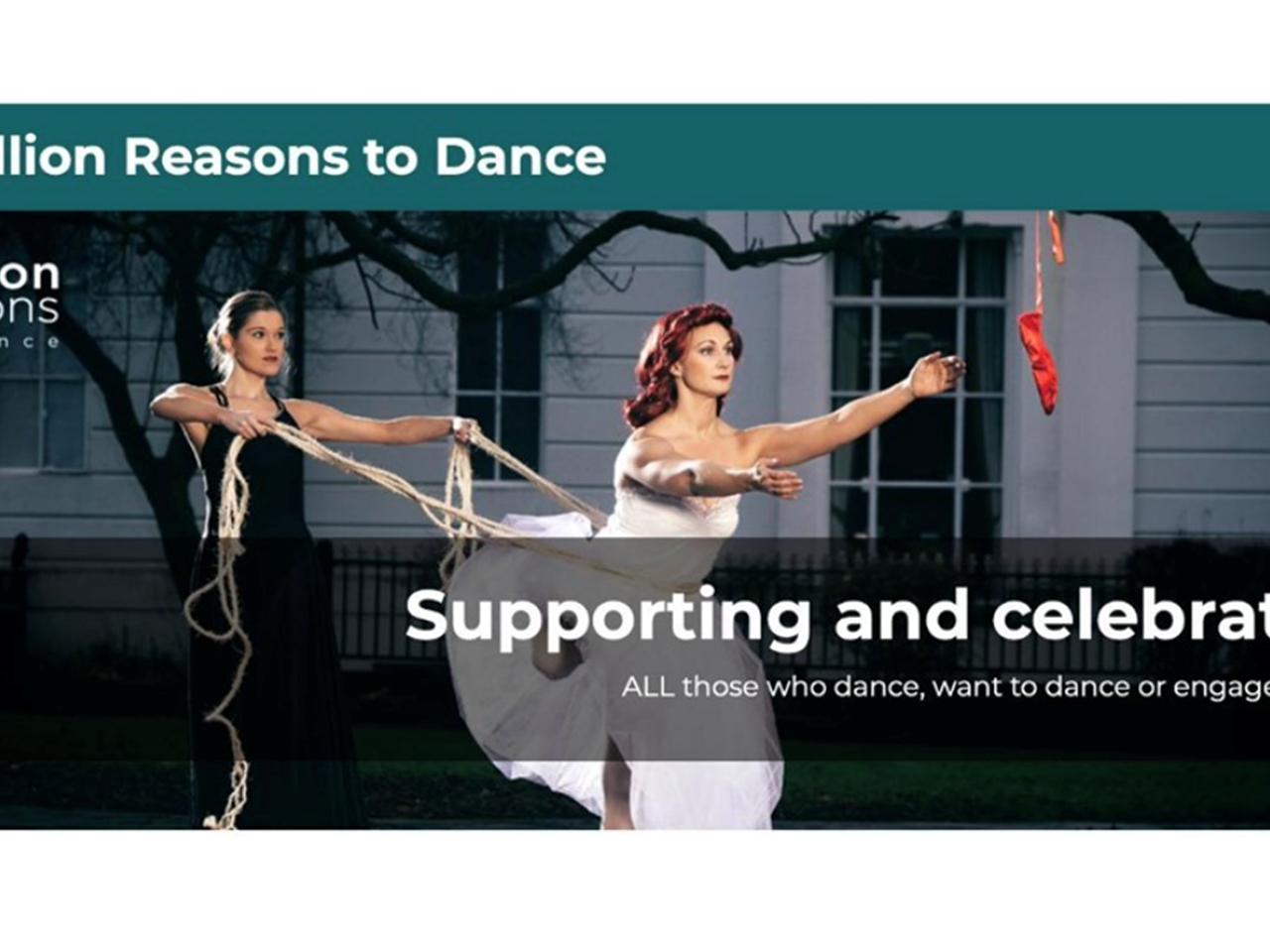 11 Million Reasons to Dance Network
We were delighted to be asked to speak at the 11 Million Reasons to Dance Network on 13th April 2021. The network is hosted by People Dancing and is for anyone who currently works or aims to work with access and inclusion embedded into their dance practice.
We spoke at the event about the film resource 'Inclusive Practice is Good Practice'; about how people could make the most of the film and what we'd learnt from the process. If you're not already a member, you can find out more and join through the link.
(Posted April 2021)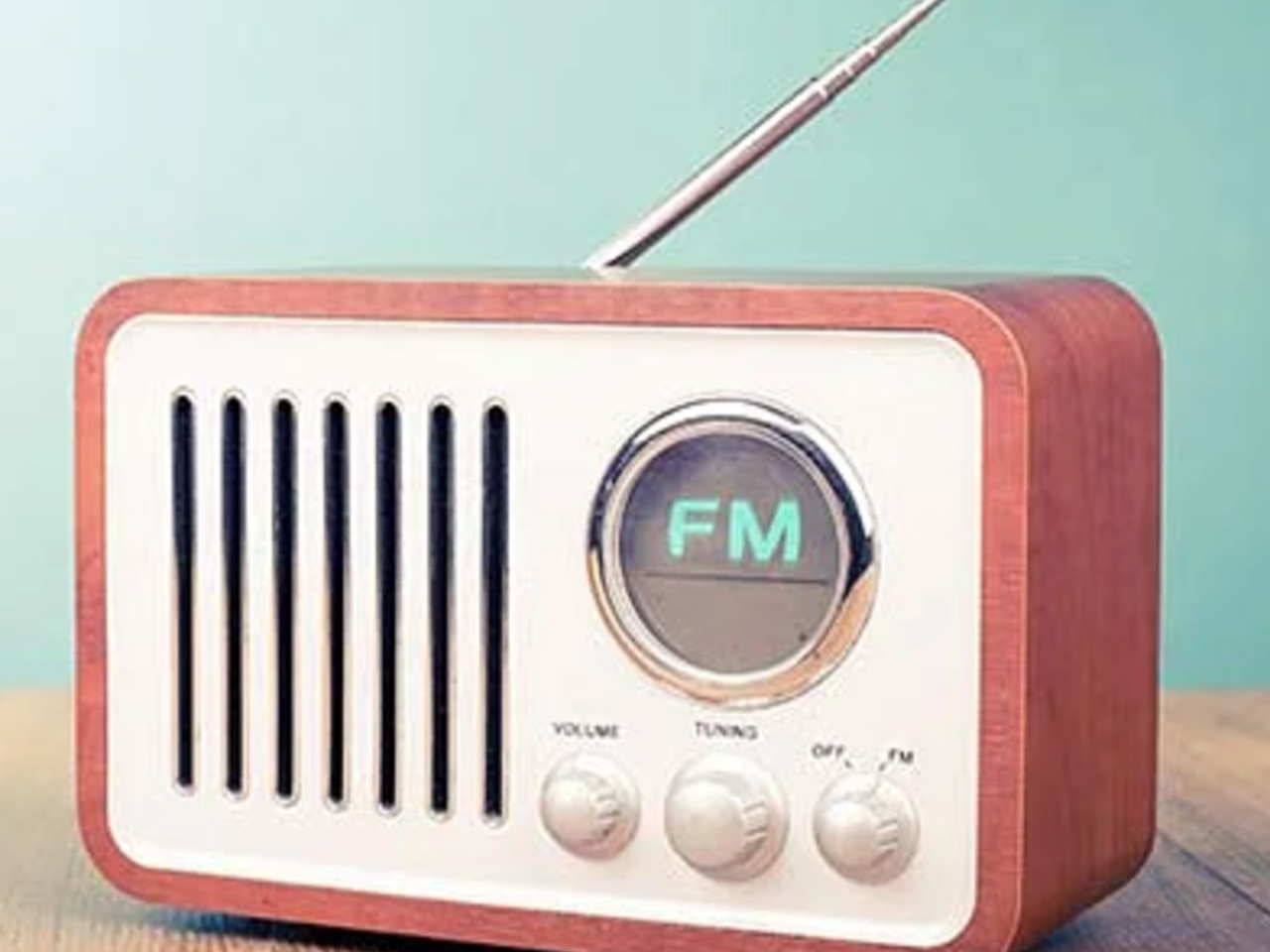 Radio & TV Interviews!
Following the release of our resource film 'Inclusive Practice is Good Practice' we were delighted to be asked for interviews by BBC Radio Sussex & Surrey, Brighton Radio Reverb and Latest TV. 
These interviews gave us a chance to talk about the film but also about future projects, the wider world of inclusive dance and fair employment for dance artists with disabilities ... Follow the link to our YouTube channel and select the 'News & Interviews' playlist.
(Posted April 2021)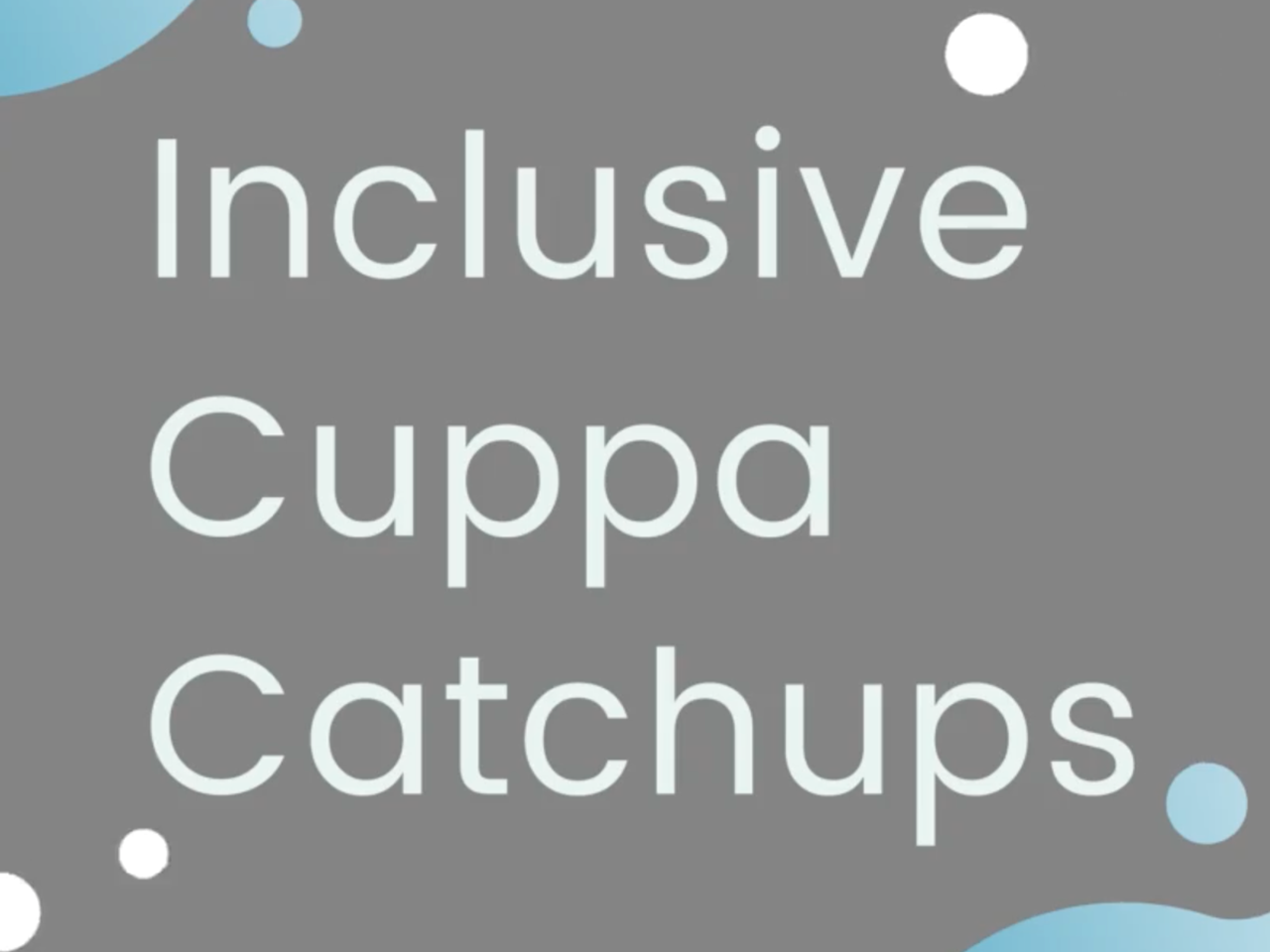 New Networking group
Following the success of our film resource 'Inclusive Practice is Good Practice', we and many of the other artists in the film wanted to stay connected. We have decided to host a monthly 'inclusive cuppa catchup' as an informal space to chat, share opportunities and feel connected.
We are aware that there are so many more experienced inclusive dance practitioners out there who we couldn't feature in the film and we'd love to connect with you. If you're experienced in this area of work and would like to join our community we'd love to hear from you. Please email natasha@parabledance.co.uk to be added to the list.
For those newer to inclusive practice there will be a group for you coming soon too... watch this space!
(Posted April 2021)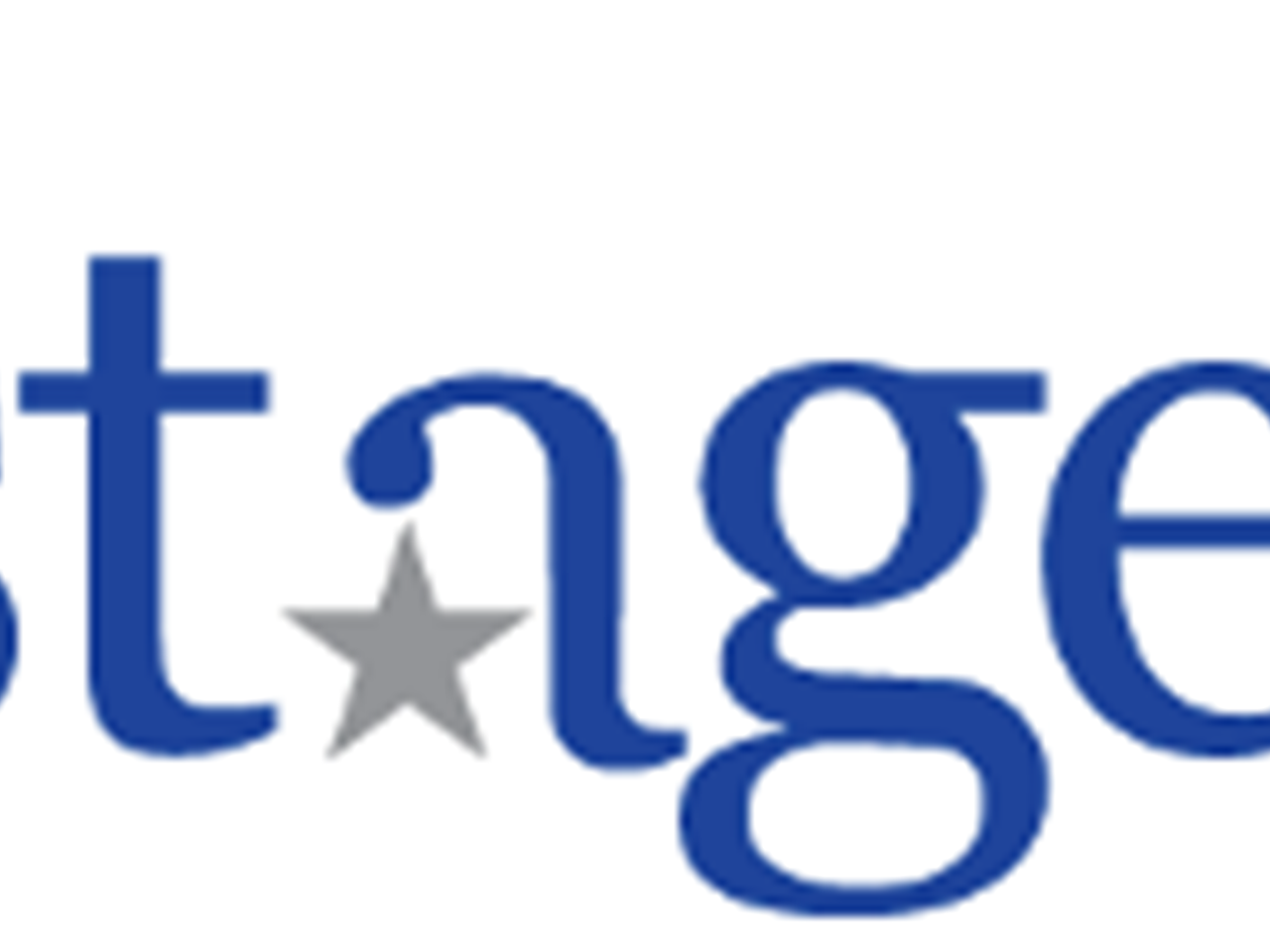 A Grant from The Backstage Trust!
We are delighted to have been awarded £10,000 by The Backstage Trust to develop an exciting new project which will expand inclusive dance training opportunities UK wide... watch this space for more info!
(Posted April 2021)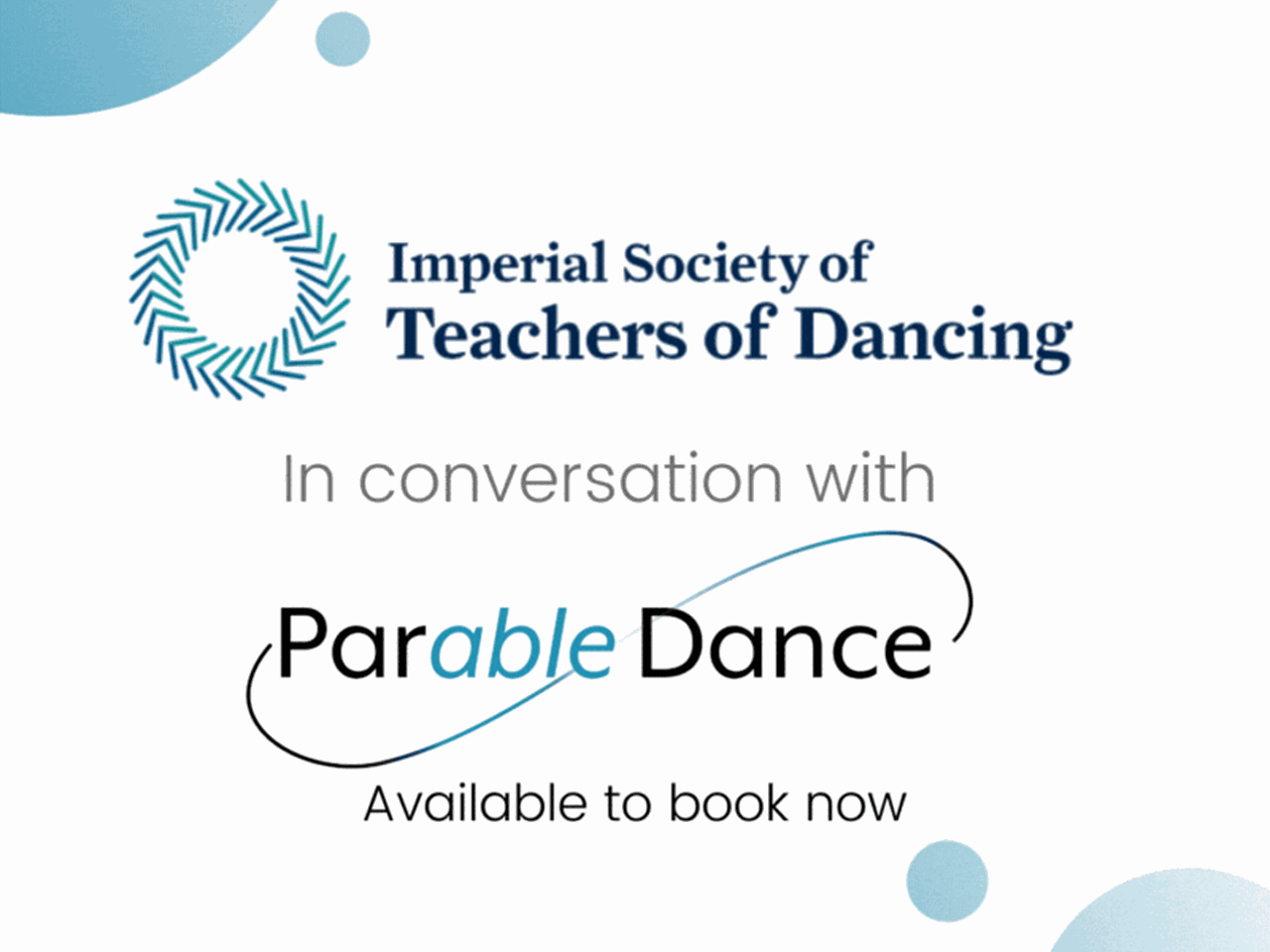 Imperial Society of Teachers of Dancing Webinar
We have been invited to be guest speakers for a webinar by The Imperial Society of Teachers of Dancing (ISTD). 
The session on Monday 24th May at 4.30pm is available for free to ISTD members and for £15 to non members. 
This session will guide you to ensuring accessibility in dance classes. We will provide top tips  around communication, touch, props, access, adapting movement, performance and progression, as well as there being a chance to ask questions and discuss ideas.
Follow the link to book.
(Posted April 2021)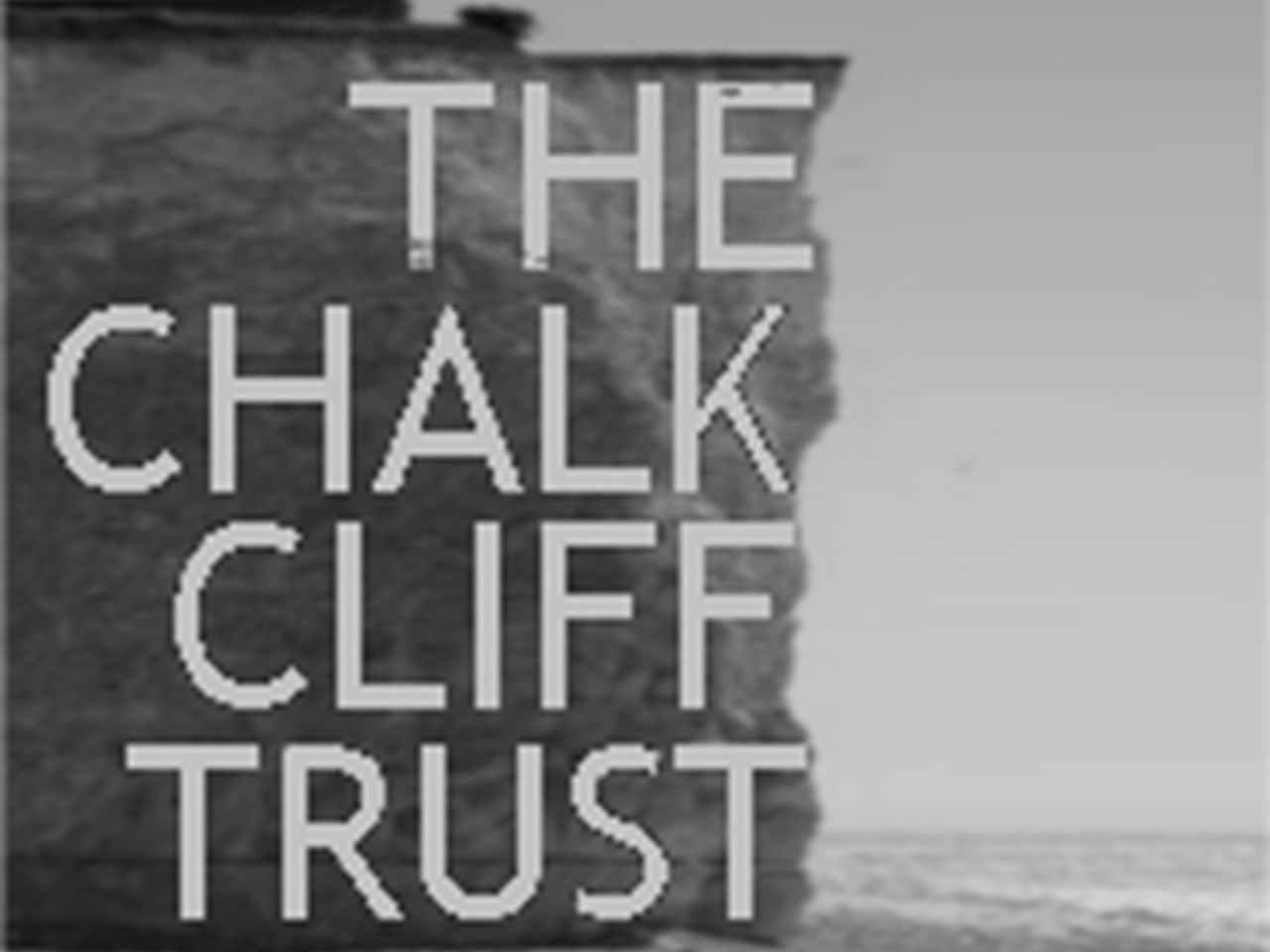 Funding News!
We are delighted to have been awarded a donation of £3000 from The Chalk Cliff Trust! This funding will go towards the development of our work supporting emerging inclusive dance artists. We can't wait to get started on the project.
(Posted March 2021)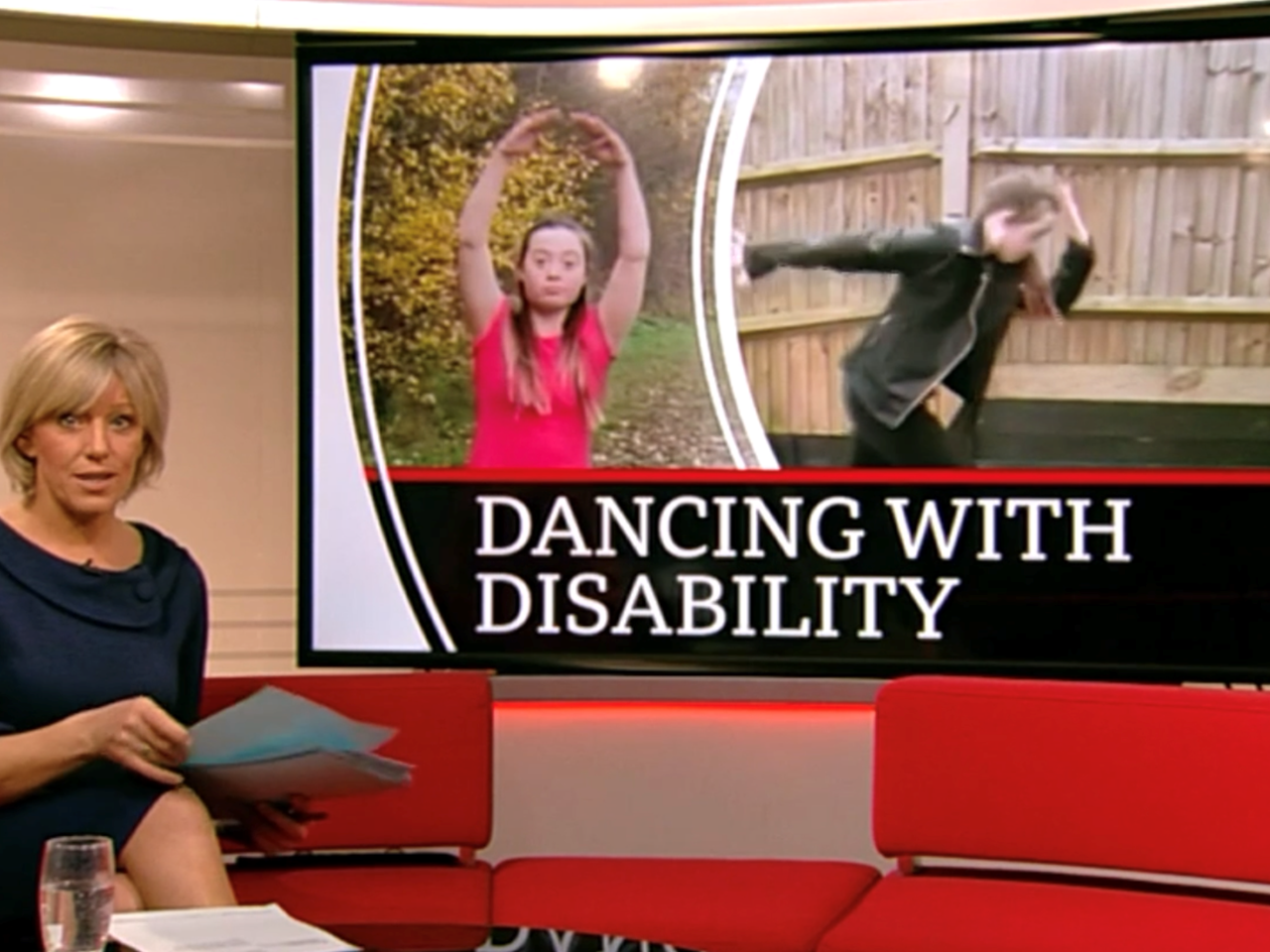 Parable Dance on BBC News!
Our film 'Inclusive Practice Is Good Practice' featured on BBC South Today News on 24th February 2021. The two minute feature highlighted the contributions from 7 of the dancers who feature in our film. It also included an interview with Paul Davidson, who both speaks and dances in the film. Paul makes a poignant comment in his interview about dancing for love and joy and not letting disability define you.
(Posted February 2021)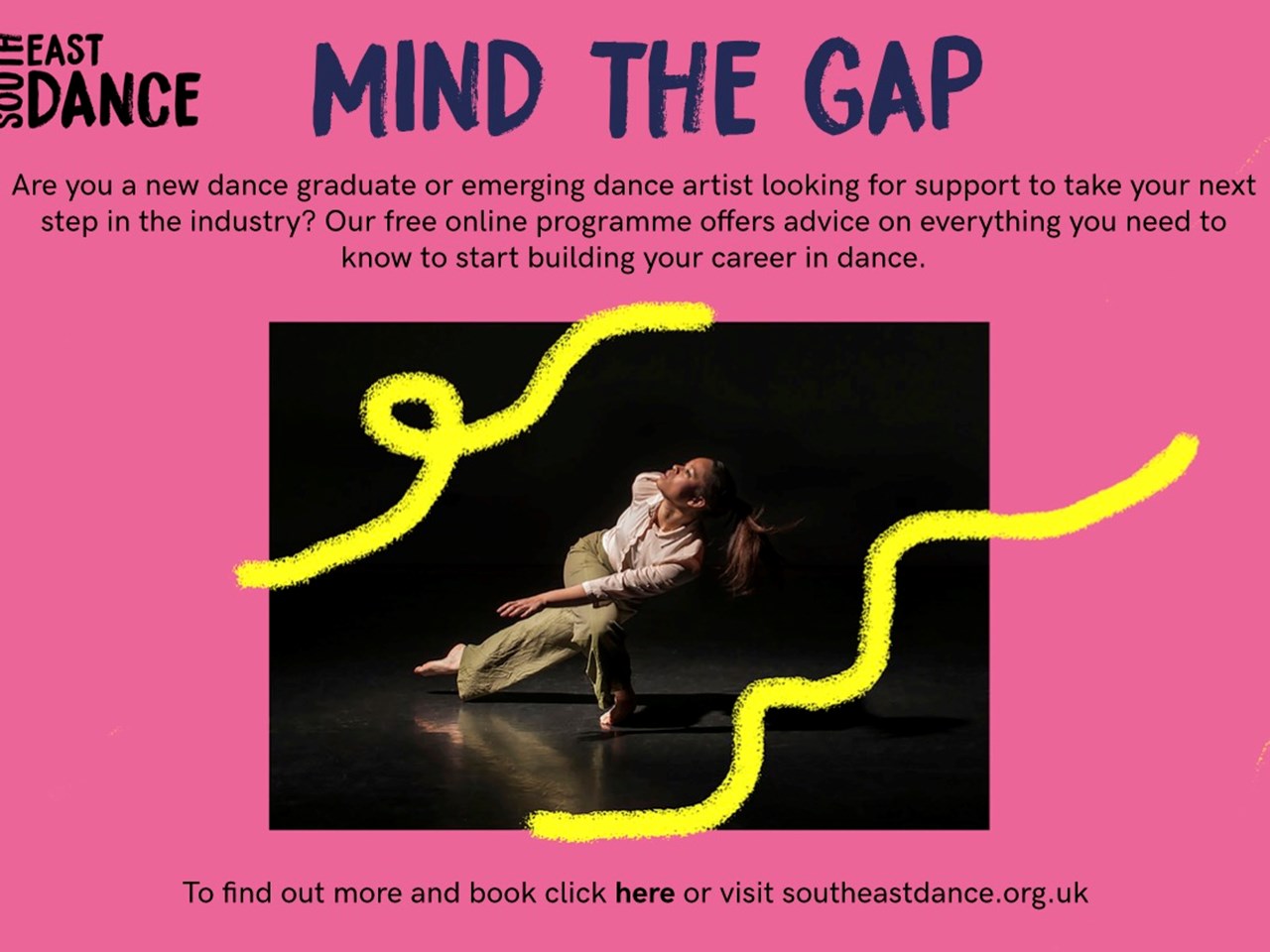 South East Dance Access panel event
Parable Dance are delighted to have been asked to be part of a panel event for South East Dance on 30th March 2021, appearing alongside dancer Laura Dajao (LauraDDances) and James Greenhalgh and Laura Jones from Stopgap Dance Company. This will be an online discussion about making your work accessible and is a free event aimed at dance graduates and emerging dance artists.
(Posted February 2021)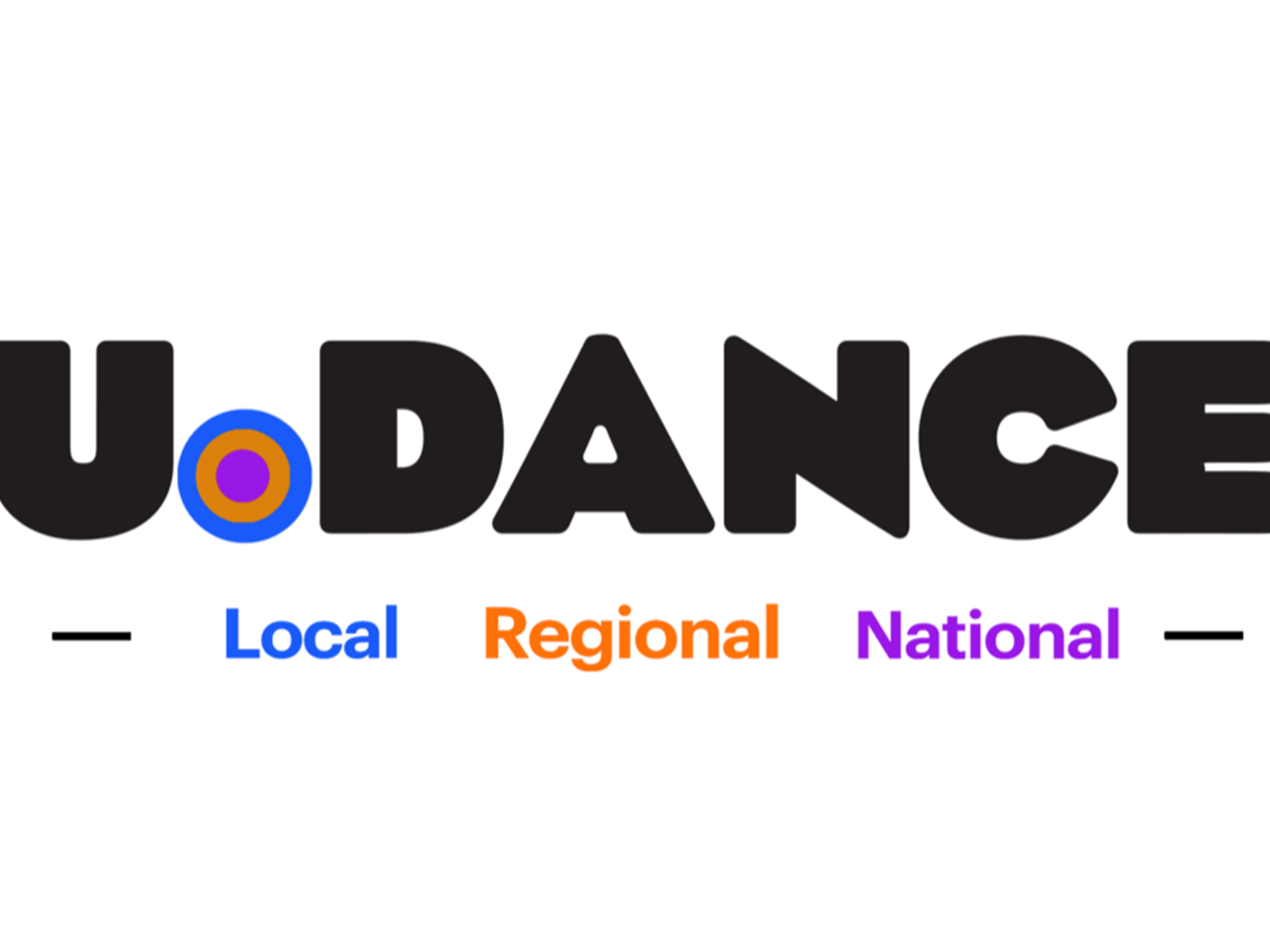 U.Dance inclusive expert 2021
We're delighted that Natasha will be the inclusivity expert on the judging panel for the South East Dance U.Dance selection process for the sixth consecutive year. The panel will shortlist groups from the South East region in March 2021, all hoping to be featured in the online festival in April and for a place in the National U.Dance festival. 
(Posted February 2021)
Royal & Derngate Generate Festival Highlights Parable's work
The Royal & Derngate (Northampton) host The Generate Festival. As part of this they are running 'Genfest Movement' on 20th March. The day is dedicated to supporting the work and development of professional and emerging artists.
There will be workshops, Q&A, CPD and interviews throughout the day, including with Parable: a CPD session, interview, streaming of our resource film and a panel event. 
We're delighted to be programmed alongside wonderful artists such as Sir Richard Alston and Diverse City and to be embarking on an exciting new relationship with the wonderful Royal and Derngate team.
(Posted Feb 2021)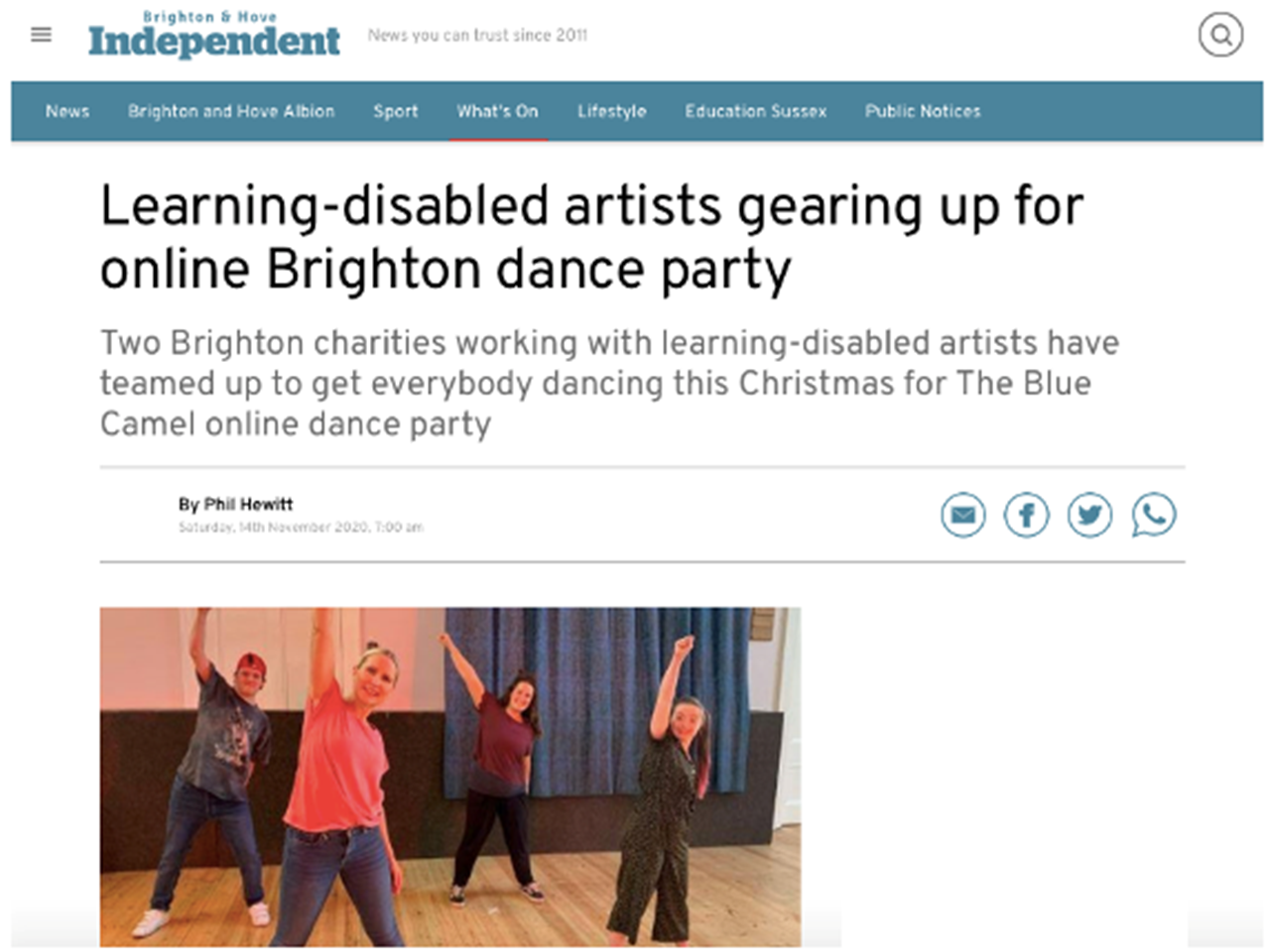 Multiple features in the press!
Our fun online inclusive dance warm ups and club night in partnership with Carousel have proven popular and have been featured in 5 local newspapers! We're really grateful for the features by:
Brighton & Hove Idependent
Brighton Magazine
GScene
Crawley Observer
West Sussex County Times
(Posted Dec 2020)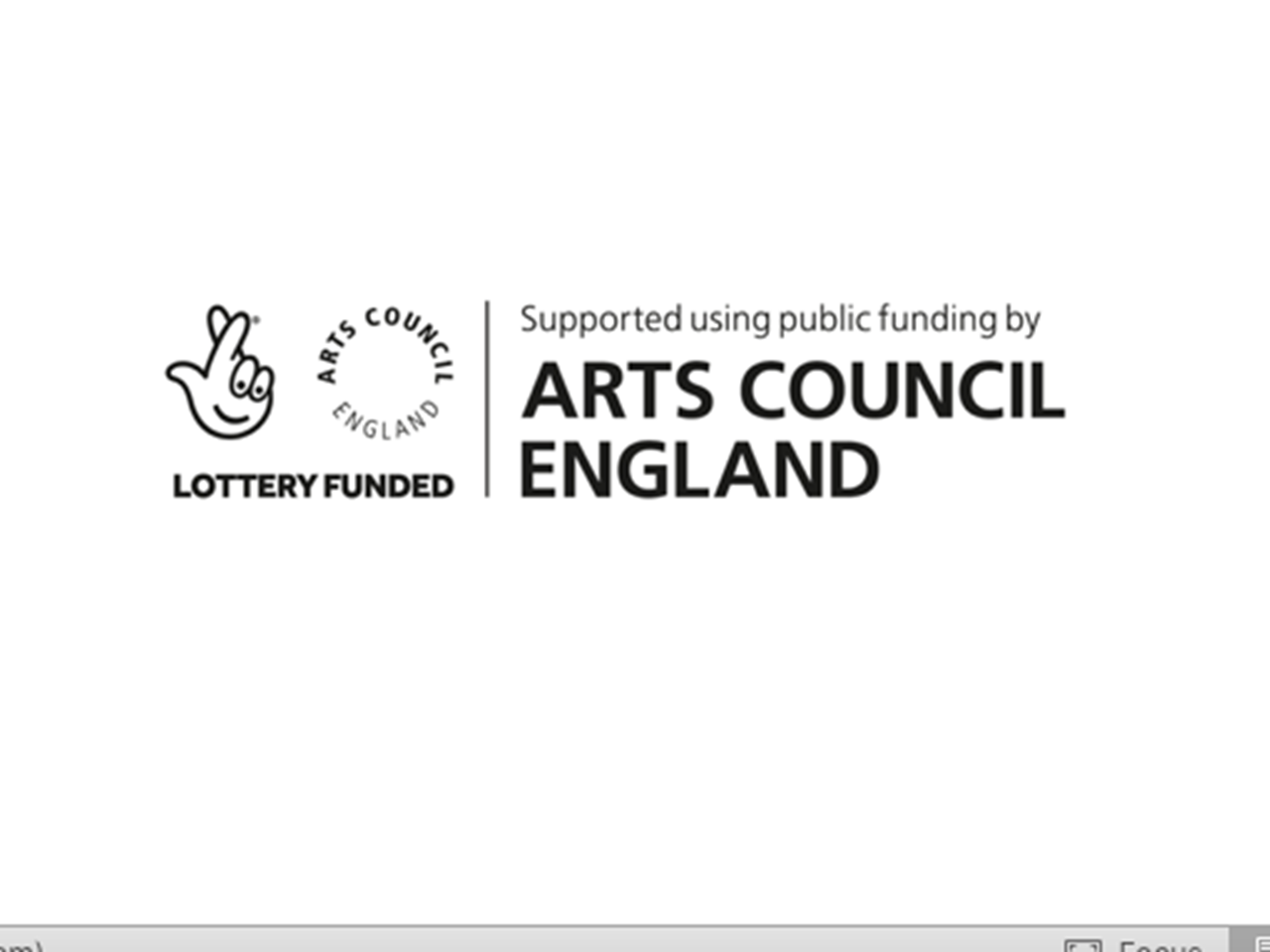 We are thrilled to announce that we are being supported using public funding by The National Lottery through Arts Council England. The funding we have received is for an exciting nationwide inclusive dance film project. We are hugely grateful to be able to work with 45 inclusive dance artists and organisations around the country. Thank you to Arts Council England, and to our partnering organisations and supporters: South East Dance, One Dance UK,  Disability Arts Online, and Unlimited. Watch this space for more announcements about the project and our collaborators!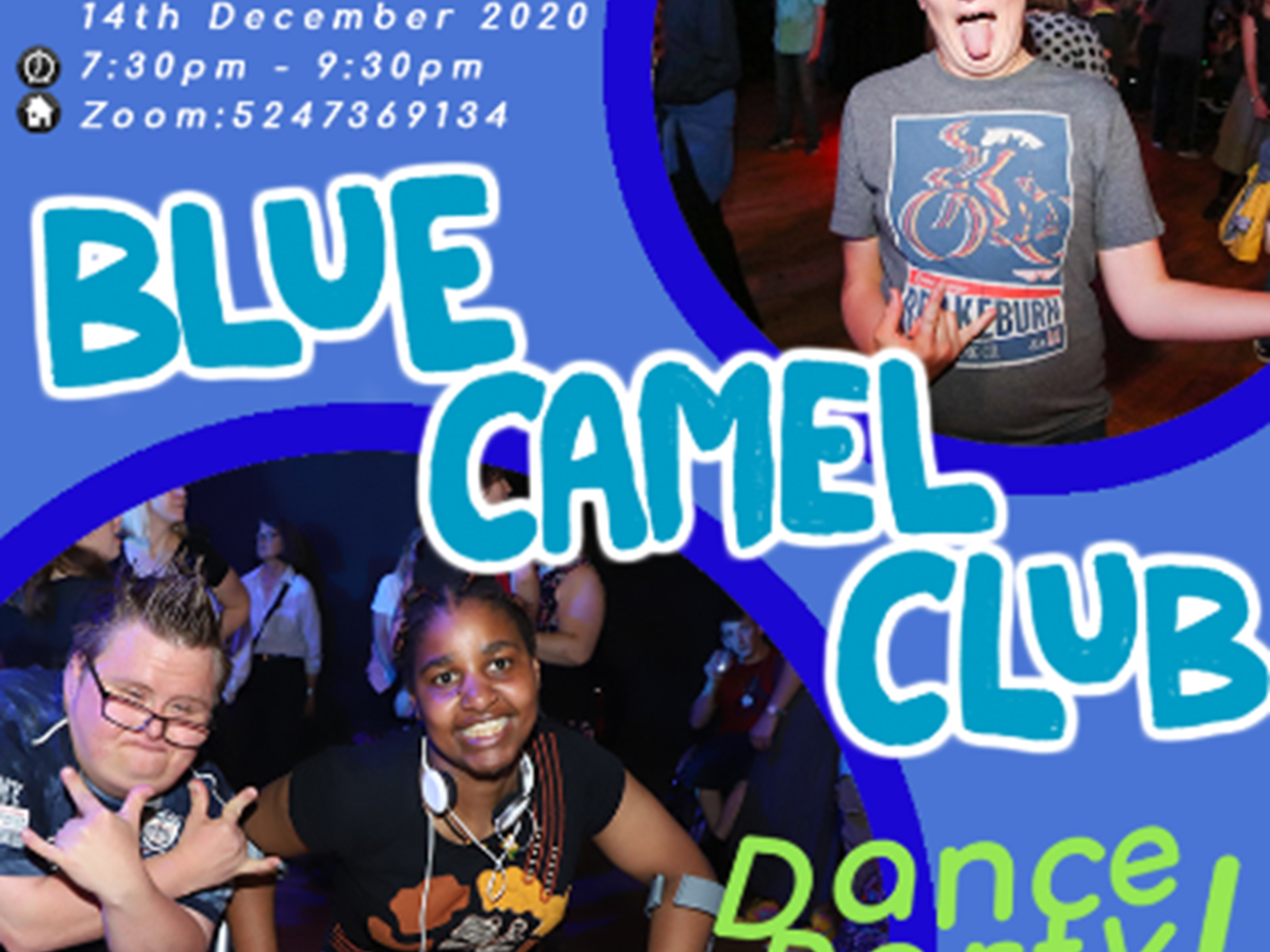 Online project with Carousel
We were asked by Carousel to collaborate with them to produce an online version of their inclusive Blue Camel Club night. Their DJs picked 6 cheesy tunes and we choreographed accessible routines to teach to the BCC party goers.
This project presented the opportunity for us to pay dancers with learning disabilities for the first time as members of the team. Natasha, Associate Artist Annie and Dancers Joe and Lauren spent a fun day socially distance filming the instructions and routines. The six 20 minute segments are being aired as 'warm ups' every Monday night in the lead up to the Live Dance Party on Dec 14th 2020 when we will be leading 2 of the dances live.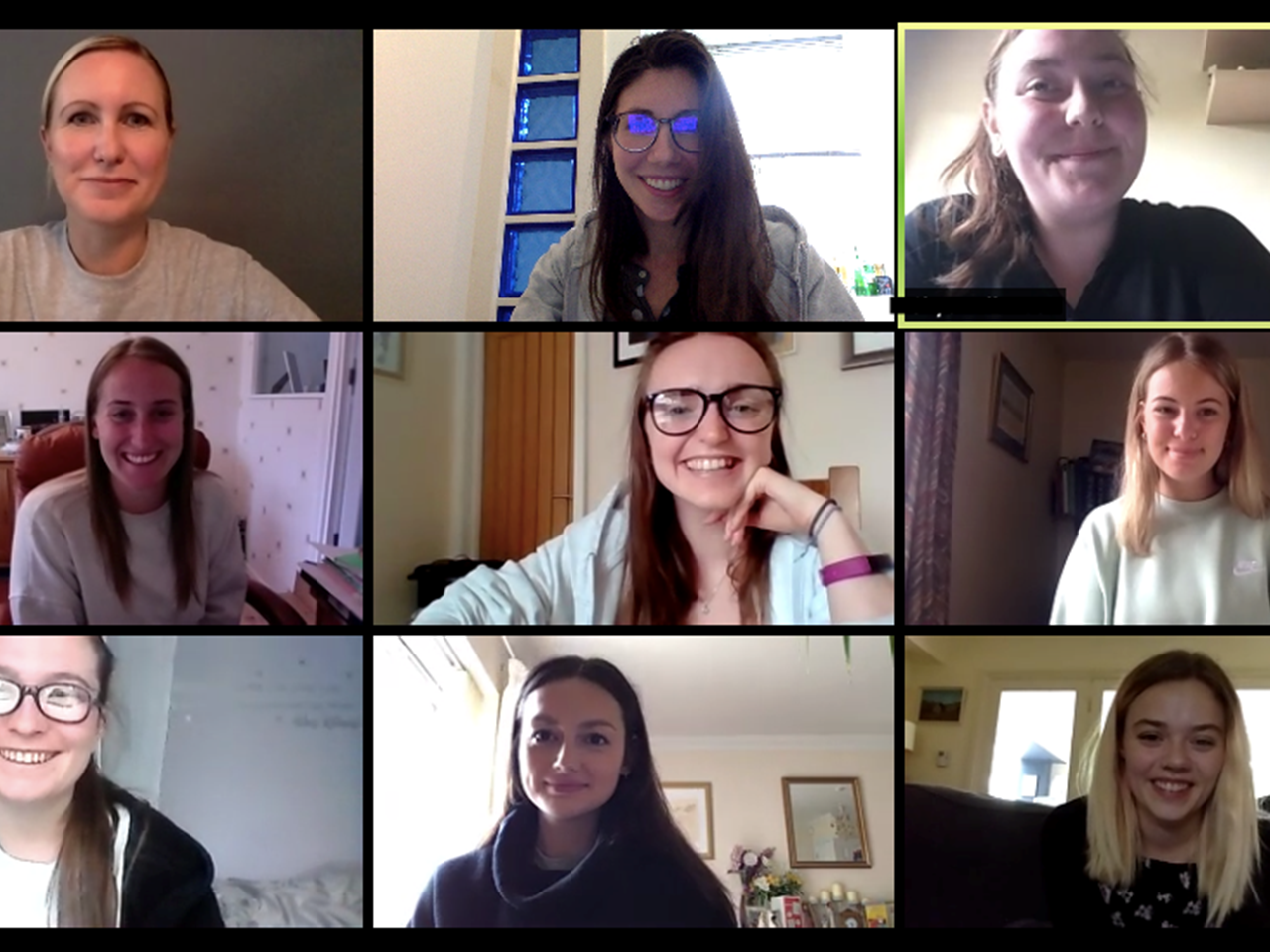 Online professional development in collaboration with South East Dance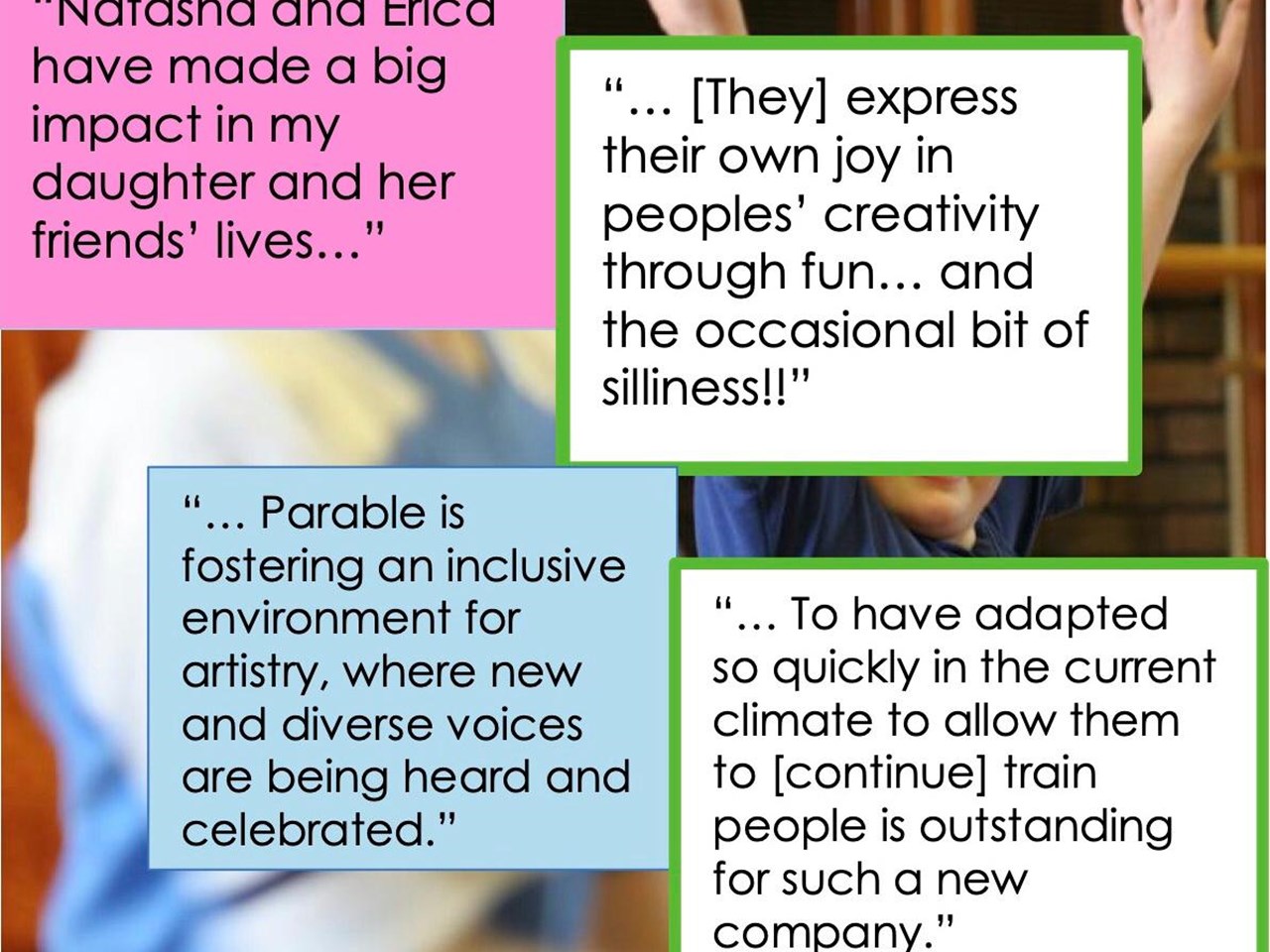 More award nominations for 2020!
We are delighted to have been nominated for The 'Entrepreneur of Excellence Award' in The National Diversity Awards. Thank you to everyone who voted for us.
Natasha has also been nominated for the second year running for the Mentor of the Year Award' in The Inclusive Companies Awards.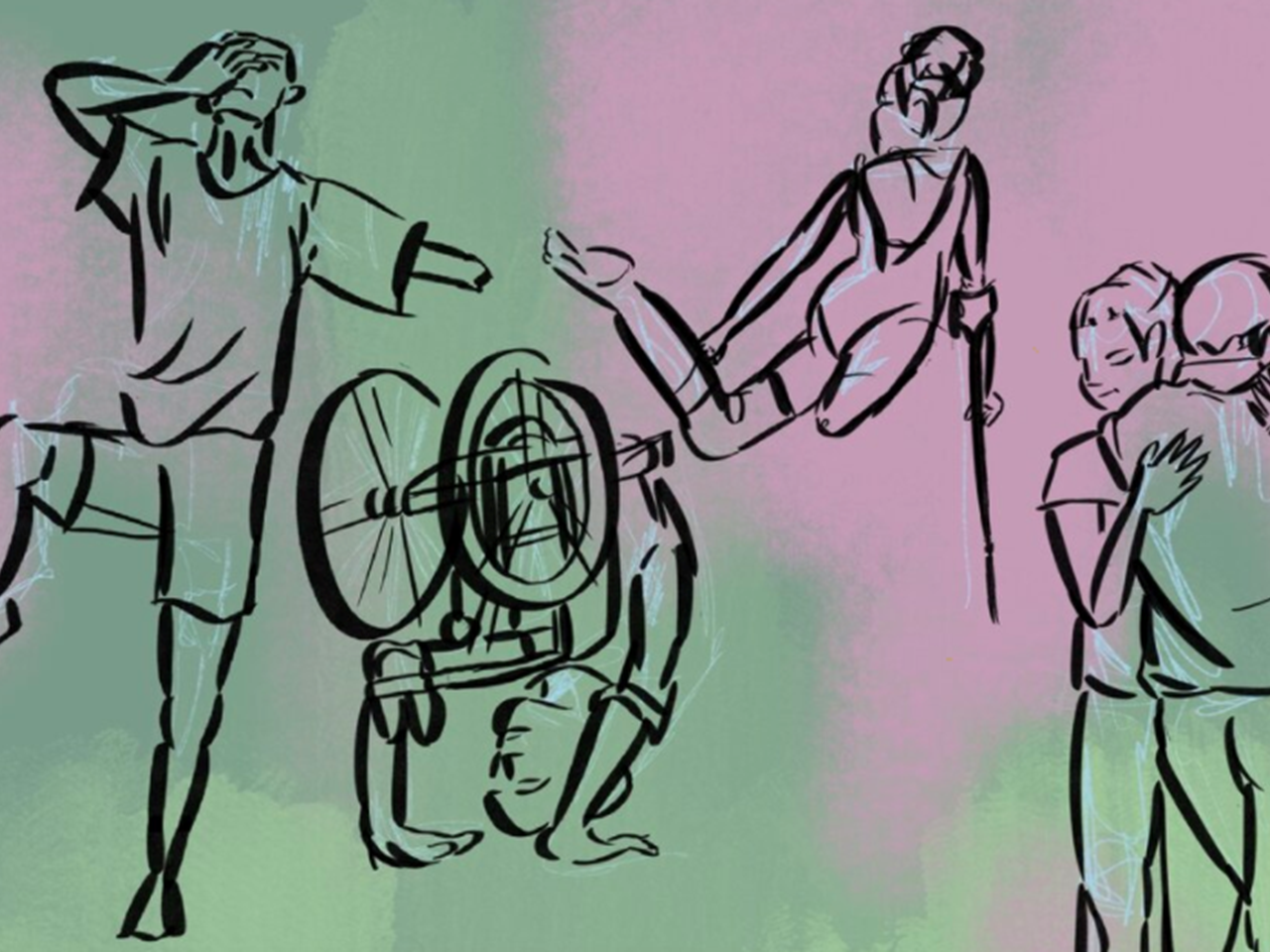 A Parable of Progress
Check out "Dance and Disability: A Parable of Progress" written by Imogen Hunte, featuring Parable Dance with interviews by Natasha Britton and Kimberley Harvey! Illustrations by Niamh McBride.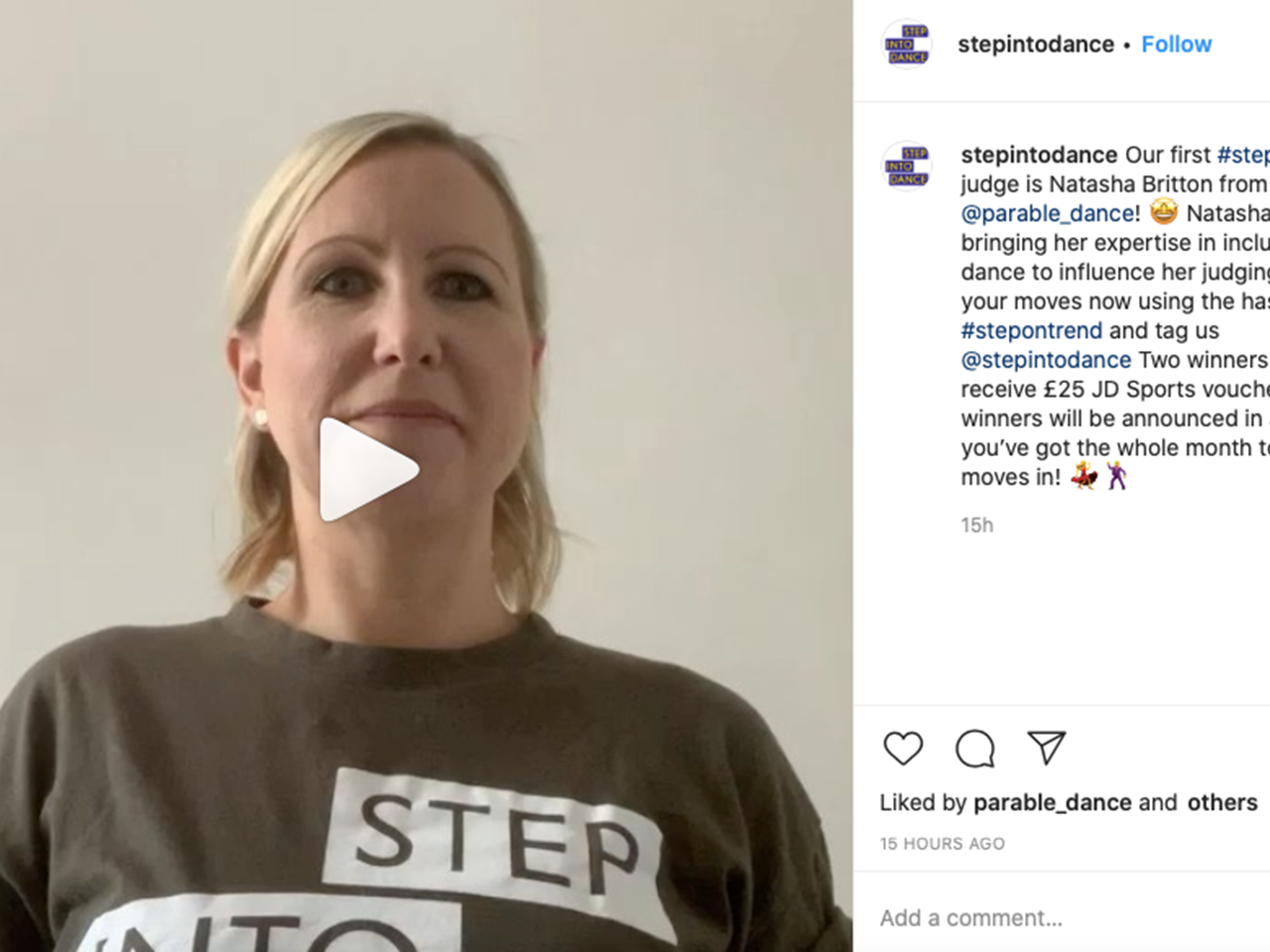 Parable Judging RAD online competition
Natasha has been asked to bring her inclusive dance expertise as a judge for a new online dance competition. The RAD's Step Into Dance have launched 'Step on Trend'. Young people aged 11-25 from London and Essex are being asked to submit original dance moves that could be the next trending move like the Floss or the Dab. The competition runs throughout June and July and we're excited to be involved.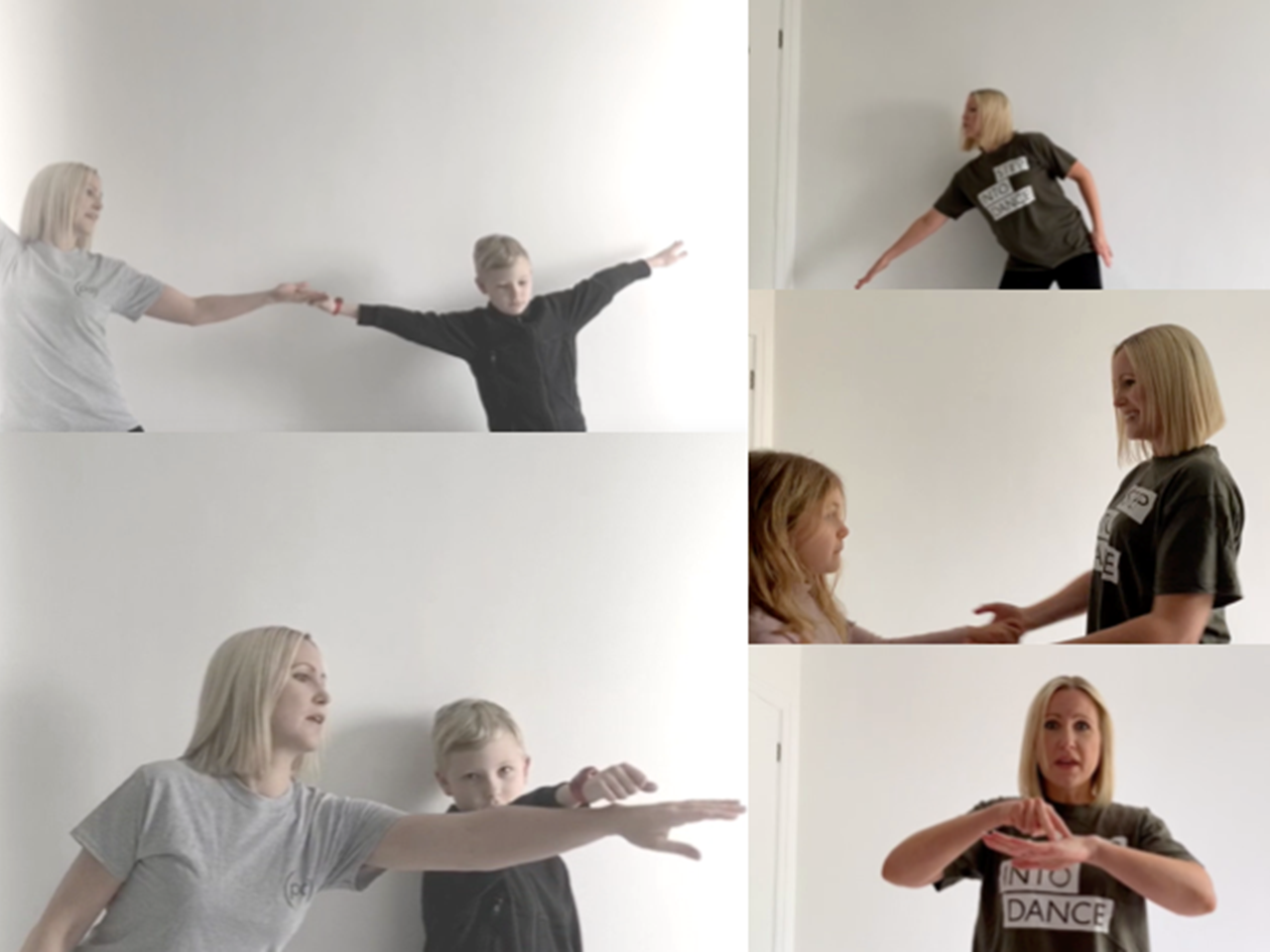 Taking our training online
We've been busy reaching out to previous clients as well as making new connections, to publicise our offer of inclusive dance training online. We now offer two shortened professional development sessions via zoom. One addressing face to face inclusive dance teaching and another covering techniques for working inclusively when teaching online. We are also offering bespoke online mentoring sessions.
We have delivered several exciting projects so far:
We successfully delivered a one hour training session to a group of 68 dance teachers from the national franchise babyballet, who took their work online during lockdown.
We created a short instructional film for The RAD (Step into Dance), advising how families can support a child with additional needs taking part in their online classes.
We delivered training to a team of 7 teachers from Imagination Arts to add to their inclusive dance knowledge, ready for when they return to face to face teaching.
There are more projects in the pipeline... Watch this space!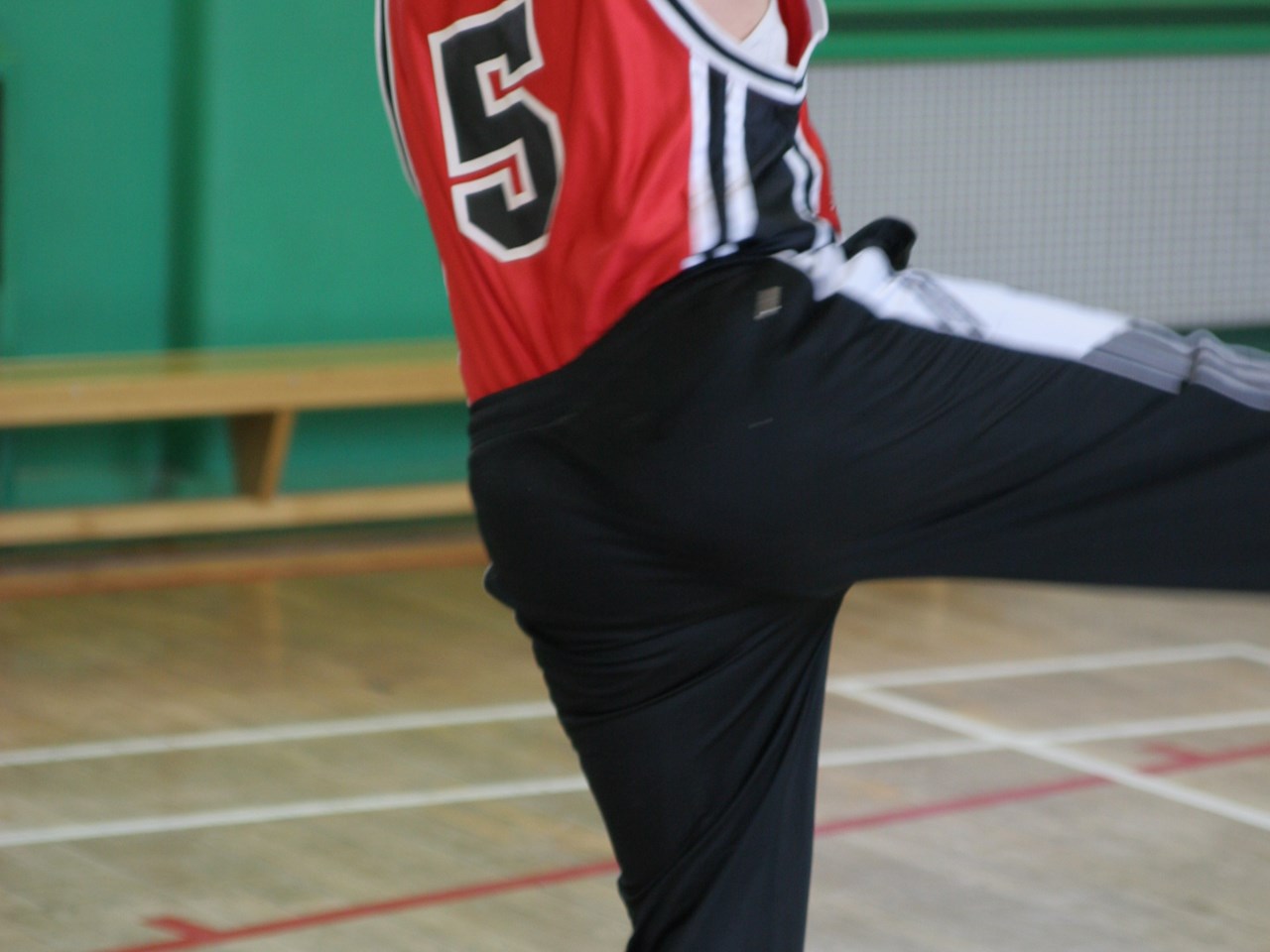 Fun 15: Online, inclusive dance classes
Join us for fun, 15 minute online, inclusive dance classes!
Fun 15: Families
Fun 15: Care homes and assisted/residential living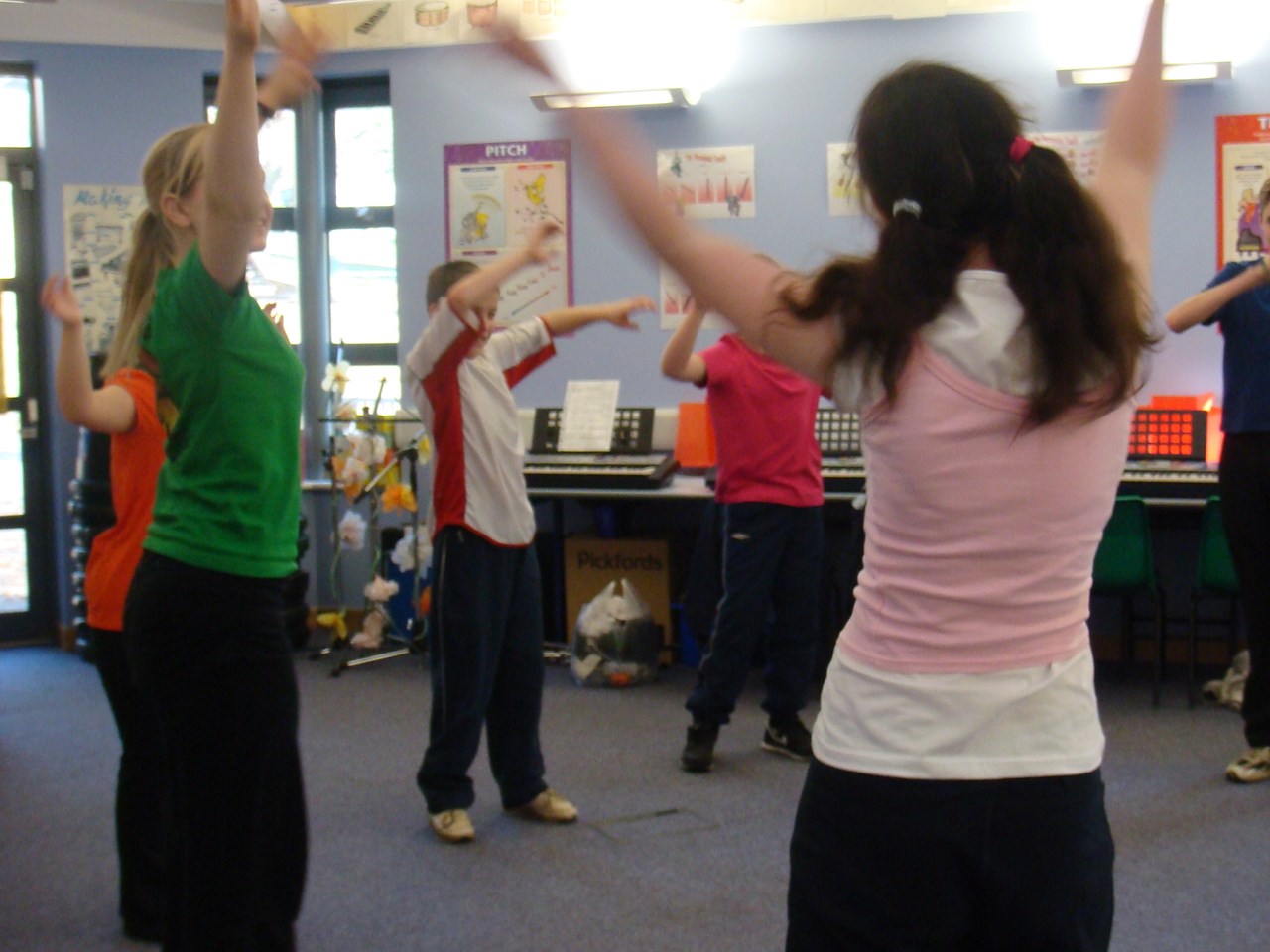 Natasha mentors Step into Dance teachers
Natasha has really enjoyed being a mentor for the RAD Step Into Dance programme this month working with one of their wonderful teachers and a group of students in South London. She will be taking on a 'Partnership Support' role with 6 more teachers throughout 2020!
Get in touch for bespoke inclusive dance mentoring opportunities with us.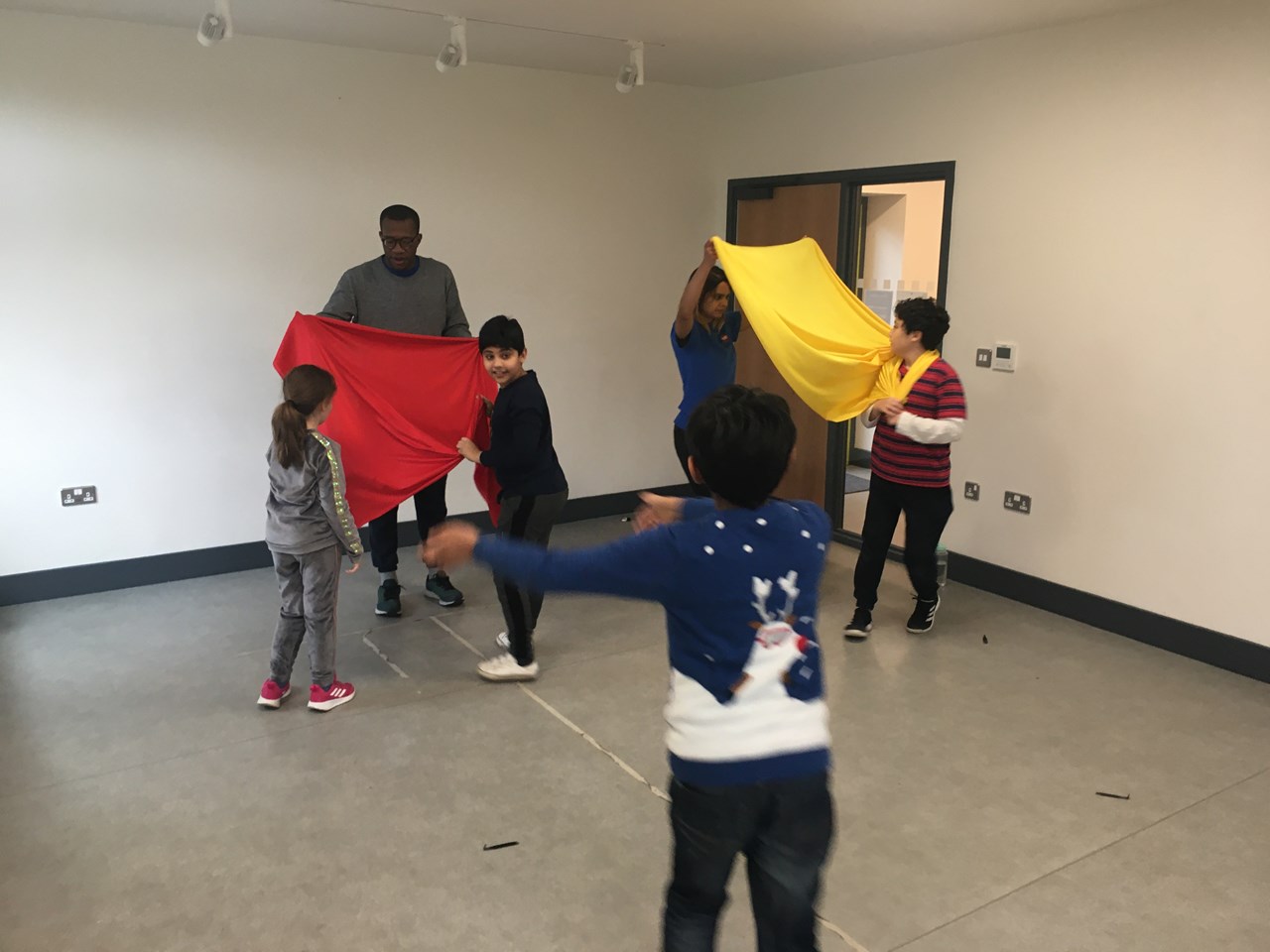 Upcoming workshops with Mencap
We are thrilled to have returned to deliver workshops for Mencap in Merton, Burgess Hill, and East Grinstead groups. We have various workshops scheduled throughout 2020. Keep an eye out for dates as they approach!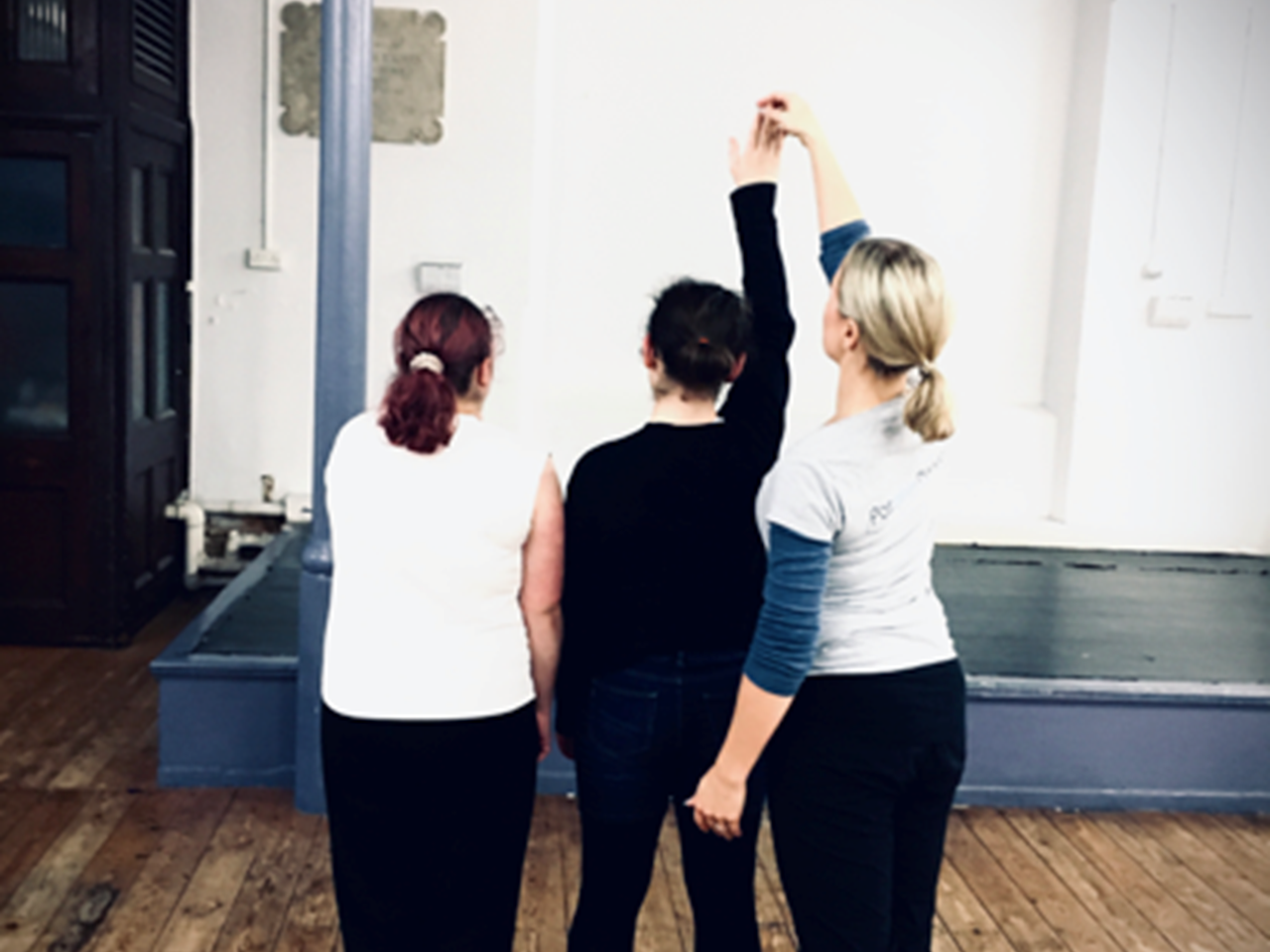 Classes at Team Domenica & Park Hill School
We had a great time working with students at Hill Park School & candidates from Team Domenica in Brighton (October & November 2019) on behalf of Katie Dale-Everett Dance.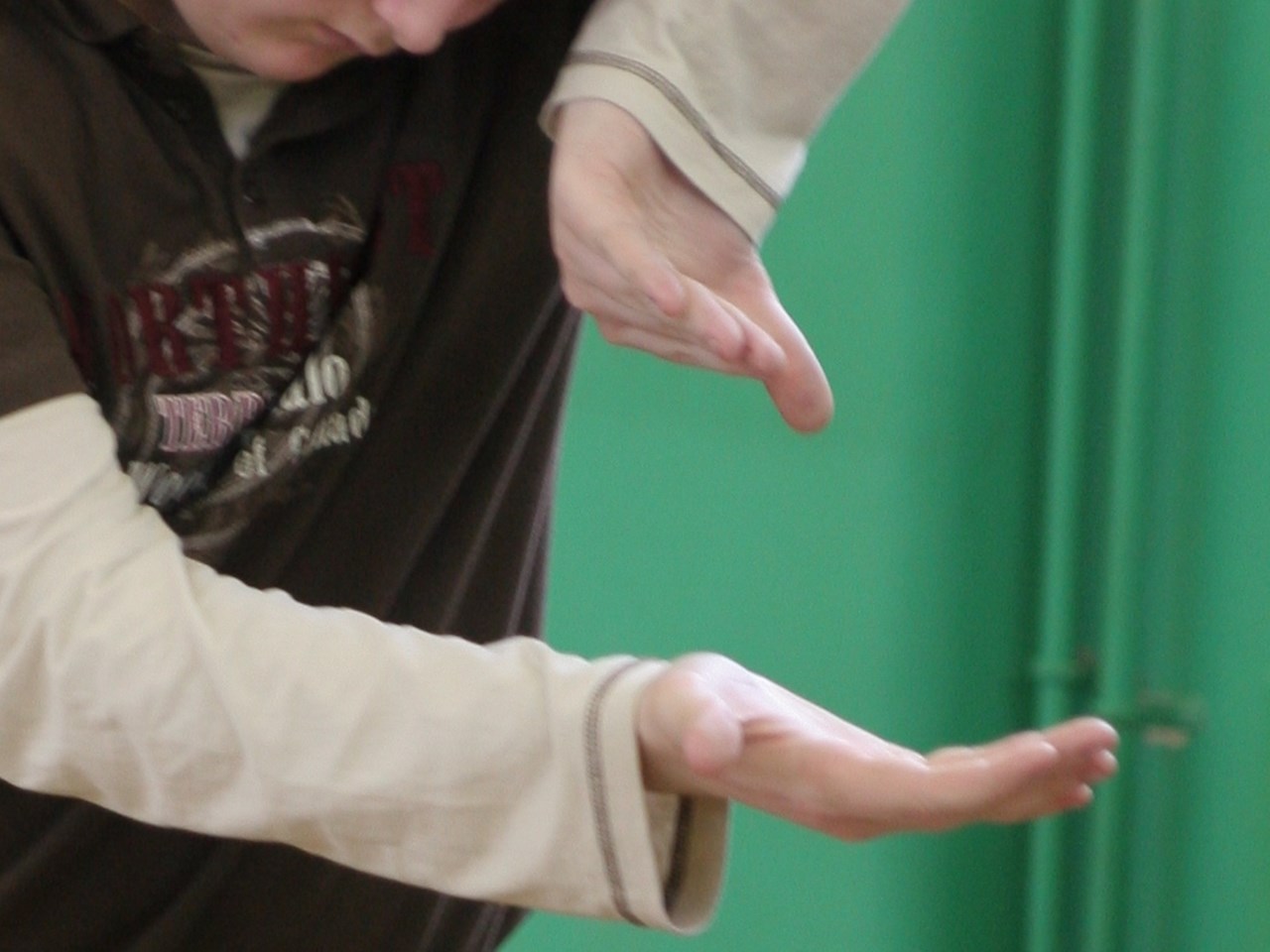 Parable in the Press!
Parable Dance is in the press! We have a feature in Wellspring Newsletter. Click the read more button below and scroll to page 14 to read all about us!
Erica is an editor for The Dancer-Citizen, an online, open access journal exploring the work of socially engaged dance artists. See her Letter from the Editor and the journal's Issue 9: dancercitizen.org/issue-9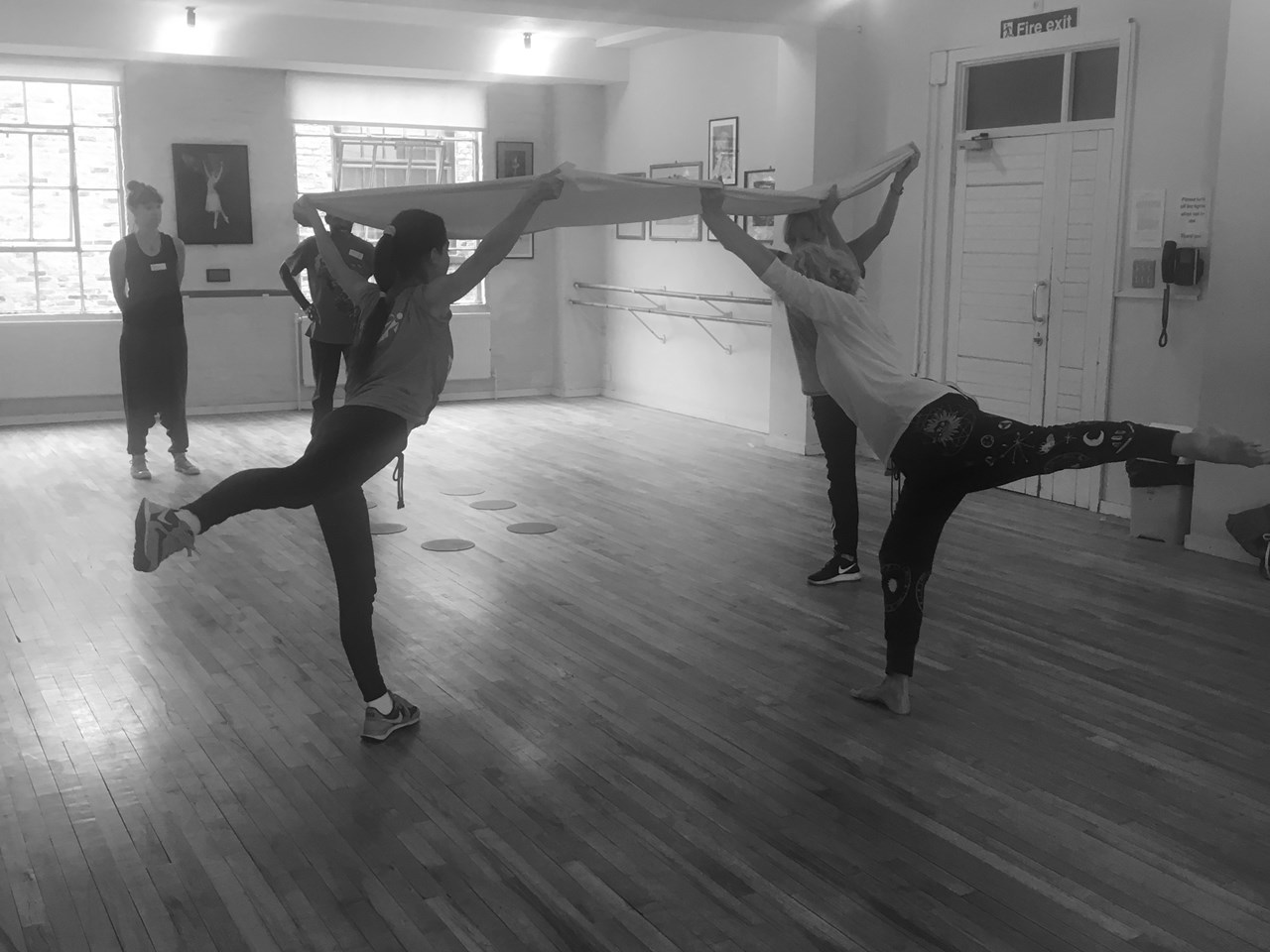 CPD with Dance Education students
In January we will be working with Canterbury Christ Church University's Dance Education degree students. We will be exploring methods of inclusive practice and supporting the students' work at a local special school.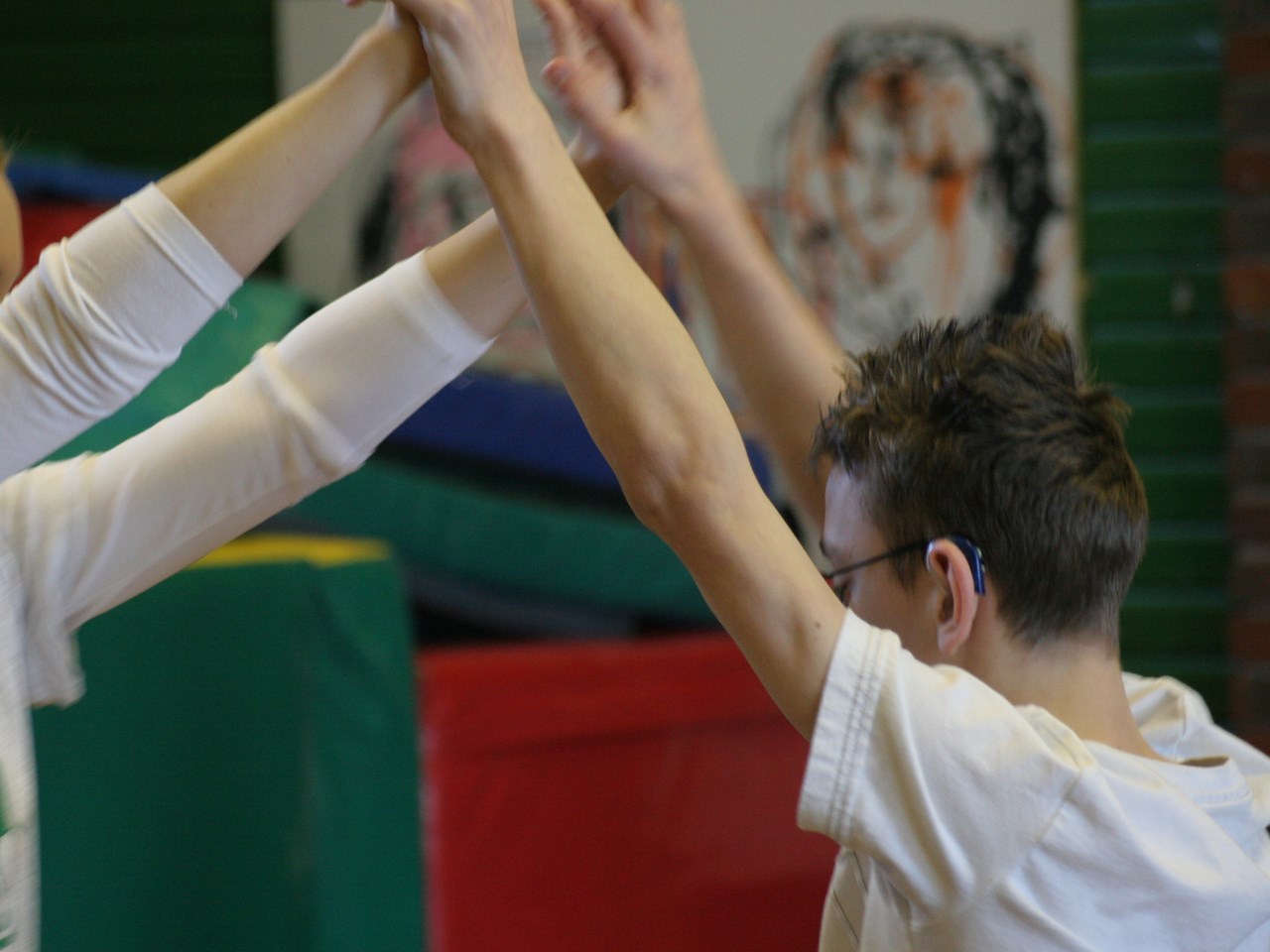 'Mentor of the Year' Award
Feeling proud- Natasha has been nominated for the Inclusive Companies 'Mentor of the Year' Award 2019.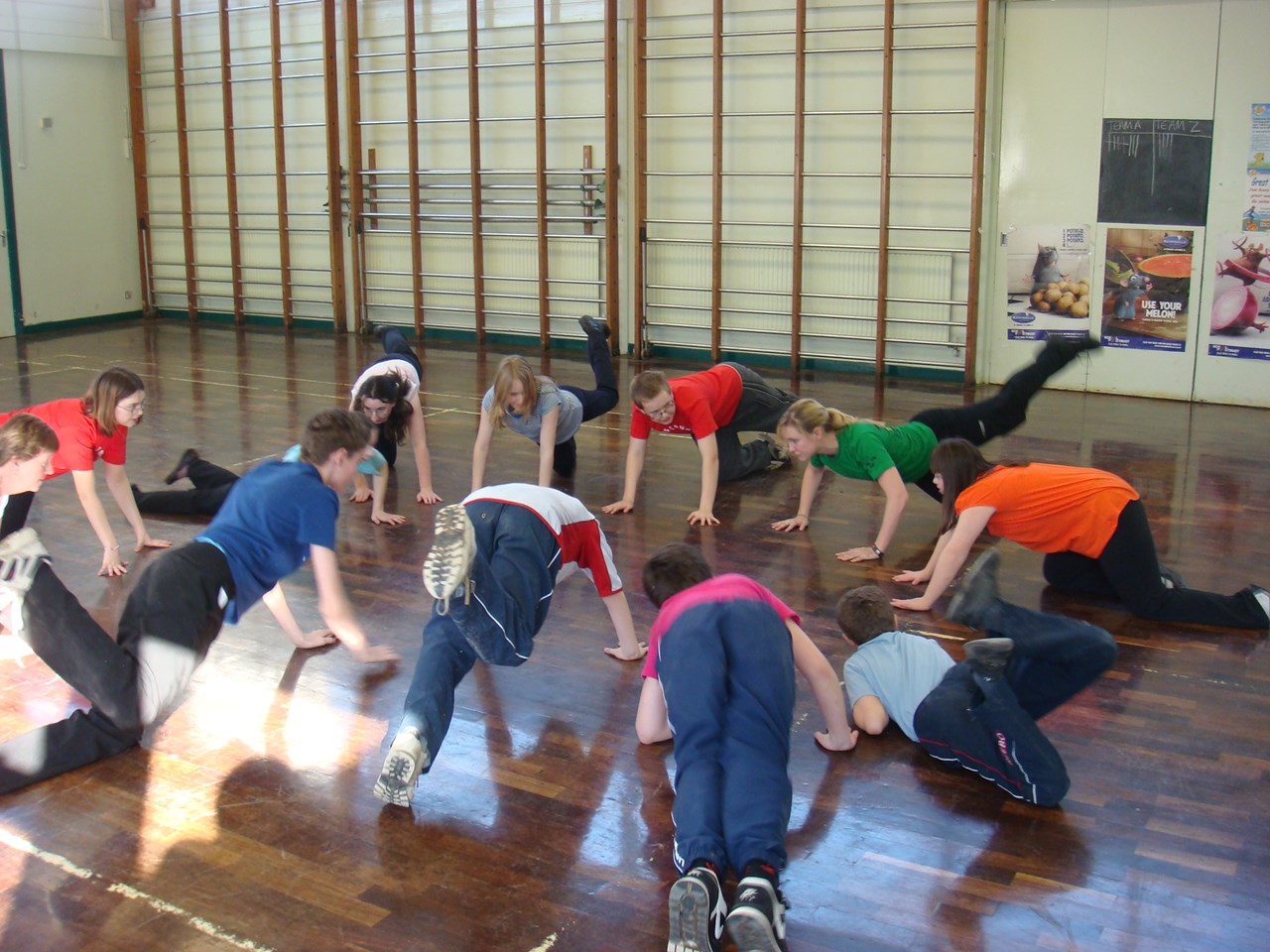 One Dance UK Nominations
Erica and Natasha are honoured to have both been nominated for the One Dance UK 'Inspirational Community Dance Practitioner Award'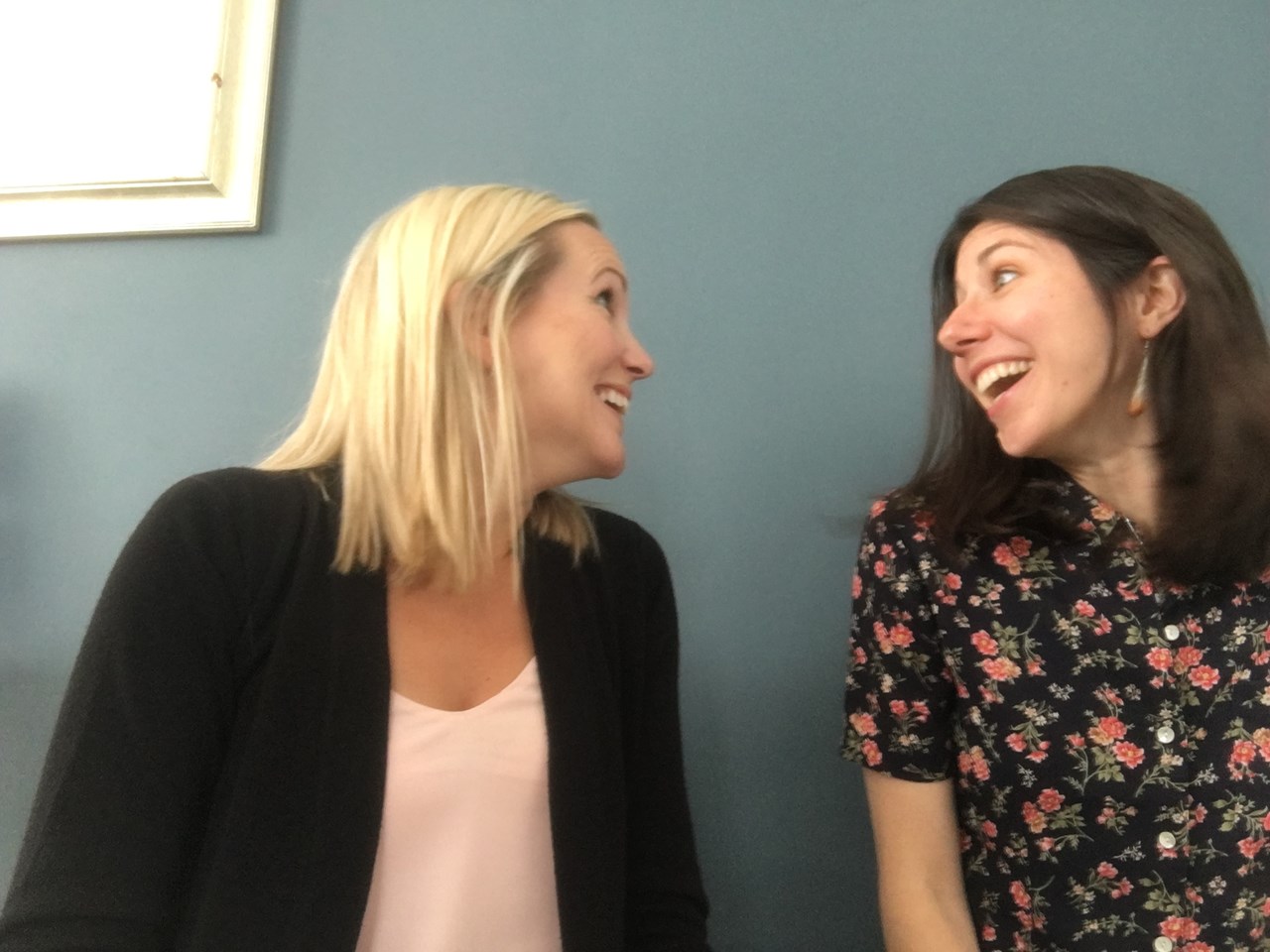 Parable Dance Launches!
We're so excited to be up and running! Be sure to follow us on social media!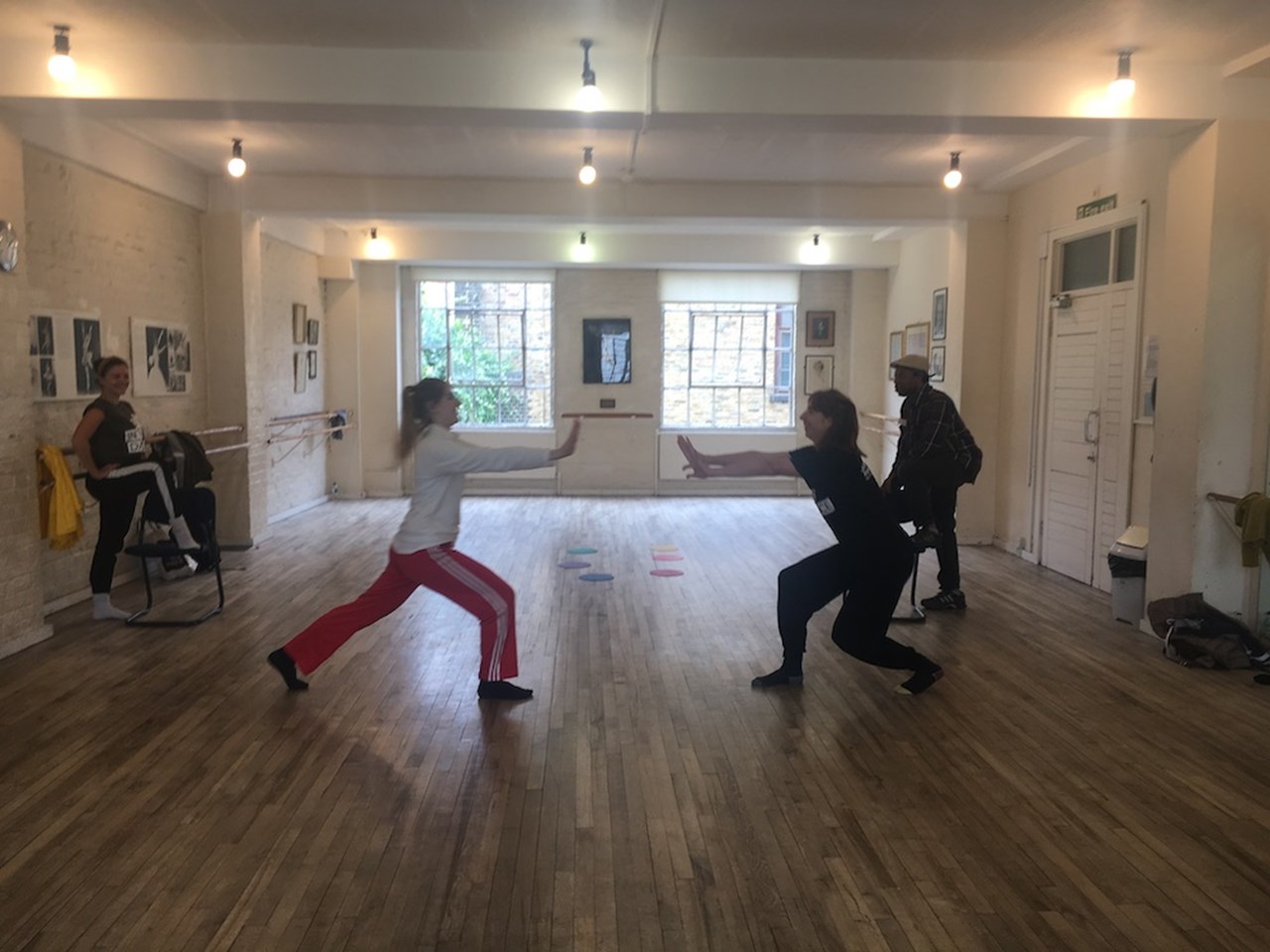 Inclusive Training at The RAD (Step Into Dance)
We had great fun delivering a training day to the freelance team of Step Into Dance teachers at The RAD on 11th September. The team deliver workshops in schools in London & Essex, funded by The Jack Petchey Foundation. One Step Into Dance freelancer commented, "I think this was the best SEND training we've had so far"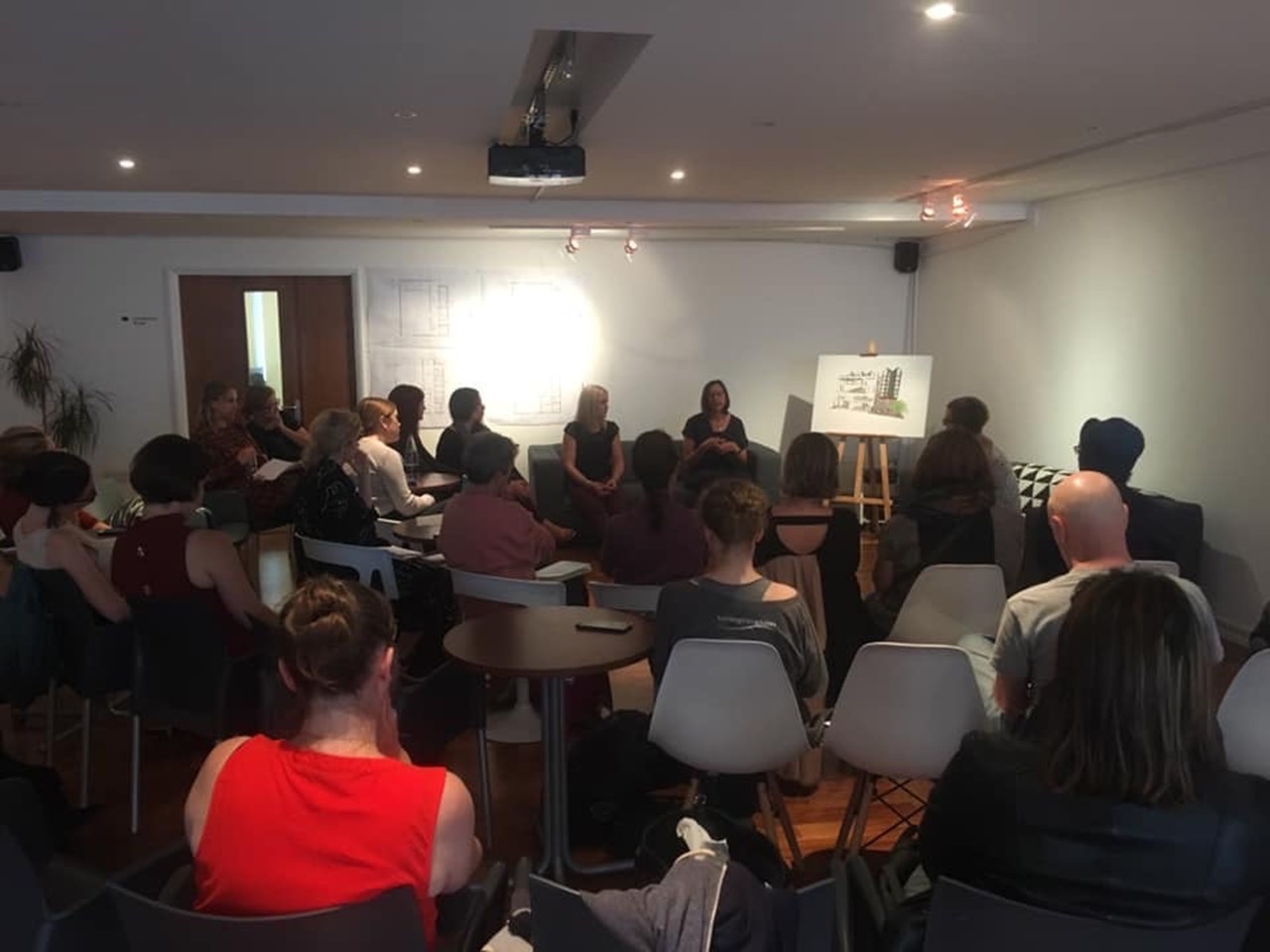 South East Dance Panel: Access Conversation
We're delighted to be working with South East Dance, Natasha was on the panel for their event on 12th September: 'Artist conversations; Access, Studios and the Dance Space'.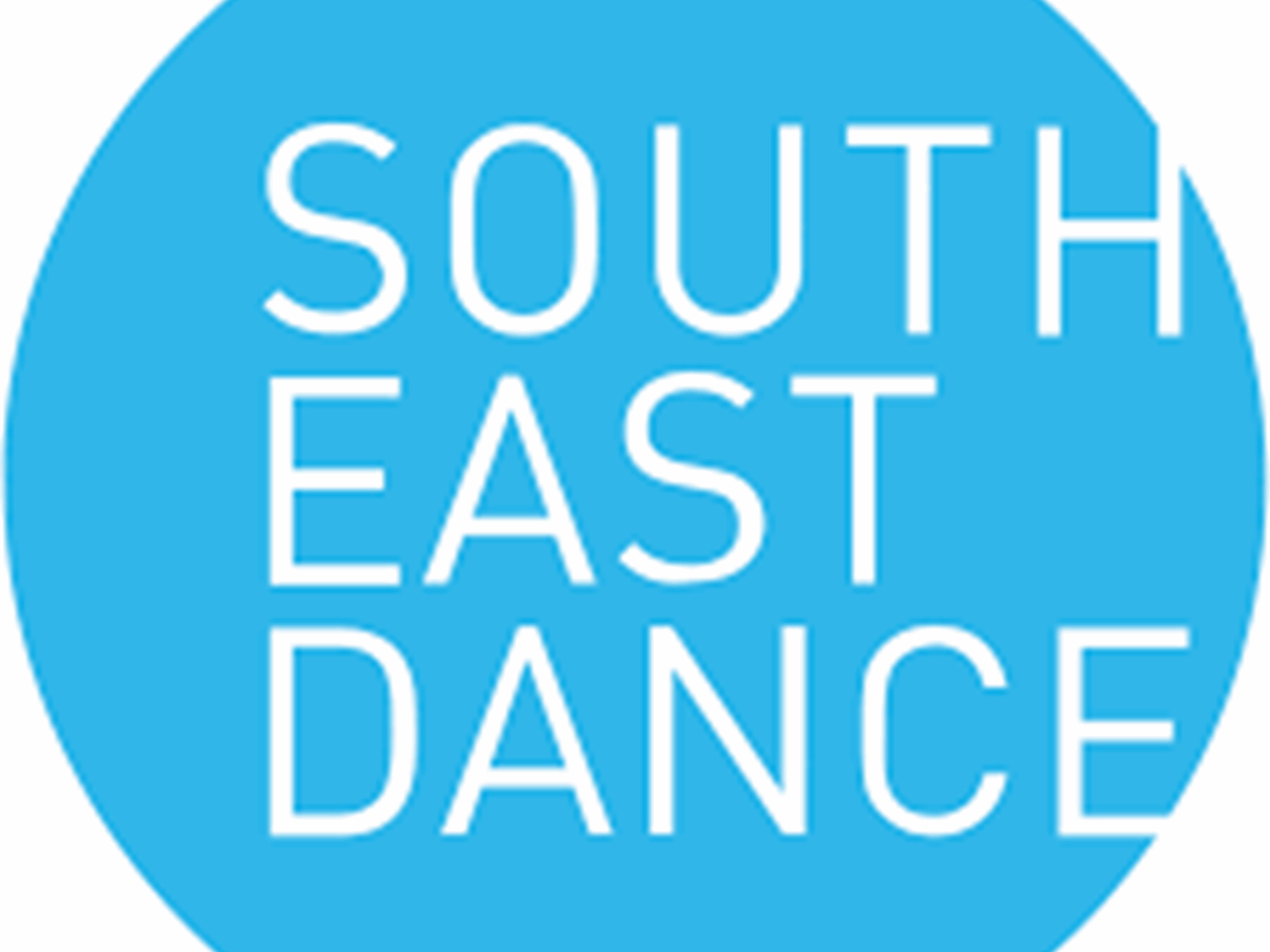 U.Dance judging panel: Inclusivity expert
We're excited that Natasha will be the inclusivity expert on the judging panel for the South East Dance U.Dance event for the fifth consecutive year. The panel will shortlist groups in November 2019 and those selected will perform in the platform at The Brook Theatre in Chatham in March 2020, all hoping for a place in the National U.Dance festival.